30 Minute Homemade Pretzels are made from scratch and are ready in just half an hour!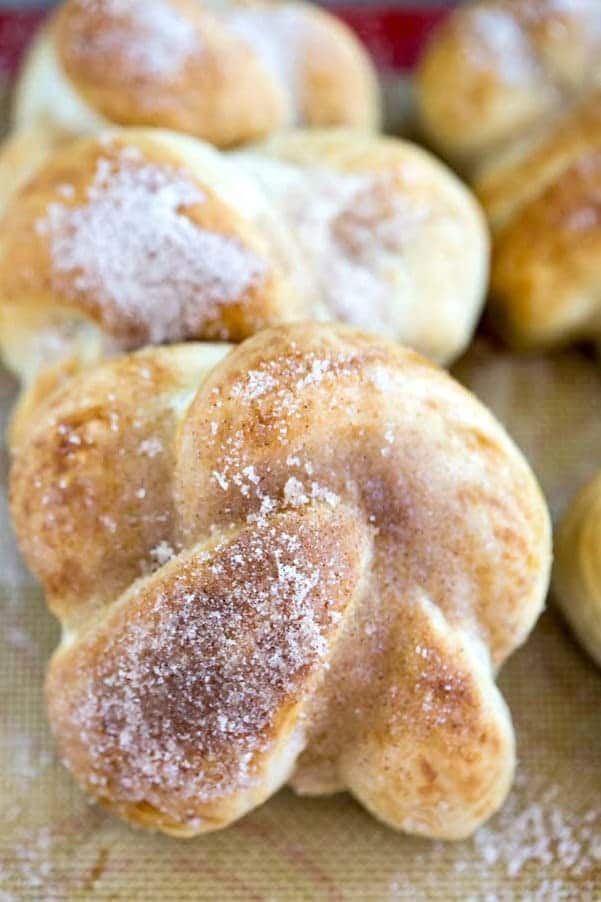 I'm not sure when things changed. It doesn't seem like very long ago that the mall was the place to be. Now, the mall is a place that I only visit when I have to, and, these days, getting a pretzel is one of the best parts of going to the mall.
Since the nearest mall is about 20 minutes away, it's actually faster to make these pretzels then it is to pack up the kids and make a trip to the mall.
Some notes about the recipe – there is no butter or oil in the dough. The 5 ingredients that you see are all there is to this recipe. Even though they don't have any butter or oil in them, the pretzels are still soft on the inside.
Also, there's no boiling necessary for this recipe. The pretzels are dipped in the water bath instead because it still gives the pretzels some chew but leaves them softer than with boiling.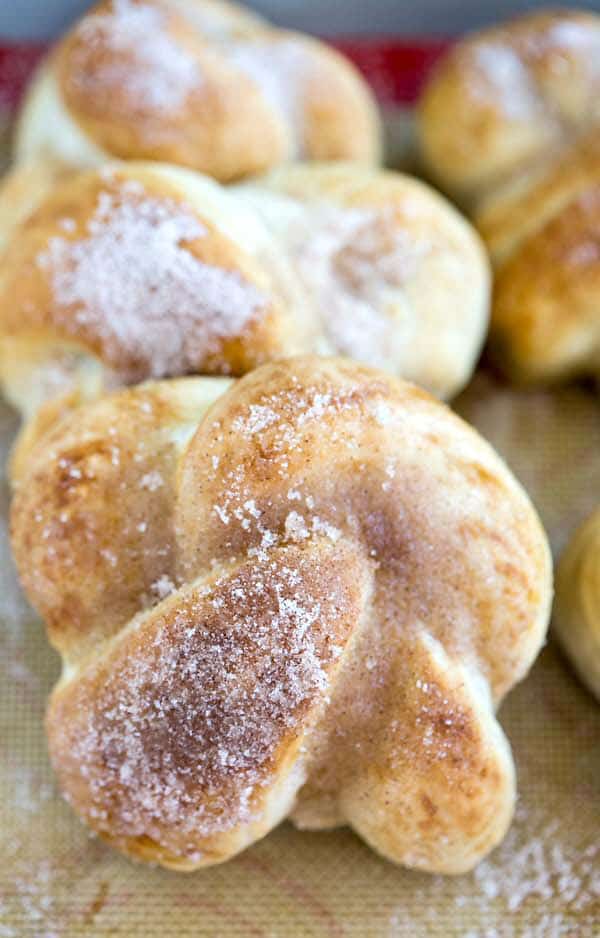 This recipe can be doubled. Just cover and chill the dough after it has risen.
I've refrigerated mine for up to 2 days after I made it, and the pretzels were still good when I baked them.
Just make sure that you leave some extra room in your container because the dough will continue to rise in the fridge.
And if you use the dough right out of the fridge, you'll want to make the pretzels a little smaller and will probably need to add a minute or three to the cooking time.
30 Minute Homemade Pretzels
Homemade pretzels that can be made from scratch in just 30 minutes.
Prep Time: 22 minutes
Cook Time: 8 minutes
Total Time: 30 minutes
Servings:8 pretzels
Course: Snack
Cuisine: American
Keyword: cinnamon sugar pretzel, homemade pretzel
Ingredients
Pretzels
1 ½ cups warm water (about 85 F)
1 tablespoon instant yeast (can also use active dry yeast)
3 tablespoons brown sugar
1/2 teaspoon salt
3-4 cups all-purpose flour
Water Bath
2 cups warm water (about 85 F)
2 tablespoons baking soda
Instructions
In the bowl of a stand mixer fitted with a paddle attachment (or in a large bowl if mixing by hand), stir together warm water, yeast, and brown sugar. If using active dry yeast, let yeast mixture stand for 5-10 minutes or until foamy.

Stir in 2 cups flour and salt.

Continue stirring in flour 1/2 cup at a time until dough comes together. Dough will still be a little sticky. If you touch the dough, it should pull with your finger but shouldn't come off on your finger.

Cover the dough with plastic wrap, and let it rise for about 10 minutes.

While dough is resting, preheat oven to 425 F. Line baking sheets with parchment paper or silicone baking mats.

To prepare the water bath, stir together remaining 2 cups warm water and 2 tablespoons of baking soda in a medium bowl.

Divide dough into 8 pieces, and shape each piece into pretzel.

Submerge shaped pretzel in water bath, and then place it on prepared baking sheets.

Bake for 8-10 minutes, or until golden brown.

Top with desired toppings.
Notes
Nutrition values are estimates. 
Nutrition Information
Serving: 1pretzelCalories: 189kcal (9%)Carbohydrates: 40g (13%)Protein: 5g (10%)Sodium: 971mg (40%)Potassium: 60mg (2%)Fiber: 1g (4%)Sugar: 4g (4%)Calcium: 13mg (1%)Iron: 2.2mg (12%)