Since Easter is coming up, I've been thinking of carrot-based desserts. I was brainstorming carrot cake cupcake and cookie recipes, but my son wanted to make doughnuts. I love carrot cake, but I don't like all of the oil that a lot of carrot cake recipes call for. For some reason, when I see 1 cup of butter in the ingredients, I think, "Mmmm, yum!". But when I see 1 cup of oil, I think, "Eww, that's a lot of oil!". So, I wanted to make these doughnuts without a ton of oil, and I ended up throwing in some other healthy ingredients like oats and whole-wheat flour, too.
We ended up with moist, carrot cake-y doughnuts topped with rich, cream cheese icing and crunchy, toasted coconut. Total Easter yumminess! Looking for more Easter-y recipes? How about kicked-up coconut cake or  pineapple upside-down carrot muffins. Or check out my peanut butter s'mores baked doughnuts if you're looking for more doughnut recipes.
Baked Carrot Cake Doughnuts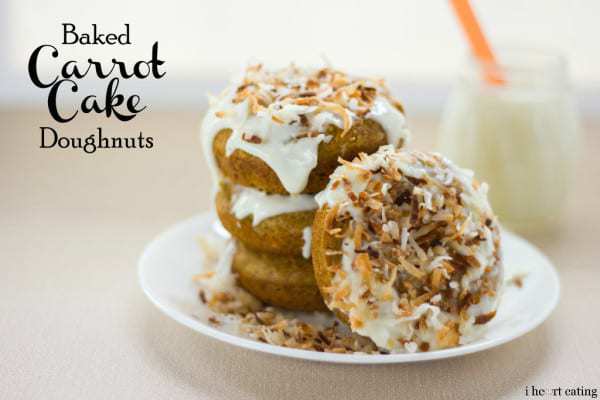 Ingredients
Carrot Cake Doughnuts
6 T . whole-wheat flour
6 T . all-purpose flour
1/4 c . old-fashioned oats
1 tsp . baking powder
1/4 tsp . baking soda
1/8 tsp . salt
1 tsp . ground cinnamon
1/2 tsp . allspice
1/8 tsp . ground nutmeg
1/4 c . brown sugar , packed
1 large egg
3 T . vegetable oil
2 T . skim milk
1/2 tsp . vanilla extract
3/4 c . grated carrot (about 2 large carrots)
2 T . chopped walnuts , or pecans (optional)
Cream Cheese Icing
3 oz . reduced-fat cream cheese , at room temp
1/3 c . powdered sugar
2 T . milk
Topping
1/3 c . sweetened shredded coconut
Instructions
Preheat oven to 350°F. Coat a 6-cup doughnut tin with cooking spray.

In a large bowl, whisk together flours, oats, baking powder, baking soda, salt, and spices.

Make a well in the center of the dry ingredients.

Add egg, brown sugar, oil, milk, and vanilla to the well. Stir ingredients together until just combined.

Stir in carrot and nuts, if using.

Scoop the batter into the prepared cups.

Bake until a toothpick comes out without crumbs, 8-10 minutes.

Let cool in pan for at 10 minutes.

Once you remove the doughnuts, keep the oven on.

Place coconut on a small rimmed cookie sheet, and bake for 7-8 minutes, stirring twice (to avoid burnt edges).

To make the glaze, beat together cream cheese, powdered sugar, and milk.

Drizzle glaze over cooled doughnuts, and top with toasted coconut.
MY LATEST VIDEOS