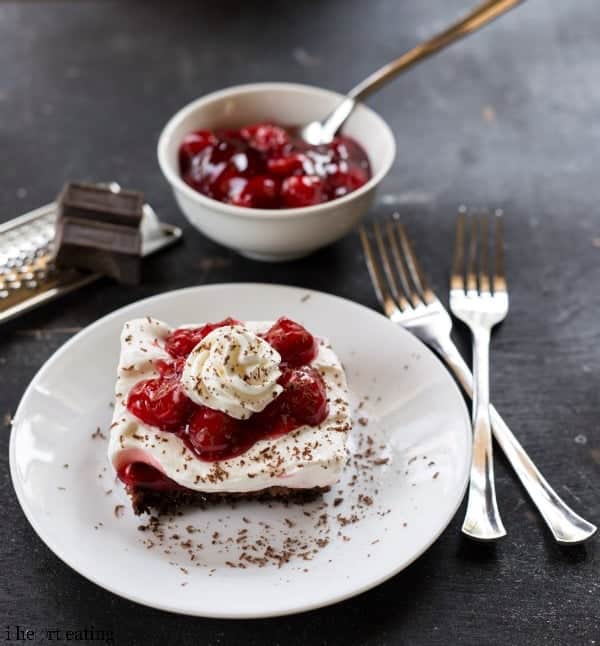 I love Black Forest anything. There's just something that is so great about the combination of chocolate, cherries, and whipped cream. I'm not really sure why I've never posted any Black Forest recipes, but I'm going to fix that with these Black Forest Cheesecake Bars.
These bars may look like they have a lot of steps and ingredients, but they're really easy  to make, and they are so yummy that's they're worth a little bit of effort. They have a chocolate crumb crust, chocolate cheesecake filling, brandied cherry topping, and sweet, fresh whipped cream. So, they're super rich and delicious!
Black Forest Cheesecake Bars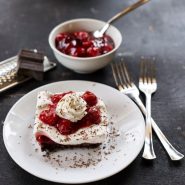 Ingredients
Chocolate Crumb Crust
1 ½ c . crushed chocolate graham cracker crumbs , about 5 sheets or 10 squares
1/4 c . butter , melted
2 T . granulated sugar
Chocolate Cheesecake
1 large egg
2/3 c . granulated sugar
1 (8 oz.) package cream cheese, softened (reduced-fat ok)
3 T . unsweetened cocoa powder
1/2 tsp . vanilla extract
Cherry Topping
1 (21 oz.) can cherry pie filling
1/2 - 1 tsp . brandy flavor (depending on desired strength)
Whipped Cream
1 c . heavy whipping cream
2 T . granulated sugar (more or less depending on desired sweetness)
1/2 tsp . vanilla
Instructions
Preheat oven to 350 F.

In a medium bowl, stir together graham cracker crumbs, butter, and sugar.

Press into an 8x8-inch baking dish; set aside.

For the cheesecake, beat together egg and sugar until pale and well-combined.

Add cream cheese, cocoa powder, and vanilla extract, and beat together until combined.

Pour cheesecake batter over crumb crust.

Bake for 15-20 minutes, or until set.

Let the cheesecake cool in the pan for 10 minutes, and then chill for 15 minutes.

Toward the end of the chilling time, stir together the cherry pie filling and brandy flavor. Set aside.

With an electric mixer (either hand or stand) beat whipping cream until the mixer starts to leave tracks.

Add sugar and vanilla, and continue beating until whipped (do not overbeat).

To assemble, pour half of the cherry mixture over the cheesecake.

Top cherry mixture with whipped cream.

Pour remaining cherry mixture over whipped cream.

Garnish with a sprinkle of grated chocolate, if desired.

Refrigerate any leftovers.