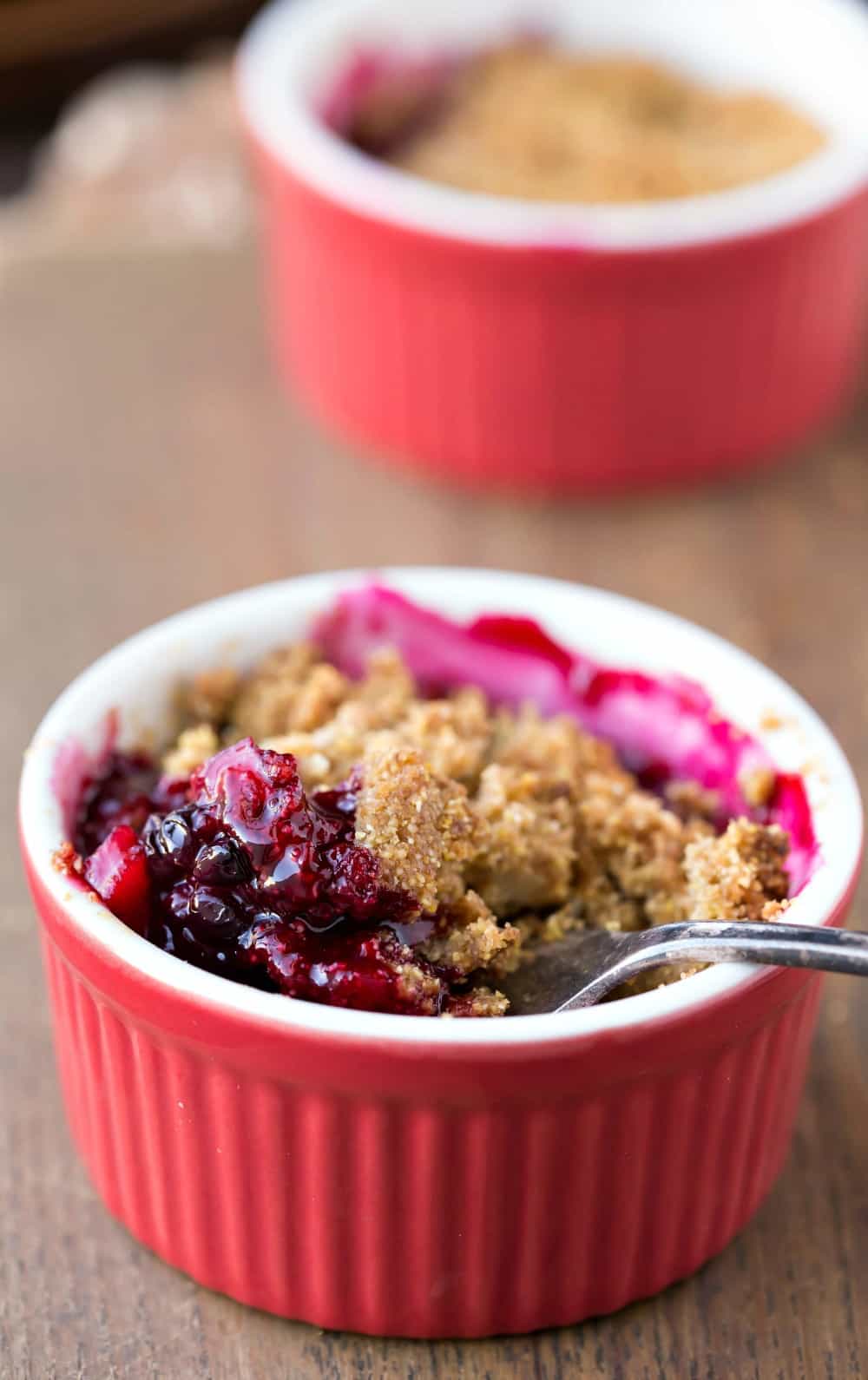 Have you ever had a crumble? If not, prepare to be blown away.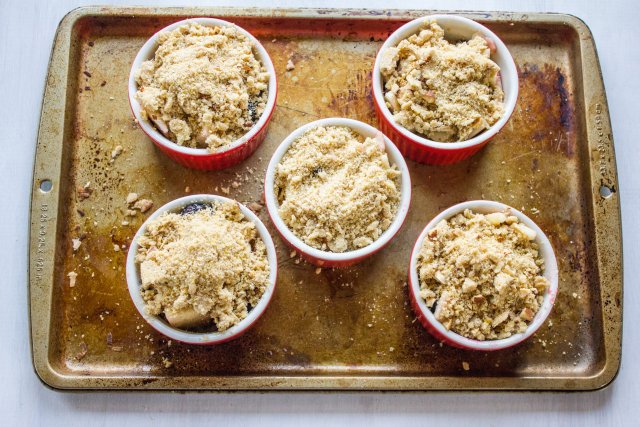 Crumbles are similar to fruit crisps; they're filled with delicious, hot fruit filling and topped with a crunchy topping.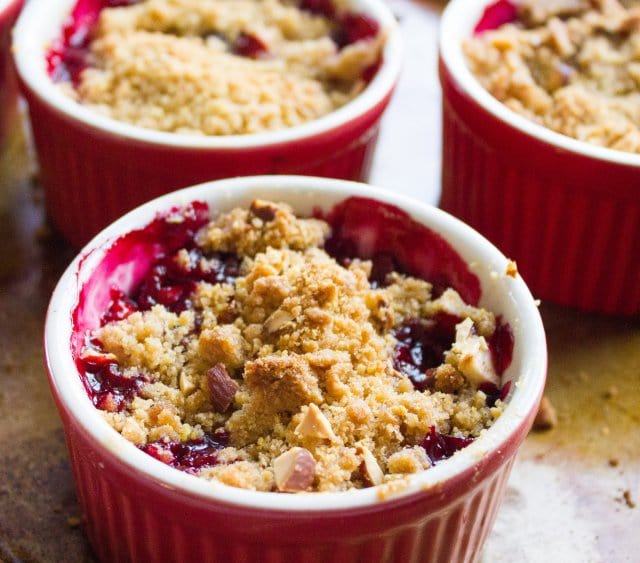 These Blackberry Apple Cornmeal Crumbles have the tart/sweet fruit combo of blackberries and apples, and they're topped with a crisp, sweet, cornmeal and almond crumble topping.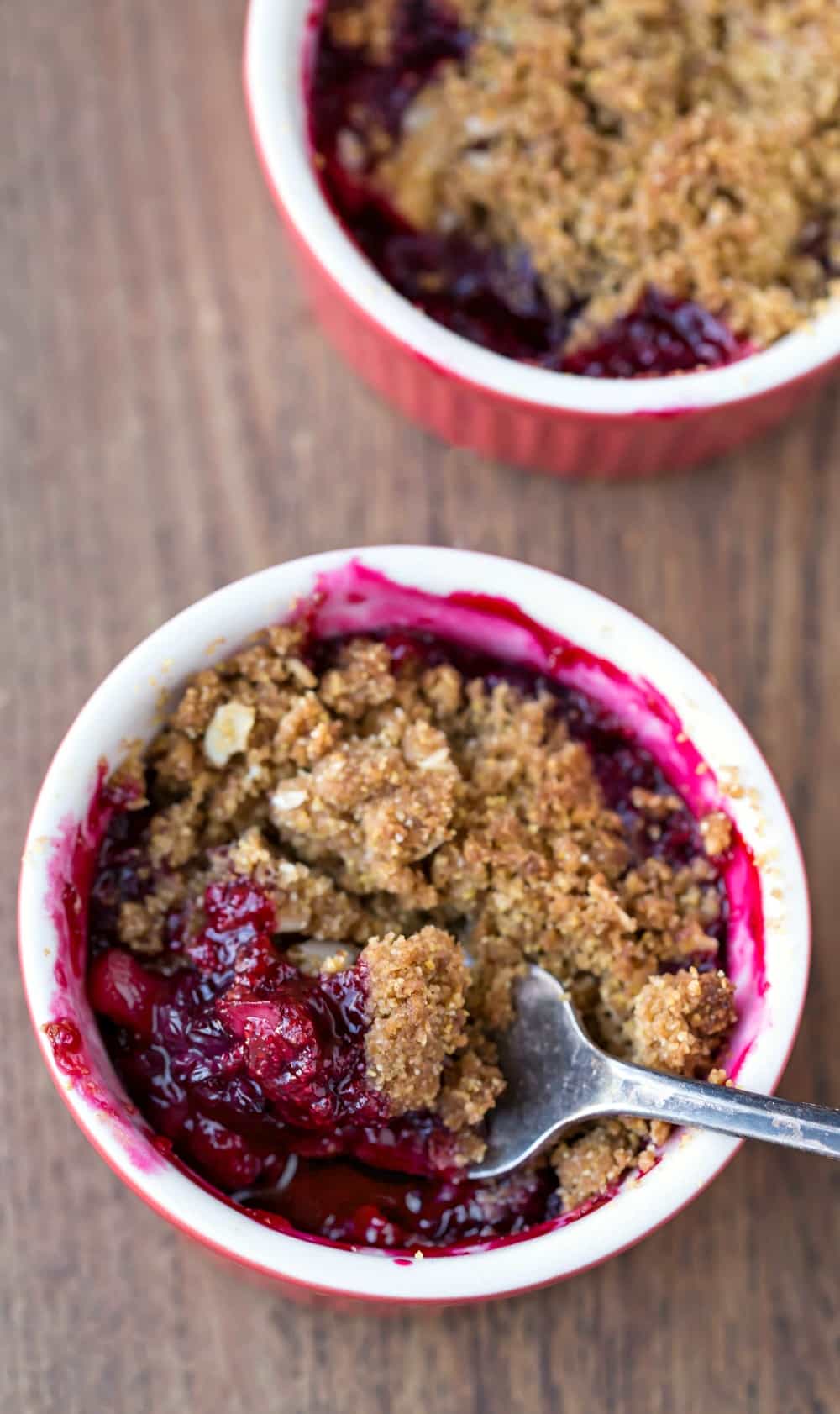 Please don't be scared off by the cornmeal in the topping; it isn't going to taste like there's cornbread on top of your fruit. I use fine-ground cornmeal, so it just gives the topping a little extra oomph without making it gritty. I used fine-ground cornmeal in the second and third pictures and regular in the first and fourth pictures. 

Plus, all deliciousness aside, how pretty is that fuchsia fruit filling!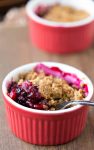 Blackberry Apple Cornmeal Crumble
Ingredients
Topping
1/2

c

. fine-ground yellow cornmeal*

1/2

c

. whole-wheat flour

1/4

c

. all-purpose flour

1/2

c

. packed brown sugar

1/4

c

. finely chopped almonds

6

T

. butter

cold
Filling
4

c

. blackberries

2

c

. diced baking apple

peeled and cored

1/4 - 1/3

c

. granulated sugar

depending desired level of sweetness and sweetness of fruit

2

T

. all-purpose flour

2

tsp

. fresh lemon juice

1/2

tsp

. ground cinnamon

1/8

tsp

. ground nutmeg
Instructions
Preheat the oven to 375 F. Grease 10 ramekins and set slightly apart on a rimmed baking sheet.

To make the topping, whisk cornmeal, flours, brown sugar, and almonds in a medium bowl.

Cut in the butter to form a coarse pebbly mixture.

To make the filling, fold blackberries, apples, granulated sugar, flour, lemon juice, cinnamon, and nutmeg in a large bowl.

Divide the filling evenly between the ramekins.

Top fruit with 1/4 packed cup of topping. Gently break topping apart to cover fruit. The ramekins will almost be overflowing.Blackberry apple cornmeal crumble4

Bake for 25-30 minutes, or until topping is lightly browned and fruit is hot and bubbly.
Recipe Notes
*I've also made this recipe with regular ground cornmeal. You can definitely taste the cornmeal grains. If you prefer a heartier texture, you may prefer regular cornmeal.