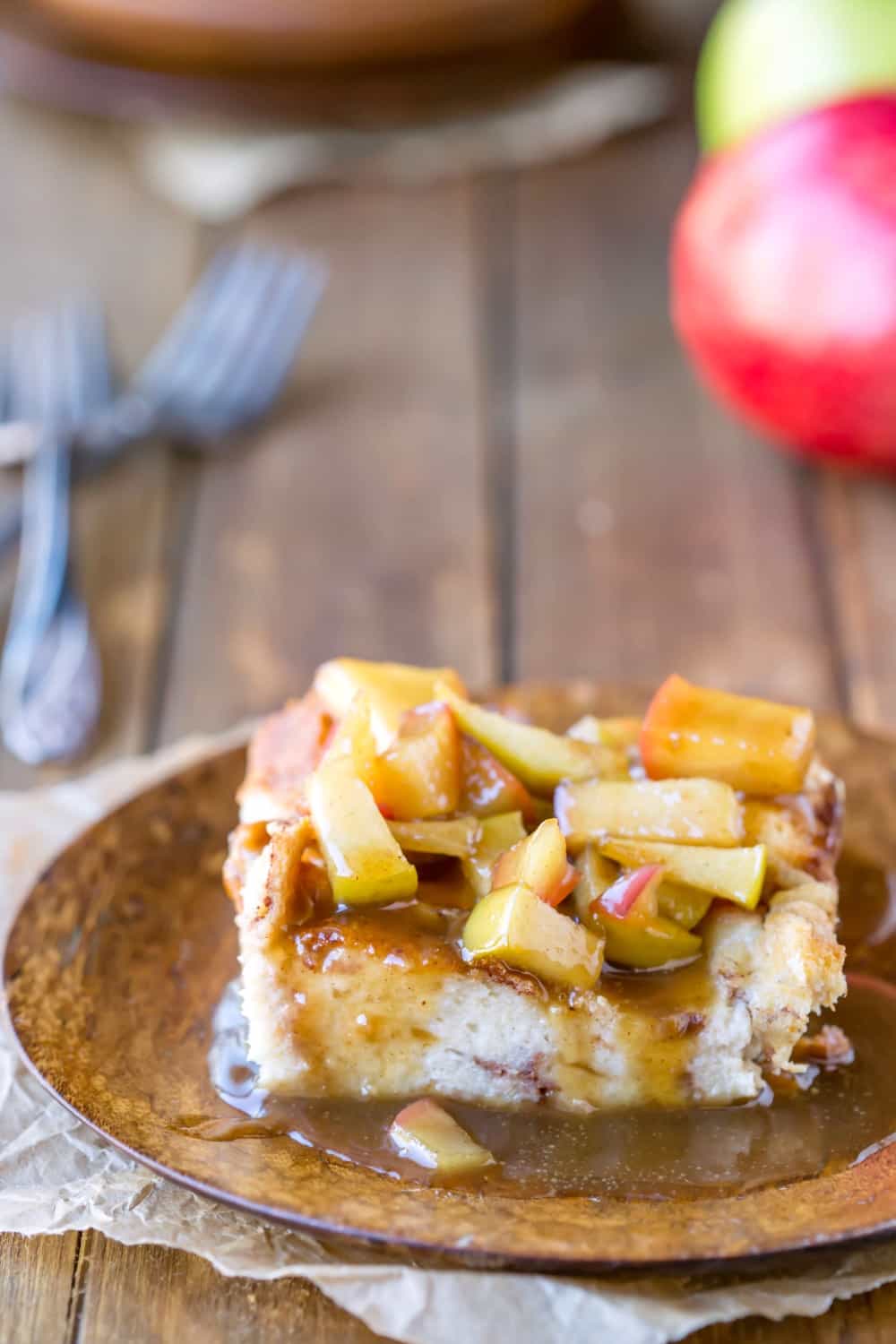 I have a huge sweet tooth, so it's hard to find a dessert that I don't like.
Bread pudding has always been one of my favorites though. I love bread, and whoever came up with a way to eat it as dessert was my kind of person.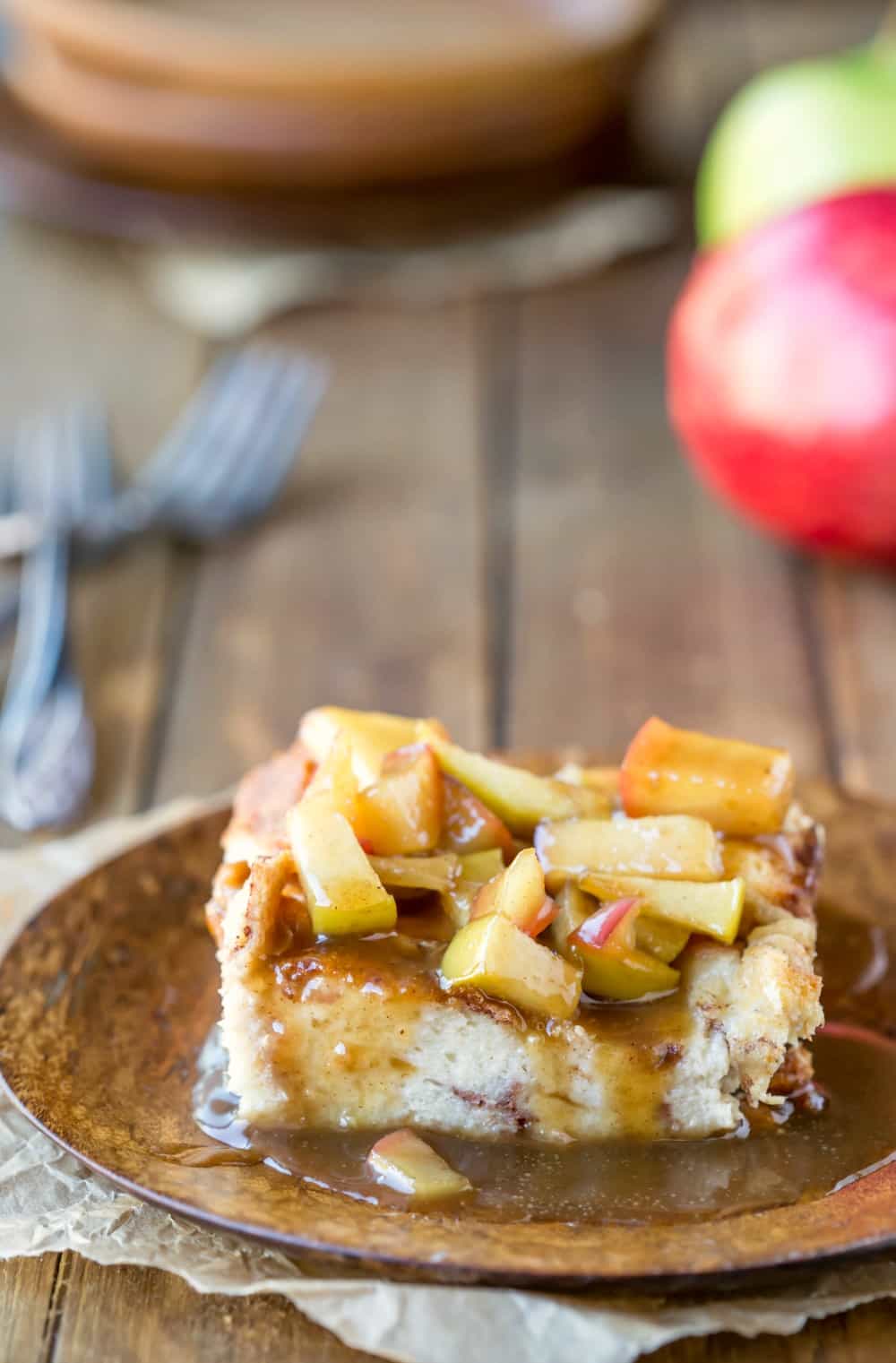 The rest of my family doesn't share my love of bread pudding, so I don't make it as often as I'd like. This caramel apple bread pudding is so good that I don't mind having it to myself.
I don't sweeten the bread pudding portion because the sauce is so sweet. That helps to keep a nice balance to the dessert. This bread pudding also reheats really well. I just store the sauce separately and reheat as needed.
If you've tried this caramel apple bread pudding recipe, don't forget to rate the recipe and leave me a comment below. I love to hear from people who've made my recipes! You can SUBSCRIBE to receive my latest recipe newsletters or FOLLOW ME on FACEBOOK, INSTAGRAM and PINTEREST for even more delicious food.

Caramel Apple Bread Pudding
Caramel Apple Bread Pudding is cinnamon sugar bread pudding topped with a buttery, brown sugar caramel apple sauce.
Prep Time: 15 minutes
Cook Time: 55 minutes
Total Time: 1 hour 10 minutes
Course: Dessert
Servings: 20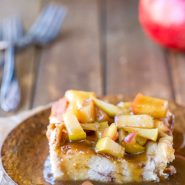 Ingredients
Bread Pudding
16 ounce loaf day-old cinnamon swirl bread
3 cups milk half-and-half, or a combination of the two
4 large eggs
1 teaspoon vanilla extract
Caramel Apple Sauce
10 tablespoons salted butter divided
4 baking apples finely diced
1 cup brown sugar packed
1/2 cup heavy cream
1 teaspoon ground cinnamon
1/4 teaspoon vanilla extract
Instructions
For the bread pudding, preheat oven to 325 F.

Cut bread into cubes, and add to a baking dish. I used a 9x13-inch dish.

In a medium bowl, whisk together milk, eggs, and vanilla extract.

Pour over bread cubes.

Let the bread stand for about 20 minutes to absorb some of the liquid.

Bake for 45-55 minutes, or until done. If it starts to get too brown, tent with foil.

To make the sauce, melt 2 tablespoons butter over medium-high heat in a large skillet. Add the apples, and saute for 5 minutes.

Remove apples to a plate, and set aside.

Add the brown sugar and remaining butter to the now empty skillet.

Melt butter over medium heat, stirring regularly.

Once butter has melted and sugar has dissolved, stir in the cream.

Let sauce bubble and thicken for about a minute.

Turn the heat to low, and add the apples back to the skillet.

Stir in cinnamon, and let cook to thicken for another 1-2 minutes.

Remove from heat, and stir in vanilla extract.

Serve bread pudding warm topped with sauce.
Recipe Notes
*Bread pudding reheats well. I suggest storing the sauce and pudding separately.
**Nutrition facts are estimates.
Nutrition facts per serving (1g)
Calories: 229kcal
Fat: 10g
Saturated fat: 6g
Cholesterol: 59mg
Sodium: 162mg
Potassium: 169mg
Carbohydrates: 29g
Fiber: 1g
Sugar: 17g
Protein: 4g
Vitamin A: 7.8%
Vitamin C: 2%
Calcium: 7.9%
Iron: 5.2%
Caramel apple sauce lightly adapted from Food Network.