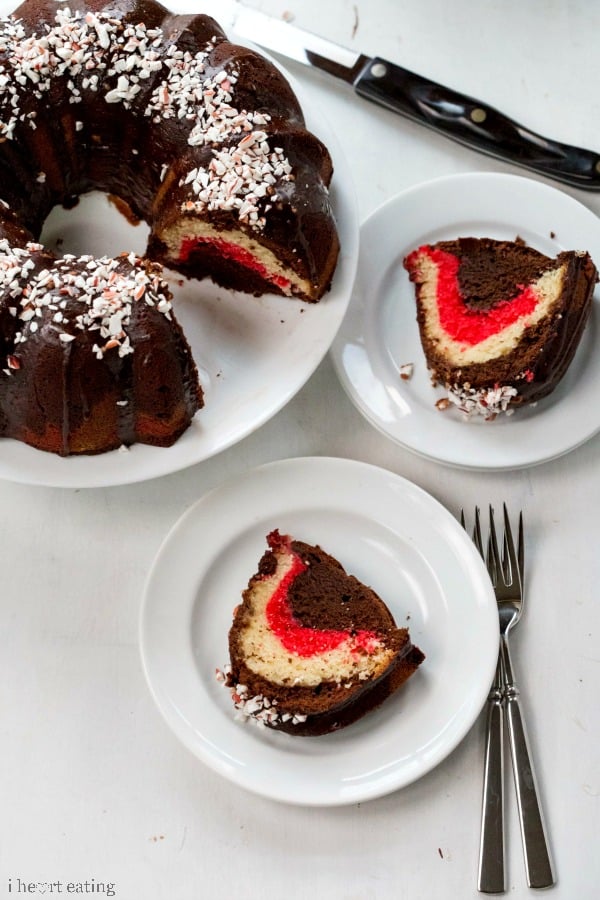 There are candy canes everywhere this time of year.
But do you ever eat them?
I always wonder how many people actually eat all of those candy canes.
As a kid, the only ones that I've ever really likes were the chocolate candy canes because even though I'm not a huge mint person, I really like the combination of chocolate and mint.
This Chocolate Candy Cane Swirl Bundt Cake has the yummy chocolate/mint combo in a moist, delicious cake.
This cake is also really fun and festive, and it's nearly as complicated as it may appear.
It does take a little more work than the average cake, but it tastes so good that it's totally worth it!
Chocolate Candy Cane Swirl Bundt Cake
Chocolate candy cane swirl bundt cake
Prep Time: 30 minutes
Cook Time: 1 hour
Total Time: 1 hour 30 minutes
Servings:16 servings
Course: Dessert
Cuisine: American
Keyword: candy cane swirl bundt cake, peppermint swirl bundt cake
Ingredients
Vanilla Cake
3 c . cake flour
2 tsp . baking powder
1/2 tsp . salt
1 c . butter (at room temperature)
2 ½ c . granulated sugar
1/2 c . non-fat (plain Greek yogurt)
1 tablespoon + 1 tsp. vanilla extract (divided)
4 large eggs
1/2 c . milk
Chocolate Cake
2/3 c . unsweetened cocoa powder
1/2 c . milk
Peppermint Swirl
1 tsp . red food color
1/2-1 tsp . peppermint extract (depending on how minty you want it to be)
1/2 c . crushed peppermint candies
Chocolate Glaze
1/4 c . butter
3 tablespoons cocoa powder
2 ½ tablespoons low-fat buttermilk
1 ½ c . powdered sugar
1 tsp . vanilla or peppermint extract, (or a combination of the two)
Instructions
Preheat oven to 350 Grease and flour a 12-cup Bundt pan.

In a medium bowl, whisk together cake flour, baking powder, and salt.

In the bowl of a stand mixer fitted with a paddle attachment (or with an electric mixer), beat together butter, sugar, and yogurt until well-combined.

Stir in vanilla until combined.

Add eggs one at time, mixing well after each addition.

On low, stir in flour mixture until just incorporated.

Stir in milk until combined.

Scoop out 3 cups of the batter, and place it into a separate bowl.

Stir cocoa powder and milk into the 3 cups of batter until well-combined. Set aside.

Scoop out 2 cups of original batter, and place it in a separate bowl.

Stir in red food coloring, peppermint extract, and crushed peppermint candies until combined; set aside.

Pour about half of the chocolate batter into the bottom of the prepared bundt pan.

Layer peppermint batter, original batter, and then remaining half of chocolate batter. You don't need to swirl it.

Bake for 50-60 minutes, or until a wooden toothpick inserted into the center comes out clean.

Cool cake in the pan on a wire rack for 15 minutes.

Invert the cake onto wire rack, and cool completely.
To make the glaze, combine butter, cocoa powder, and buttermilk in a medium saucepan.
Bring to a boil, whisking regularly.

Once at a boil, let it continue to cook for 1 minute.

Remove from heat and stir in powdered sugar and extract.

Pour over cooled cake, and then sprinkle with crushed peppermint.
Notes
Nutrition values are estimates. 
Nutrition Information
Serving: 1servingCalories: 412kcal (21%)Carbohydrates: 63g (21%)Protein: 6g (12%)Fat: 16g (25%)Saturated Fat: 9g (45%)Cholesterol: 79mg (26%)Sodium: 229mg (10%)Potassium: 213mg (6%)Fiber: 2g (8%)Sugar: 43g (48%)Vitamin A: 550IU (11%)Calcium: 78mg (8%)Iron: 1.1mg (6%)