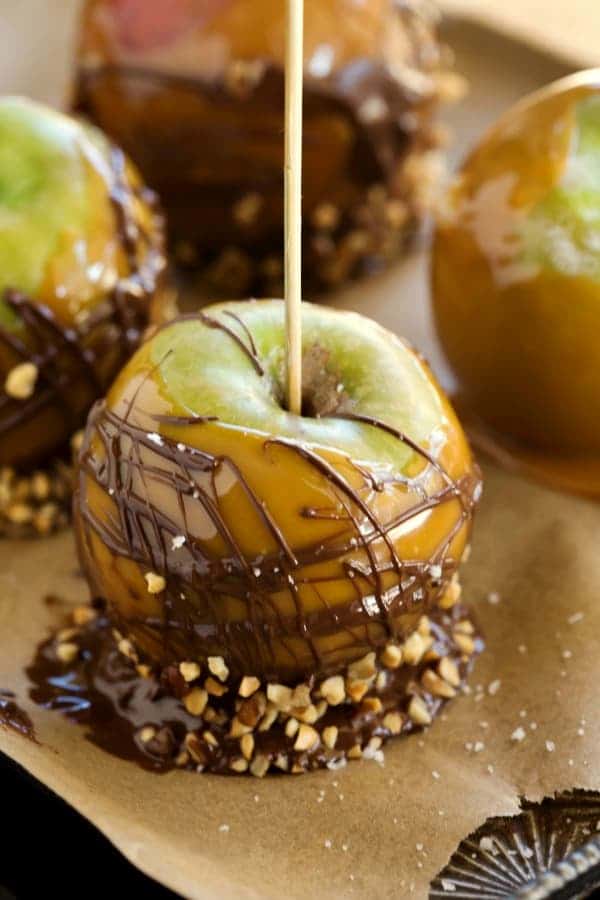 Caramel apples are my easy, go-to fall dessert. I always have apples the fridge and a bag of caramels in the cabinet. When I want something sweet but don't want to make something big (i.e. bake), I make some caramel dip.
Dipped caramel apples take a little more time and effort, but they're so worth it! These Chocolate-Drizzled Salted Caramel Apples were actually inspired by Snickers Apple Salad. I love the tart apples paired with the chocolate and caramel and wanted to turn that combo into a caramel apple. Now, there's really nothing complicated about making a gourmet caramel apple, but you do need a couple secret tips and tricks.
First, you might be tempted to skip steps 3-5 and jump straight into dipping the apples. Don't. If you've ever tried to make caramel apples and had trouble getting the caramel to stick to the apple, it is because of the wax on the skin of the apple. Boiling the apples allows the caramel to adhere to the apple.
Second, you'll want to take a knife and scrape the caramel off the bottom of the apple. The caramel will continue to pool at the bottom, and you don't want a giant blob of caramel.
Third, make sure you let the caramel set before you drizzle the chocolate over the top. You don't want hot caramel making the chocolate drizzle run right off.
Last, when you're ready to eat the apple, cut it into slices along the core (you'll be left with a square core). You can further divide the slices into smaller slices at that point, but it makes for a much easier-to-eat caramel apple.
Chocolate-Drizzled Salted Caramel Apples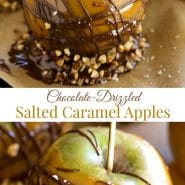 Ingredients
5 tart apples like Granny Smiths
1 oz package caramels unwrapped, 11 .
1 T . vanilla extract
1 c . semisweet chocolate chips
1 T . melted coconut oil
1 c . chopped peanuts
Pinch or two of finishing salt like fleur de sel
Instructions
Spray a piece of parchment paper with nonstick cooking spray.

Place a popsicle stick in each apple.

Bring a pot of water to boiling.

Briefly dip the apples in the boiling water.

Let apple dry.

In a heavy saucepan, melt caramels and vanilla over lowest heat, stirring constantly.

Once caramels have melted, dip the apples in so that it's covered about 3/4 of the way up the apple, letting the excess run off.

Place caramel-coated apple on the greased parchment paper.

Once the caramel has set up, melt the chocolate and coconut oil together in a separate saucepan, stirring regularly, over lowest heat.

Drizzle melted chocolate over caramel, and dip in chopped peanuts.

Sprinkle with finishing salt, if desired.

Let the dipped apples sit for about 10 minutes, and then place in refrigerator for 1 hour to set caramel and chocolate.