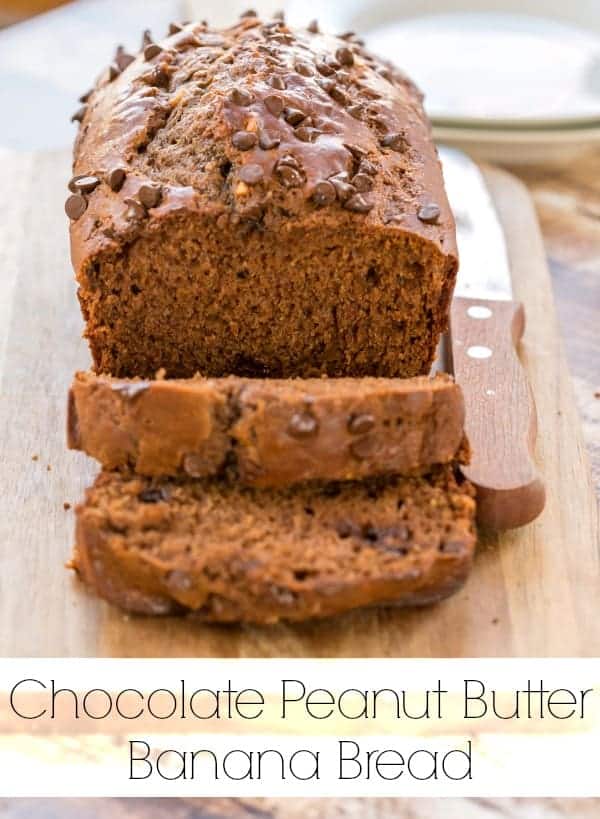 It's funny how much tastes in food can vary from person to person.  My kids, for instance, are completely different when it comes to food. My daughter loves spicy foods and will eat anything. My son doesn't like even a little spice, and he has very definite opinions concerning what he likes and what he doesn't like.
I made this Chocolate Peanut Butter Banana Bread with my daughter in mind. She loves chocolate, peanut butter, and bananas, so I wanted to put them all together for her. I figured she would love it (and she did), but I wasn't expecting my son to love it, too. The flavors are all pretty mild, and they blend together nicely. So, you just end up with a moist, yummy quick bread that's perfect for breakfast or for snacking.
Ingredients
1 large ripe banana (, mashed)
1/2 c . plain (, nonfat Greek yogurt)
1/4 c . crunchy or creamy peanut butter
1/4 c . vegetable oil
2 large eggs
1/2 c . brown sugar
1/4 c . granulated sugar
1 ½ c . all-purpose flour
1/4 c . cocoa powder
1 tsp . baking soda
1/2 tsp . salt
1/2 c . semisweet mini chocolate chips (, divided)
Instructions
Preheat oven to 350 F. Grease an 8x4-inch baking pan; set aside.

In a large bowl, stir together banana, yogurt, peanut butter, and vegetable oil until combined.

Add eggs, and stir until incorporated.

Stir in sugars until well-combined.

Add flour, cocoa powder, baking soda, and salt. Stir until just combined.

Stir in 1/4 cup chocolate chips.

Pour batter into pan, smoothing as needed.

Sprinkle remaining 1/4 cup chocolate chips over the batter

Bake for about 35-45 minutes, or until a toothpick inserted in the center comes out clean. It's ok if it has some melted chocolate, but it shouldn't have any crumbs.

Let it cool for 5-10 minutes in the pan.

Run a thin knife around the edge of the pan to loosen the bread.

Remove from pan, and let cool on a wire cooling rack.