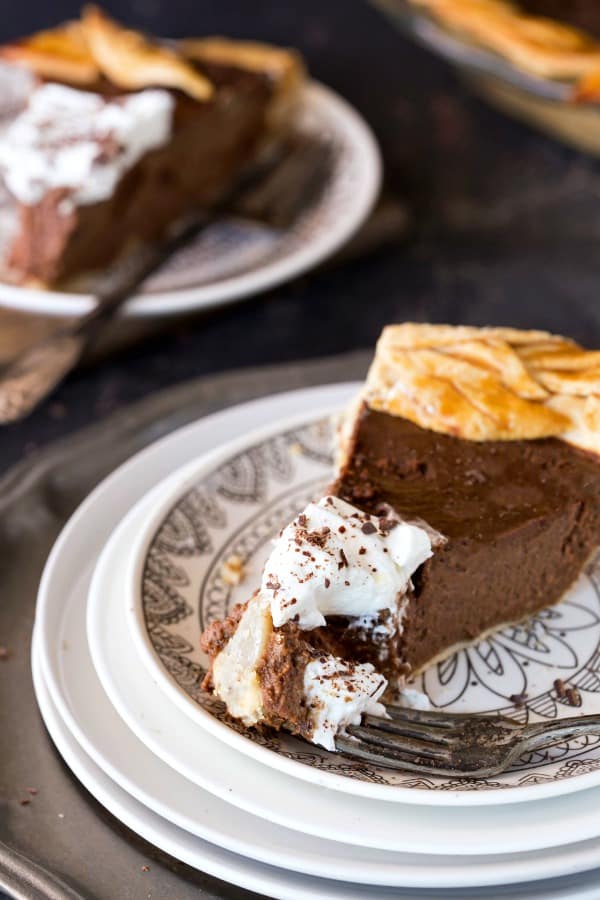 I'm always on the lookout for new recipe ideas and inspiration.
I like to browse the recipes in magazines, I read cookbooks like most people read novels, and I love to watch a good cooking show!
I always learn something, and, while I love to learn the latest cooking hacks, I also like to get some cooking inspiration because it's easy to get stuck when it comes to recipe ideas.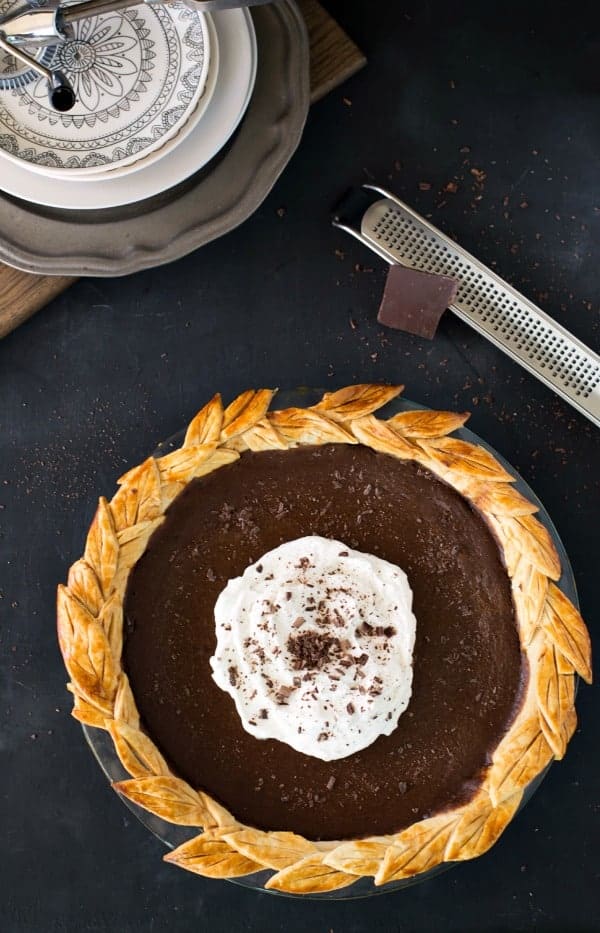 Frankly, it's really easy to fall into a rut with meals, and it's especially easy to get into a rut with holiday meals.
I love to mix the traditional dishes up with some new favorites.
I mean, it wouldn't be Thanksgiving without turkey, cranberries, sweet potatoes, and rolls.
Take all of the above, throw in some Brussels sprouts, and you have the basic components of our Thanksgiving dinner.
When it comes to dessert, though, I like to change it up. It's the one part of the meal that we don't really have a traditional dish for.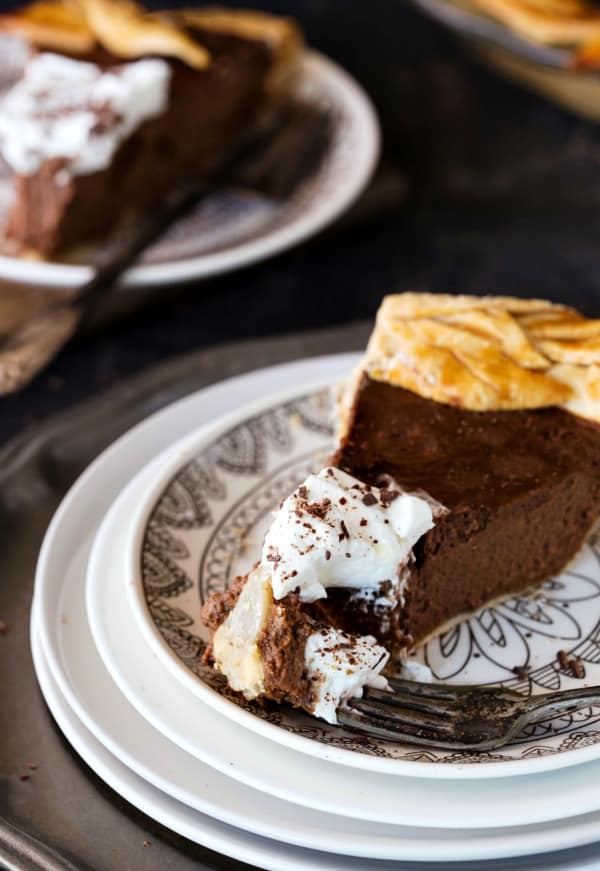 Growing up, we always had a couple types of pie for Thanksgiving dessert (usually pumpkin or mincemeat).
As I got older, though, I started asking for cake, and we would usually have some sort of pumpkin cake.
We just don't really have that that one, go to dessert that we make every year, though.
Or at least we didn't until I made Michael Symon's Chocolate Pumpkin Pie!
It takes traditional pumpkin pie, and it gives it a healthy dose of chocolate goodness (because chocolate may be the one food that doesn't get enough love on Thanksgiving).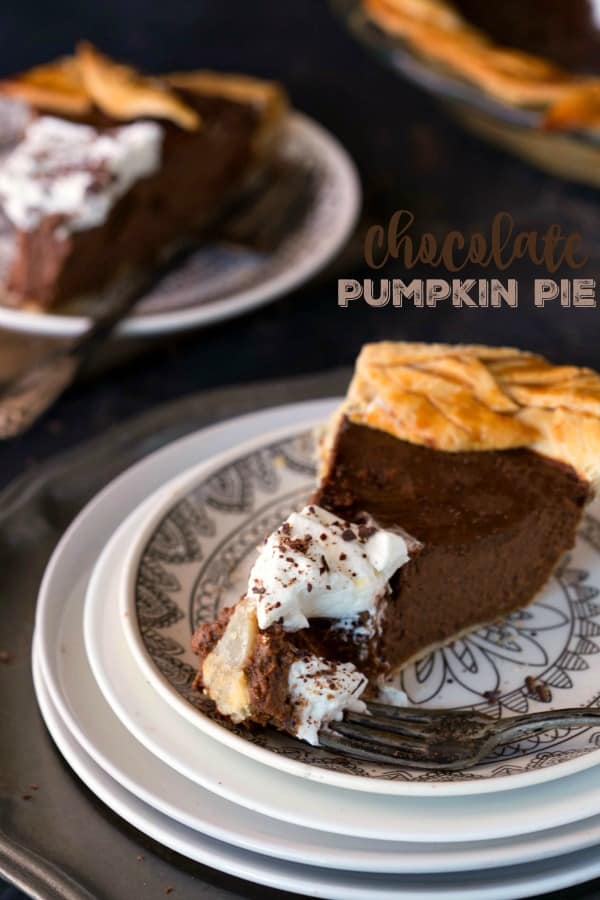 The result is a pie that's super balanced – not too chocolaty (if there is such a think), and not too pumpkin-y.
It's rich and silky and will totally win over your guests.
More pumpkin recipes!
Chocolate Pumpkin Pie Recipe
Chocolate pumpkin pie recipe
Prep Time: 30 minutes
Cook Time: 1 hour 15 minutes
Chilling: 1 hour
Total Time: 1 hour 45 minutes
Servings:10 servings
Course: Dessert
Cuisine: American
Keyword: chocolate pumpkin pie
Ingredients
1 1/4 cups All-Purpose Flour
Salt
1/2 teaspoon Sugar
1/2 cup Unsalted butter (very cold and cut into small pieces)
2-3 tablespoons Ice Cold Water
3 oz Bittersweet Chocolate (very finely chopped)
6 oz Semisweet Chocolate (chopped)
1/4 cup Unsalted Butter (cut into small pieces)
1 14 oz Can Pumpkin
1 12 oz Can Evaporated Milk
3/4 cup Packed Light-Brown Sugar
3 Large Eggs
1 tablespoon Cornstarch
1 teaspoon Vanilla Extract
3/4 teaspoon Ground Cinnamon
3/4 teaspoon Ground Ginger
1/4 teaspoon Ground Nutmeg
Cloves Pinch of Ground
Instructions
For the Pie Crust: Combine the flour, salt, sugar and butter in a food processor and pulse until coarse, with small marbles of butter remaining. Sprinkle 2 tablespoons of the ice water and pulse until crumbly, and dough holds when squeezed together. Add another sprinkle of water if too dry, but do not overmix.

Transfer dough to a plastic bag, press into a disk, and refrigerate for one hour.

Preheat oven to 425F.

Roll out dough on floured surface. Press into pie plate, trim to leave 1-inch excess around edges, fold under and flute edges. Cut a piece of parchment or nonstick foil to the size of the pie, and use to line pie crust. Fill with pie weights, and bake until golden, about 15 minutes.

Reduce heat to 325F.

For the Pie Filling: In a double boiler, melt chocolate and butter, stirring frequently until smooth, and remove from heat.

In a large bowl, mix together the pumpkin, evaporated milk, light brown sugar, eggs, cornstarch, vanilla, salt, cinnamon, ginger, nutmeg, and cloves. Fold in the chocolate mixture, and pour into pie crust. Place pie pan on a baking sheet. Bake at 325F until center of pie has set, about an hour. Refrigerate until cooled completely to serve.
Notes
Nutrition values are estimates. 
Nutrition Information
Serving: 1servingCalories: 478kcal (24%)Carbohydrates: 49g (16%)Protein: 7g (14%)Fat: 27g (42%)Saturated Fat: 16g (80%)Cholesterol: 97mg (32%)Sodium: 69mg (3%)Potassium: 400mg (11%)Fiber: 3g (12%)Sugar: 30g (33%)Vitamin A: 7210IU (144%)Vitamin C: 2.5mg (3%)Calcium: 152mg (15%)Iron: 3.4mg (19%)
Recipe from The Chew.