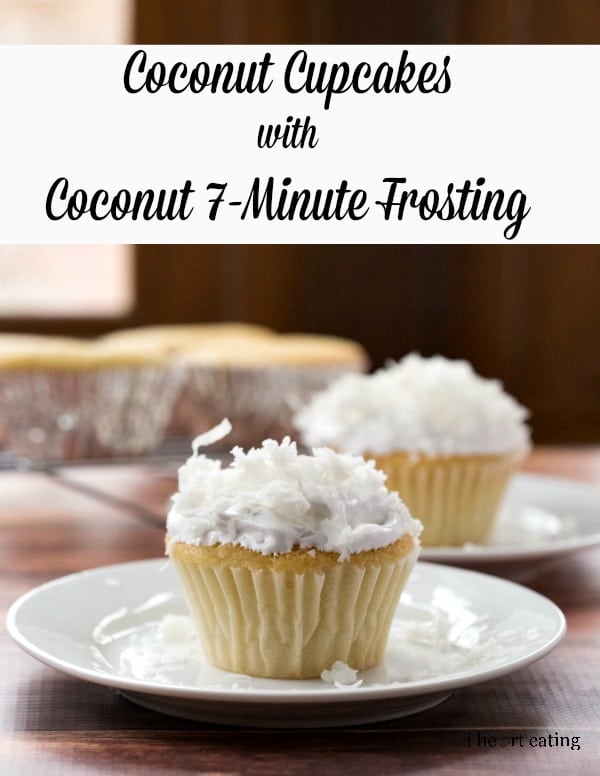 Hi! It feels like it's been forever since I've posted a recipe on here! Since it's been so long, I wanted to make sure that I came back with a good one.
These Coconut Cupcakes with Coconut 7-Minute Frosting are a more coconut-y version of a cake that my mom makes. It's a white cake with 7-minute frosting and shredded coconut on top. It's one of my favorite desserts, and we've had it for birthdays and Easters for years and years.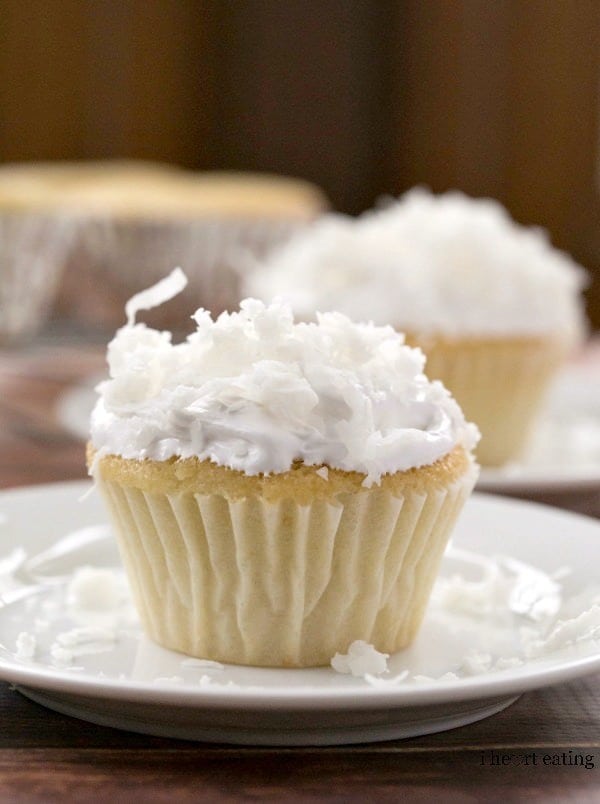 So, with Easter coming up in a few weeks, I decided to make my version of that cake.
I absolutely love coconut, so I kicked up with coconut flavor in the cake with coconut milk and coconut flavor.
I also used coconut flavor in the frosting. Then, I topped the cupcakes with some shredded coconut.
The resulting cupcakes are moist and have a nice amount coconut of flavor, so they're the perfect dessert for anyone who likes (or loves) coconut.
More coconut cake recipes!
Coconut Cupcakes with Coconut 7-Minute Frosting
Coconut cupcakes topped with coconut 7-minute frosting
Prep Time: 20 minutes
Cook Time: 30 minutes
Total Time: 50 minutes
Servings:18 cupcakes
Course: Dessert
Cuisine: American
Keyword: coconut cupcakes
Ingredients
Coconut Cupcakes
4 egg whites
1/3 cup low-fat buttermilk
1 teaspoon vanilla extract
1 teaspoon coconut flavor
1/2 cup butter (at room temperature)
1 ¾ cups granulated sugar
3/4 cup + 2 tablespoons unsweetened coconut milk (I used light canned coconut milk)
2 1/3 cups cake flour
3 ½ teaspoons baking powder
1/2 teaspoon salt
Seven-Minute Frosting
2 egg whites
3/4 cup granulated sugar
1/3 cup light corn syrup
2 tablespoons water
1/4 teaspoon cream of tartar
1/4 teaspoon salt
1 teaspoon coconut extract
1/2 teaspoon almond extract
Topping
1-2 cup(s) sweetened shredded coconut
Instructions
To make the cake, preheat the oven to 350 Grease or line 18 cups in a muffin tin.

In a small bowl, whisk the egg whites, buttermilk, vanilla extract, and coconut flavor together until well blended.

With an electric mixer (either hand or stand), beat together butter and sugar until combined.

Add the coconut milk and egg white mixture.

Increase the speed to medium, and beat until for 2-3 minutes, scraping the bowl as needed.

In a medium bowl, whisk together the flour, baking powder, and salt.

Stir in until just incorporated.

Pour the batter into the prepared tins (about 1/4 cup of batter per tin).

Bake for about 20-25 minutes, or until a toothpick inserted into the center comes out clean.

Cool the cupcakes in the tins for about 5-10 minutes, then turn remove cupcakes to wire rack, and let cool completely.

To make frosting - Combine egg whites, sugar, corn syrup, water, cream of tartar, and salt in the top of a double boiler.

Cook over rapidly boiling water beating with a rotary beater until mixture stands in peaks.

Remove from heat and stir in the coconut and almond extracts.

To assemble, place one cake layer right side up. Top with about 1 cup of frosting. Sprinkle ½ cup of coconut over the frosting. Place the second layer upside down so that the flat side is up. Frost top and sides with remaining frosting. Sprinkle remaining coconut over the top and sides, gently pressing the coconut into the sides of the cake.
Notes
Nutrition values are estimates. 
Nutrition Information
Serving: 1cupcakeCalories: 265kcal (13%)Carbohydrates: 45g (15%)Protein: 3g (6%)Fat: 8g (12%)Saturated Fat: 5g (25%)Cholesterol: 13mg (4%)Sodium: 170mg (7%)Potassium: 154mg (4%)Sugar: 33g (37%)Vitamin A: 160IU (3%)Vitamin C: 0.3mgCalcium: 45mg (5%)Iron: 0.4mg (2%)
Cupcakes adapted from Desserts from the Famous Loveless Cafe