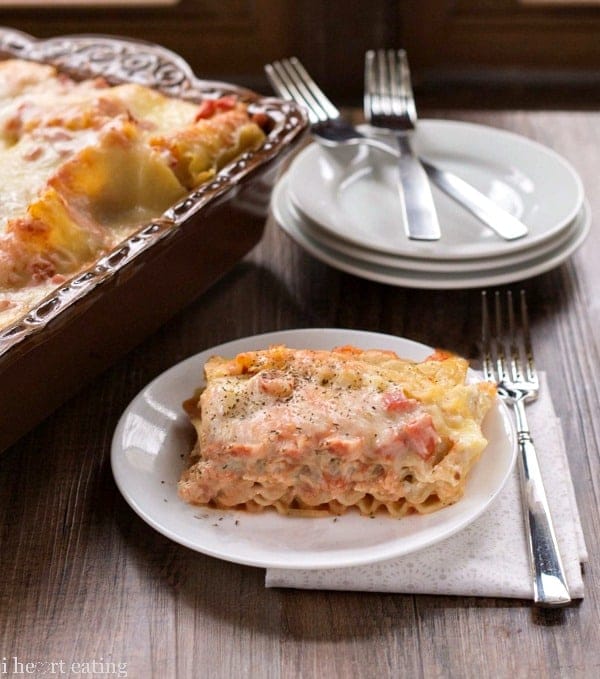 As much as I love sweets and desserts, I'm a little sugar-ed out. Between Halloween and making Christmas cookies for upcoming posts, I feel like I've been eating way too many sweets the last few days. So, today is all about good ol' comfort food – food like Creamy Tomato-Basil Chicken Lasagna.
Now, we all love lasagna in our house. In fact, it's my husband's favorite food. Since we have it fairly regularly, I try to come up with twists on classic lasagna. If you've ever had creamy tomato-basil soup, you know how well those flavors work together.  There's also a healthy amount of garlic in this lasagna, but it blends in nicely. So, if you're looking for an easy and delicious dinner, give this lasagna a try!
Creamy Tomato-Basil Chicken Lasagna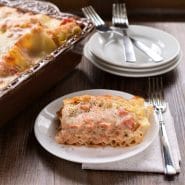 Ingredients
Lasagna
2 lbs . boneless chicken breasts , cooked and shredded
1 (15 oz.) container ricotta cheese (part-skim ok)
1 ½ c . fresh shredded mozzarella cheese
1 large egg
1 T . dried sweet basil
1 tsp . dried oregano
1/2 tsp . dried parsley
1/4 tsp . garlic powder
Salt and pepper , to taste
1 (16 oz.) package lasagna noodles, cooked according to package directions
2 c . shredded Italian cheese blend
Creamy Tomato Sauce
1 (15 oz.) can crushed tomatoes
1 (15 oz.) can diced tomatoes with onions, undrained
6 cloves garlic , finely minced
1 tsp . dried sweet basil
1/2 tsp . granulated sugar
Pinch baking soda
3/4 c . heavy cream , half-and-half, or fat-free half-and-half
Salt and pepper , to taste
Instructions
Preheat 350 F. Lightly grease a deep 13x9-inch baking pan. Set aside.

In a large bowl, stir together shredded chicken, ricotta, mozzarella, egg, basil, oregano, parsley, garlic powder, salt, and pepper. Set aside.

To prepare the sauce, stir together crushed tomatoes, diced tomatoes, garlic, basil, sugar, baking soda, cream, salt, and pepper.

To assemble, put a scant amount of sauce in the bottom of the baking pan.

Layer in the following order: 4 lasagna noodles, one-third of the chicken filling mixture, about 1/2 cup of the tomato sauce, 1/3 cup Italian cheese blend.

Repeat layers.

For the top layer, place 4 remaining noodles over cheese, and then pour remaining sauce over noodles.

Sprinkle 1 cup remaining Italian cheese blend over sauce.

Spray a piece of aluminum foil with nonstick cooking spray, and cover pan tightly with foil (greased side down).

Bake for 45 minutes, or until hot and bubbly.

Uncover, and cook for 5 additional minutes.

Let the lasagna sit for 5-10 minutes before cutting and serving.