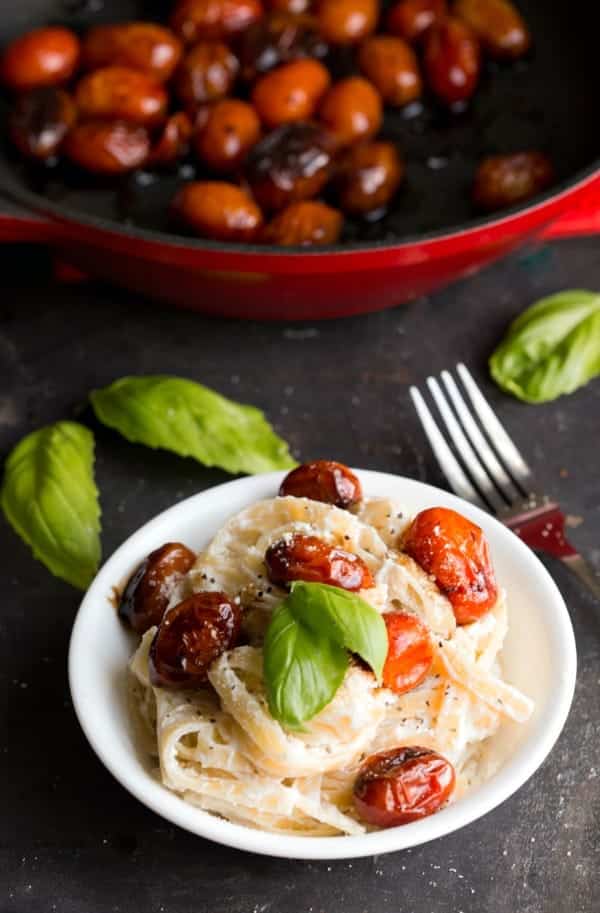 Quick dinners make life easier. This Fettuccine Ricotta with Blistered Balsamic Tomatoes is a mouthful, but it's so simple and easy to make. It comes together in about 20 minutes.
Since it is so simple, it makes a big difference to use fresh ingredients. It's perfect for the summer because it isn't heavy, and in-season tomatoes really make the dish.
Fettuccine Ricotta with Blistered Balsamic Tomatoes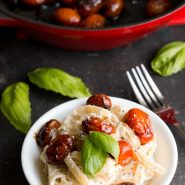 Ingredients
1 oz package dry fettuccine 16 .
2 T . olive oil
grape or cherry tomatoes
2 cloves garlic minced
1/3 c . balsamic vinegar
1 c . part-skim ricotta
1/4 c . grated Parmesan cheese plus extra for sprinkling
Basil
Freshly ground black pepper
Instructions
Cook pasta according to package directions.

In a large saucepan, heat olive oil over medium heat.

Once hot, add tomatoes, and cook until they begin to wilt.

Add garlic and balsamic vinegar, and continue to cook until most of the balsamic has been reduced.

In a medium bowl, mix together ricotta and Parmesan.

When the pasta has finished cooking, drain, reserving 2-3 tablespoons pasta water, and return to pot.

Toss 2 tablespoons water and ricotta mixture with hot pasta.

Add remaining tablespoon water, if necessary.

Serve pasta topped with balsamic tomatoes, fresh basil, pepper, and an additional sprinkle of Parmesan cheese.