Flourless Oatmeal Carrot Cake Cookies are a healthy, gluten-free Easter dessert!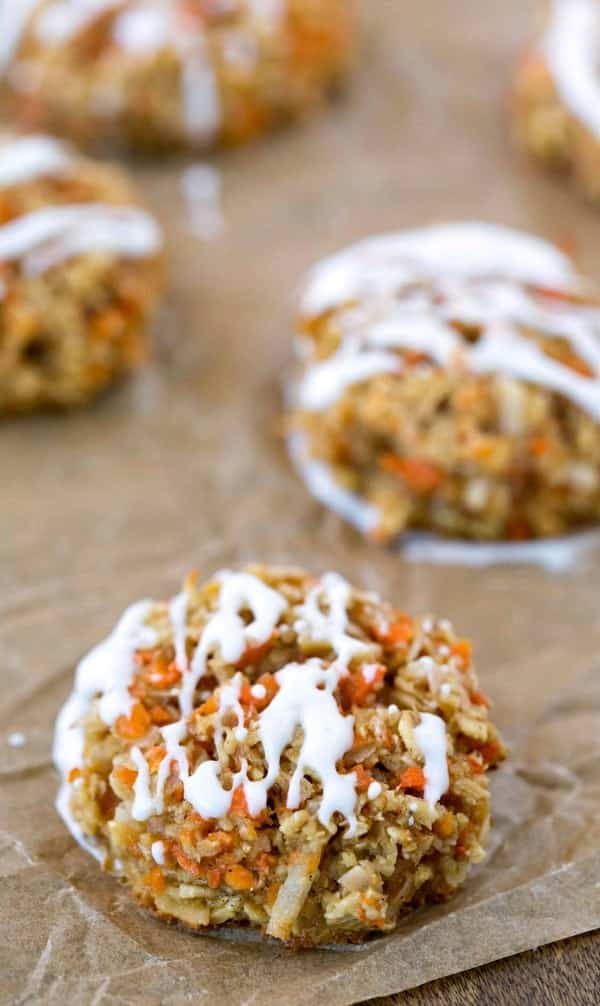 This recipe began the way so many recipes begin – with a craving. With Easter coming up in March, I've been thinking about ham, funeral potatoes, asparagus, and carrot cake.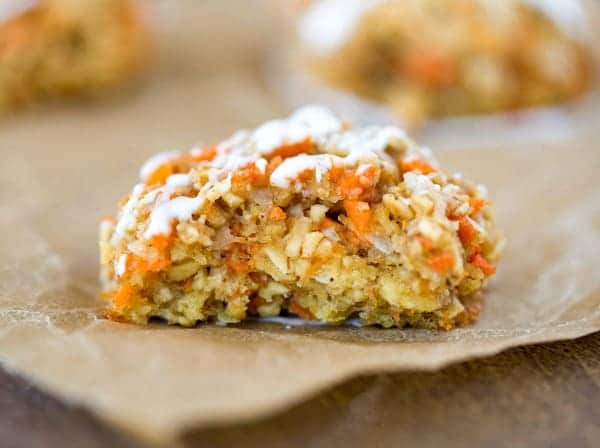 I had planned to make carrot cake when I saw my youngest eating oats out of the canister. Lately, she's taken to pulling the oats out and eating them like it's going out of style. Watching her, I decided that I'd make these Flourless Oatmeal Carrot Cake Cookies and make both of us happy.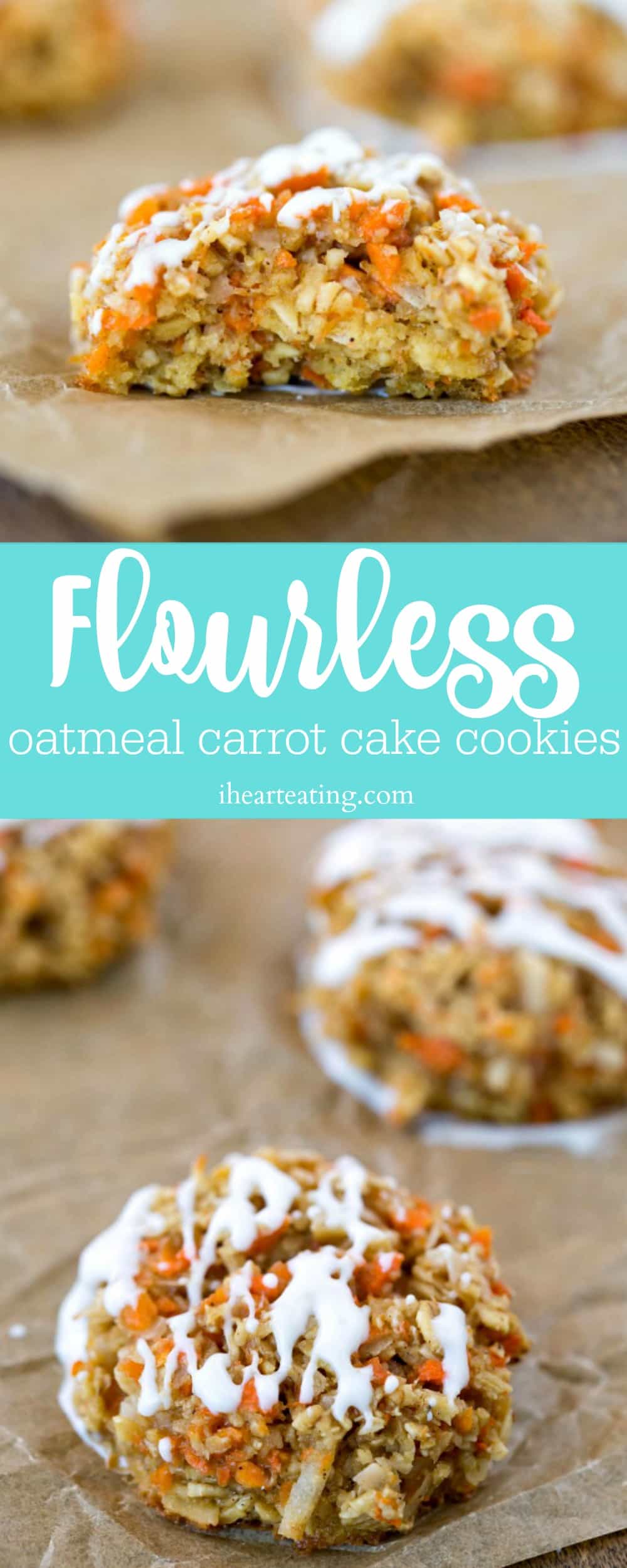 A couple of notes – First, if you want to keep these cookies gluten-free, make sure that you look for gluten free ingredients (like gluten free oats and gluten free baking powder). Second, the icing is totally optional. The cookies are plenty sweet and tasty without it. So, if you want to keep them dairy-free, feel free to skip it.
Flourless Oatmeal Carrot Cake Cookies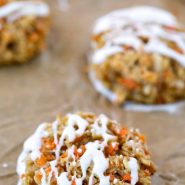 Ingredients
Cookies
3 c . rolled oats divided
1 tsp . baking powder
2 tsp . ground cinnamon
1 tsp . ground ginger
1/2 tsp . ground nutmeg
1/2 tsp . salt
1/3 c . coconut oil
1 c . brown sugar packed
2 large eggs
1 tsp . vanilla extract
2 c . grated carrot
1 c . shredded coconut
1/2 c . chopped pecans optional
Icing
2 oz . cream cheese
1 c . powdered sugar
2-3 T . milk
Instructions
Line two baking sheets with parchment paper; set aside.

Grind two cups of oats into flour (a blender or food processor should do this).

In a medium bowl, whisk together oat flour, remaining 1 cup oats, baking powder, cinnamon, ginger, nutmeg, and salt.

With an electric mixer (either hand or stand), beat together the coconut oil and sugar until combined.

Beat in the eggs and the vanilla until combined.

Stir in the flour mixture just until combined.

Stir in the carrots, coconut, and nuts, if using.

Cover, and chill in the refrigerator for 1 hour.

Preheat the oven to 350 F.

Using a 1 ½ tablespoon cookie scoop, drop about batter about 2-inches apart onto the prepared baking sheets.

Gently flatten slightly, if desired.

Bake for 10-15 minutes, or until cookie is set and very lightly browned at the edges.

Remove from the oven and let the cookies cool on the sheets for at least 5 minutes.

Transfer to wire cooling rack to cool to room temperature before icing.

To make icing, beat together cream cheese, powdered sugar, and 2 tablespoons milk until well-combined.

Add additional milk as needed to get to desired consistency.

Drizzle icing over cooled cookies.

Cover, and store leftover cookies in the fridge.