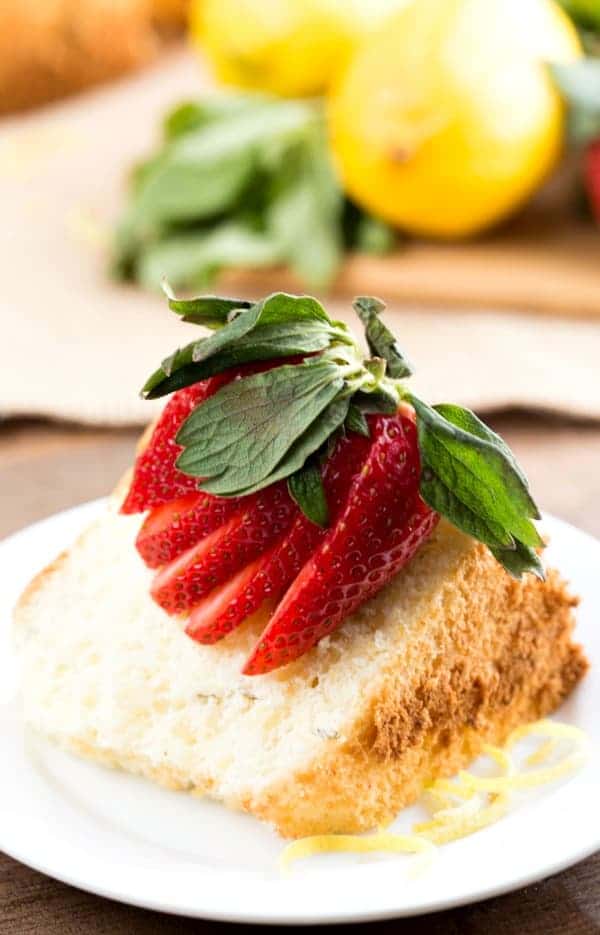 At the end of a heavy meal, a rich, heavy dessert can be too much. Sometimes it's nice to have a light dessert instead – like this Lemon Basil Chiffon Cake. Since it's a chiffon cake, it's nice and airy. And the combination of lemon and basil makes this cake not overly sweet and light and refreshing.
My mom makes a great lemon herb cake. It's not a combo that I ever would have thought to put together before I had that cake, but it works! If you're worried about a basil cake, don't be. The basil is just a light background flavor.
This cake is also fantastic with strawberries. It makes a delicious, updated twist on strawberry shortcake (the sponge cake kind).  So, as the spring strawberries start to come in, do yourself a favor, and try them with this cake.
More cake recipes!
Lemon Basil Chiffon Cake
Lemon basil chiffon cake recipe
Prep Time: 15 minutes
Cook Time: 45 minutes
Total Time: 1 hour
Servings:16 slices
Course: Dessert
Cuisine: American
Keyword: cake
Ingredients
1 ¾ c cake flour
1 ¼ . + 2 T. c granulated sugar
1 ½ tsp . baking powder
1/2 tsp . salt
5 large egg yolks
1/2 c . fresh lemon juice (about 3 lemons)
5 T . vegetable oil
2 T . finely chopped fresh basil
1 T . lemon zest
1 tsp . vanilla extract
8 large egg whites
3/4 tsp . cream of tartar
Instructions
Preheat oven to 325 F.

In a medium bowl, whisk together, flour, 1 1/4 cups sugar, baking power, and salt. Set aside.

In a separate medium bowl, whisk together egg yolks, lemon juice, and oil.

Whisk in basil, lemon zest and vanilla extract.

Add the flour mixture to the egg yolk mixture, and whisk until just combined.

In a separate large bowl, beat egg whites on high until foamy.

Add cream of tartar, and beat until soft peaks form.

Add remaining 2 tablespoons sugar, and continue beating until still peaks form.

Gently stir one-fourth of egg white mixture into batter; gently fold in remaining egg white mixture.

Spoon batter into an ungreased 10-inch tube pan, spreading evenly.

Break air pockets by cutting through batter with a knife.

Bake for about 45 minutes, or until cake springs back when lightly touched.

Invert pan; cool completely.

Loosen cake from sides of pan using a narrow metal spatula or knife.

Invert cake onto plate.

Serve with strawberries, if desired.
Adapted from MyRecipes.