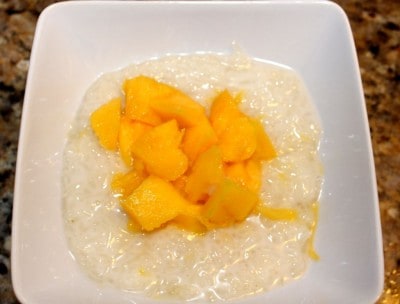 Sometimes a simple dessert can be deeply satisfying. This is one of those desserts. There isn't much to it, but it's delicious. Make sure you get a good mango and use coconut milk (not light – use the full-fat stuff) – both of those things make a huge difference in the quality of your dessert.
1 can coconut milk (not light)
1 c. granulated sugar
1/2 tsp. salt
3 c. cooked sticky rice
1 mango, peeled and diced
In a small saucepan, stir together coconut milk, granulated sugar, and salt.
Bring to a boil. Remove from heat.
Place cooked sticky rice in a medium bowl.
Pour milk mixture over rice, making sure coconut milk covers rice.
Let mixture sit for 10-15 minutes.
To serve, divide rice mixture among bowls and top with diced mango.