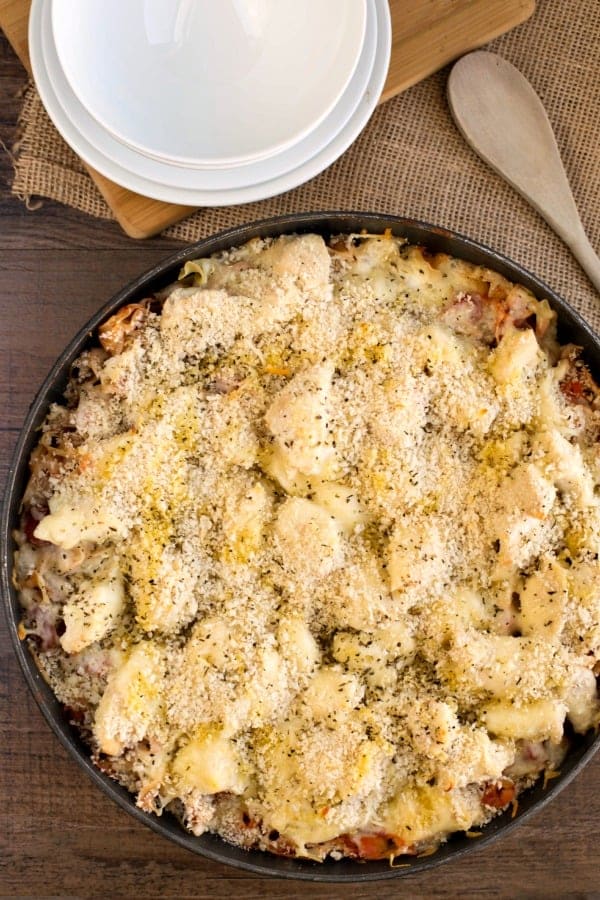 We don't go out for Italian food very often, but when we do, I almost always get chicken parmesan. Just as an aside, I've seen it as both "parmesan" and "parmigiana". I have no idea whether one is correct. It's like the whole donut/doughnut issue. Anyway, I love the combination of crispy chicken, sauce, and noodles.
However, I don't love the idea of frying my own chicken at home. This One Skillet Chicken Parmesan is an easy, short-cut way to get that combination. It's made entirely in one (large) skillet, and it only takes about 35 minutes to make. So, you can easily enjoy a quick weeknight meal of chicken parm without all of the work (and mess)
More easy chicken dinner recipes!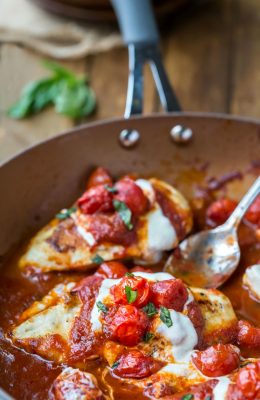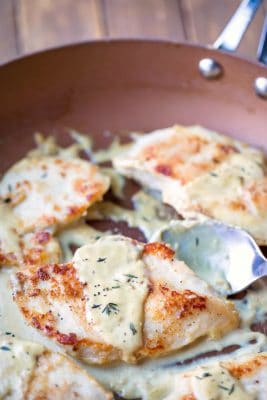 One-Skillet Chicken Parmesan
Easy one-skillet chicken parmesan makes a quick weeknight dinner.
Prep Time: 10 minutes
Cook Time: 25 minutes
Total Time: 35 minutes
Course: Main Course
Servings: 8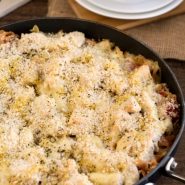 Ingredients
1 tablespoon olive oil
2 pounds boneless, skinless chicken breast in 1-inch pieces
4 cups chicken broth or water
12 ounce package egg noodles
4 cloves garlic minced
14.5 ounce can diced tomatoes
2-14.5 ounce cans crushed tomatoes
1 tablespoon .talian seasoning
Salt and pepper to taste
2 cups shredded mozzarella cheese
1 cup panko bread crumbs
1 teaspoon Italian seasoning
2 teaspoons olive oil
Instructions
Heat olive oil in a large skillet over medium heat.

Add chicken, and cook until no longer pink.

Remove chicken to a plate.

Add chicken broth to skillet, and heat until boiling.

Add egg noodles, and cook until al dente.

While noodles are cooking, preheat oven to 350 F.

When noodles are al dente, add garlic, diced tomatoes with juice, crushed tomatoes, seasoning, and salt and pepper.

Add chicken, and stir to combine.

Remove from heat, and top with mozzarella.

Toss bread crumbs with seasoning, and sprinkle over cheese.

Drizzle olive oil over bread crumbs.

Bake for about 10 minutes, or until cheese has melted.
Recipe Notes
*Nutrition facts are estimated.
Nutrition facts per serving (1g)
Calories: 449kcal
Fat: 14g
Saturated fat: 5g
Cholesterol: 130mg
Sodium: 909mg
Potassium: 703mg
Carbohydrates: 39g
Fiber: 2g
Sugar: 3g
Protein: 38g
Vitamin A: 6.4%
Vitamin C: 8%
Calcium: 21.2%
Iron: 15%