Overnight Apple Fritter French Toast Casserole takes the best elements of apple fritters & French toast casserole & combines them in one, delicious recipe!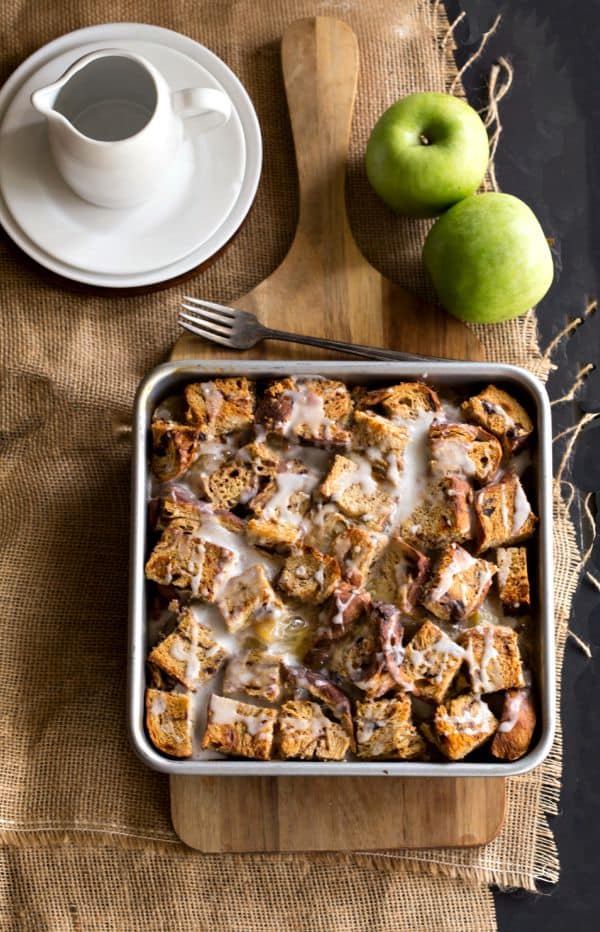 I've talked about how much I love make ahead breakfasts. Making breakfast the night before just makes the morning run so much more smoothly. I've also mentioned how much I love donuts. So it was only a matter of time before I combined the two.
This Overnight Apple Fritter French Toast Casserole takes the elements of an apple fritter – the choppy dough, the cinnamon, the apple filling, and the glaze – and turns them into an easy, make-ahead breakfast or brunch.
Since they're make-ahead, overnight French toast casseroles are great for weekends and holidays. They only take a few minutes to put together the night before, and then you just pop it in the oven in the morning.
This recipe uses cinnamon bread and apple pie filling, so there's very little prep. It just takes a few minutes the night before, and you get a delicious breakfast or brunch the next morning!
Overnight Apple Fritter French Toast Casserole
Cinnamon bread and apple pie filling combine for an easy make-ahead breakfast casserole.
Prep Time: 15 minutes
Cook Time: 45 minutes
Total Time: 1 hour
Course: Breakfast
Cuisine: American
Keyword: breakfast casserole, French toast, overnight
Servings: 9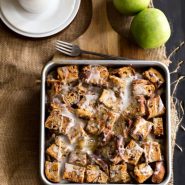 Ingredients
French Toast Casserole
24 ounce package thick-sliced cinnamon bread
21 ounce can apple pie filling
9 large eggs
1 cup fat-free half-and-half*
1 teaspoon ground cinnamon
Icing
1 cup powdered sugar
1-2 tablespoon(s) milk
Instructions
Grease a 9x9-inch baking dish.

Cube the cinnamon bread, and add half to the prepared baking dish.

Add pie filling over bread.

Cover fruit filling with rest of bread cubes.

In a bowl, whisk together the eggs, half-and-half, and cinnamon.

Pour evenly over bread.

Cover, and chill overnight.

When ready to bake, preheat oven to 325 F.

Uncover, and bake for about 45-55 minutes. If if starts to brown too much, tent aluminum foil over casserole.

Let cool in pan for about 10 minutes.

Whisk together powdered sugar and 1 tablespoon milk, adding more milk as needed to make a pourable glaze.

Drizzle glaze over casserole just before serving.
Recipe Notes
*Can sub regular half-and-half
**Nutrition values are estimates.
Nutrition facts per serving (1g)
Calories: 404kcal
Fat: 7g
Saturated fat: 2g
Cholesterol: 164mg
Sodium: 382mg
Potassium: 316mg
Carbohydrates: 72g
Fiber: 4g
Sugar: 27g
Protein: 12g
Vitamin A: 5.3%
Vitamin C: 1.6%
Calcium: 10.5%
Iron: 17.5%