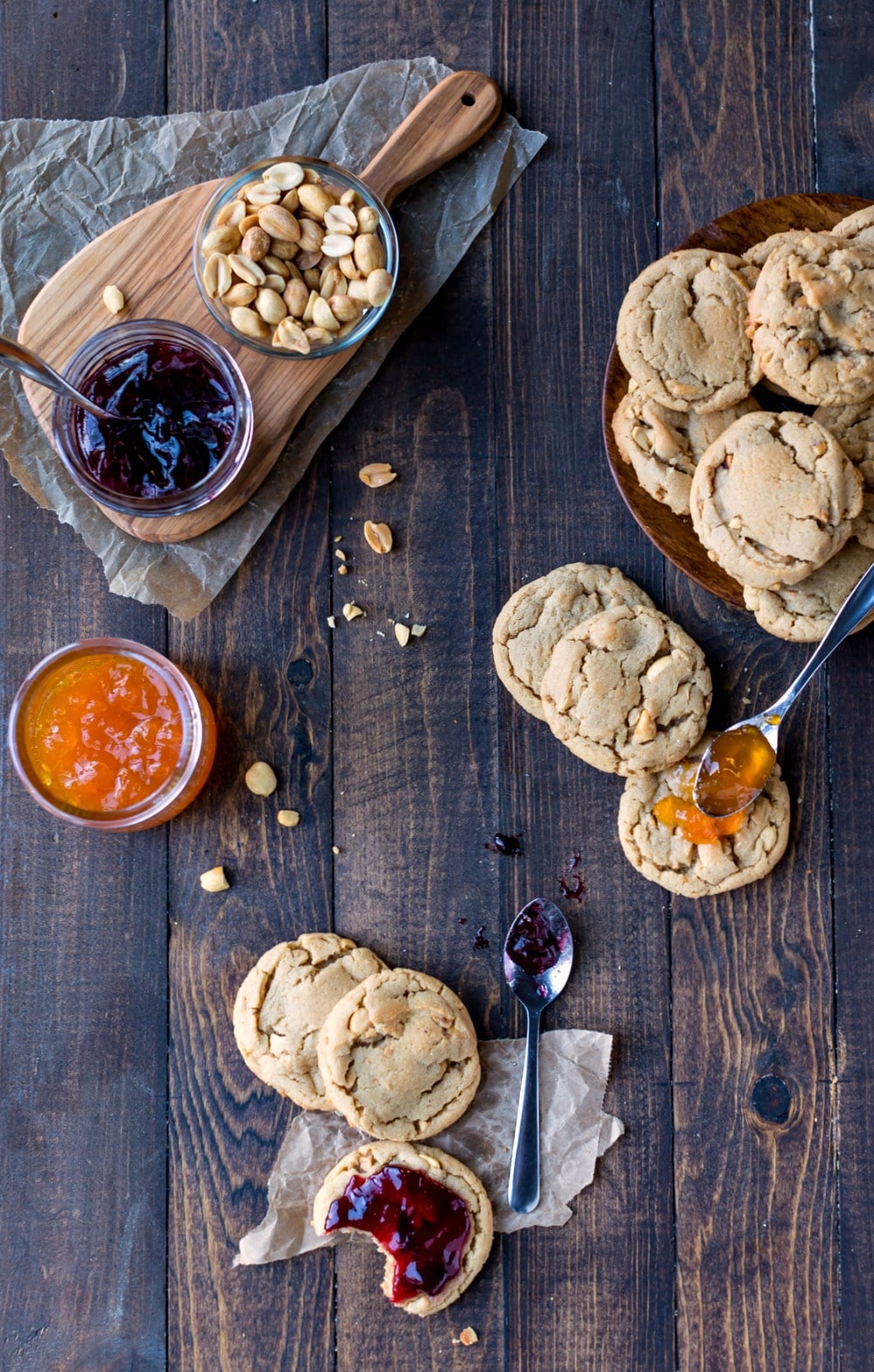 Peanut butter is practically a food group in my house.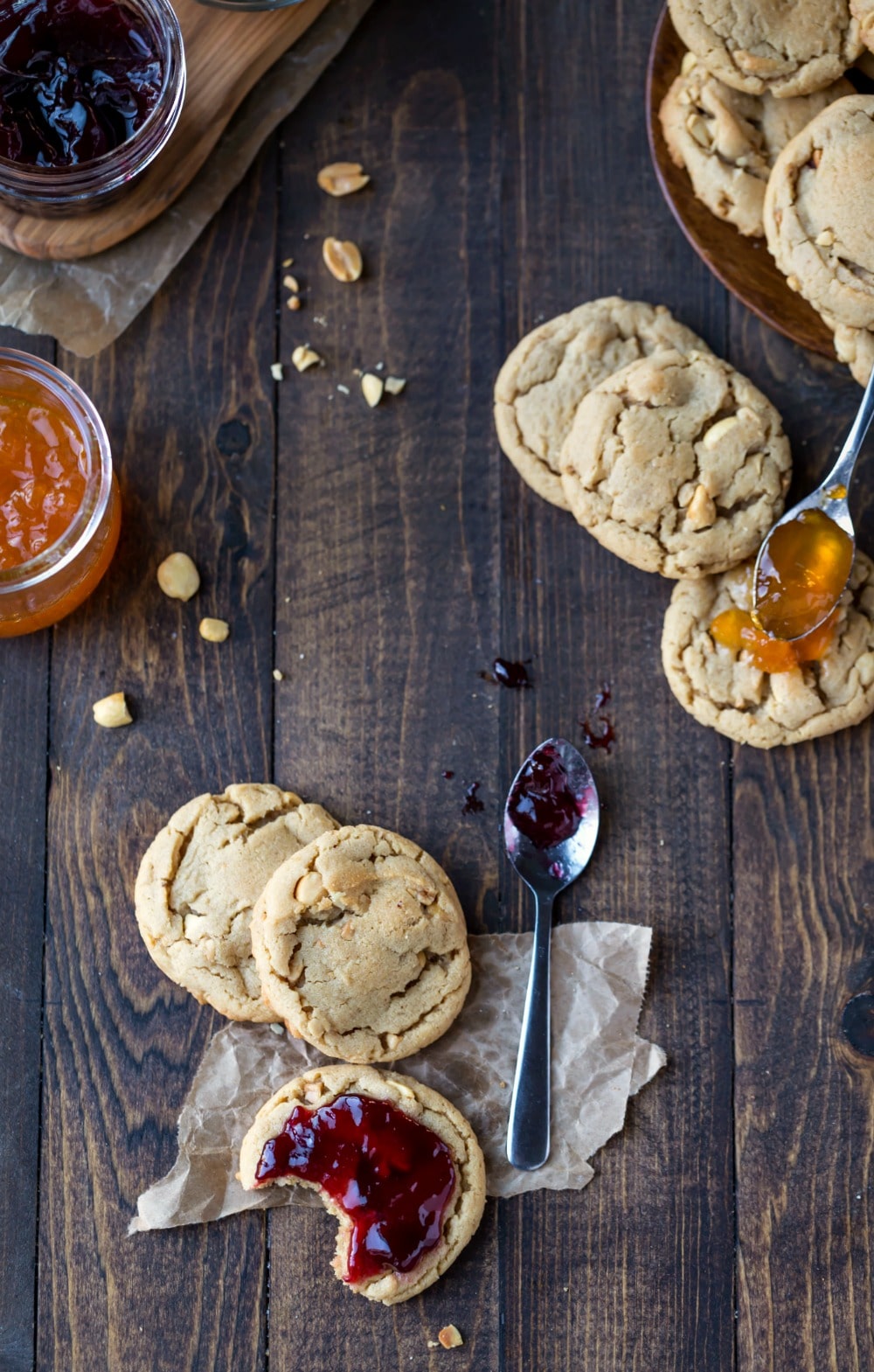 Between the peanut butter sandwiches, peanut stew, peanut chicken, and so many other foods, we eat a lot of peanut butter.
These peanut butter and jelly cookies are my favorite peanut butter cookies. The cookies are chewy and are a great mix of salty and sweet. They're great topped with a little jelly or with some jelly sandwiched in between two cookies for a dessert sandwich.
Peanut Butter and Jelly Cookies
Peanut butter and jelly cookie recipe
Prep Time: 1 hour 15 minutes
Cook Time: 10 minutes
Total Time: 1 hour 25 minutes
Course: Dessert
Cuisine: American
Keyword: cookie, peanut butter
Servings: 26 cookies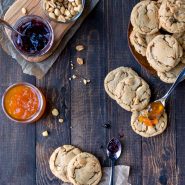 Ingredients
1/2 cup butter at cool room temperature
1/2 cup creamy or crunchy peanut butter not natural
1/2 cup granulated sugar
1/2 cup brown sugar
1 large egg
1/2 teaspoon vanilla extract
1 1/4 cups all-purpose flour
1/2 teaspoon baking soda
1/2 teaspoon baking powder
1/2 teaspoon kosher salt
1/2 cup chopped lightly salted peanuts
Jelly
Instructions
In a large bowl, beat butter and peanut butter together.

Add sugars, and beat until well-combined.

Mix in egg and vanilla until combined.

Add flour, baking powder, baking soda, and salt. Stir until combined.

Stir in chopped nuts.

Cover, and chill dough for 1 hour, or until firm.

Toward the end of the chilling time, preheat oven to 350 F.

Scoop out 1.5 tablespoons of dough and place on prepared cookie sheet 2 inches apart. I've slightly flattened the cookies and left them as-is, and it doesn't seem to make much difference.

Bake 10-15 minutes, or until edges are lightly browned and middles are set.

Let cookies cool on the cookie sheet for 5 minutes.

Remove to wire rack, and let finish cooling.

Top cookies with jelly or spread jelly between two cookies to make a sandwich.
Nutrition facts per serving (1cookie)
Calories: 132kcal
Fat: 7g
Saturated fat: 3g
Cholesterol: 15mg
Sodium: 135mg
Potassium: 76mg
Carbohydrates: 14g
Sugar: 8g
Protein: 2g
Vitamin A: 2.4%
Calcium: 1.5%
Iron: 2.8%