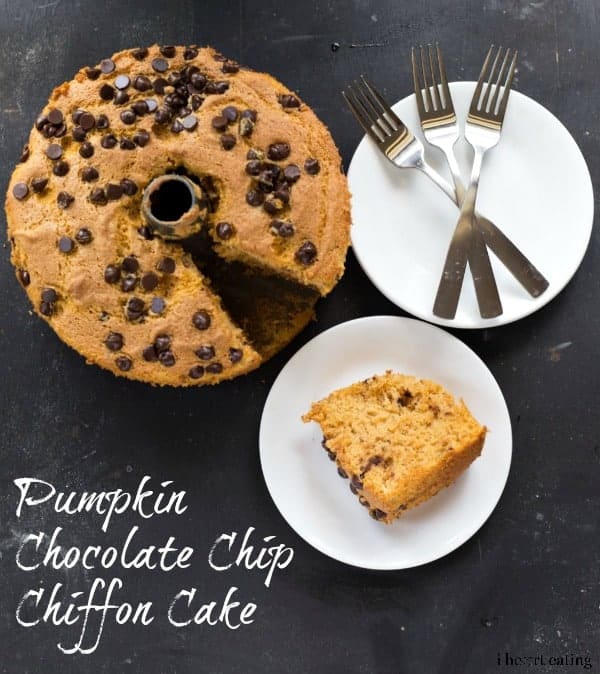 This is the second pumpkin dessert in a row, but there's a reason for that.
When I make something with pumpkin, I usually use 1 cup, or about half a can.
The other half of the can ends up in a container in the fridge and stays there until I discover it again after it's gone bad.
But not this time.
If you've never had a chiffon cake, it's a little more dense and substantial than an angel food cake.
The pumpkin flavor in this cake isn't overpowering; it's a subtle pumpkin spice cake.
Also, make sure you use mini chocolate chips.
The full-size chocolate chips would be a little heavy for this and could sink to the bottom of the cake.
More pumpkin recipes!
Pumpkin Chocolate Chip Chiffon Cake
Pumpkin chocolate chip chiffon cake
Prep Time: 25 minutes
Cook Time: 1 hour
Total Time: 1 hour 25 minutes
Servings:16 servings
Course: Dessert
Cuisine: American
Keyword: pumpkin chiffon cake
Ingredients
1 c . all-purpose flour
1 ¼ c . granulated sugar
1 tsp . cinnamon
1/2 tsp . ground nutmeg
1 tsp . baking powder
1/2 tsp . salt
4 eggs (, separated and at room temperature)
5 egg whites (, at room temperature)
1 c . pumpkin puree
1 c . semisweet mini chocolate chips
1/2 c . semisweet chocolate chips
Instructions
Preheat oven to 325 F.

In a medium bowl, stir together flour, 3/4 cup sugar, spices, baking powder, and salt.

In a large bowl, stir together the egg yolks and pumpkin puree.

Stir the dry ingredients and mini chips into the pumpkin mixture. Mix until combined.

In the bowl of an electric mixer fitted with a whisk attachment, whisk 9 egg whites on medium until foamy, about 2 minutes.

With the mixer running, gradually whisk in the remaining 1/2 cup sugar. Increase to high speed and beat until stiff, about 1-2 minutes.

Fold in 1/4 of the egg whites into the pumpkin mixture. Repeat with remaining egg whites.

Pour the batter into an ungreased two-piece 10-inch tube pan.

Sprinkle with remaining chocolate chips.

Bake until toothpick inserted in the center comes out clean, about 40-50 minutes.

Invert pan and let cool upside down for about 1-1 ½ hours or until completely cool.

Turn the cake right side up, and serve.
Notes
Nutrition values are estimates.
Nutrition Information
Serving: 1servingCalories: 233kcal (12%)Carbohydrates: 33g (11%)Protein: 4g (8%)Fat: 9g (14%)Saturated Fat: 4g (20%)Cholesterol: 42mg (14%)Sodium: 107mg (4%)Potassium: 217mg (6%)Fiber: 2g (8%)Sugar: 23g (26%)Vitamin A: 2450IU (49%)Vitamin C: 0.7mg (1%)Calcium: 40mg (4%)Iron: 2.1mg (12%)
Adapted from Rachael Ray Magazine