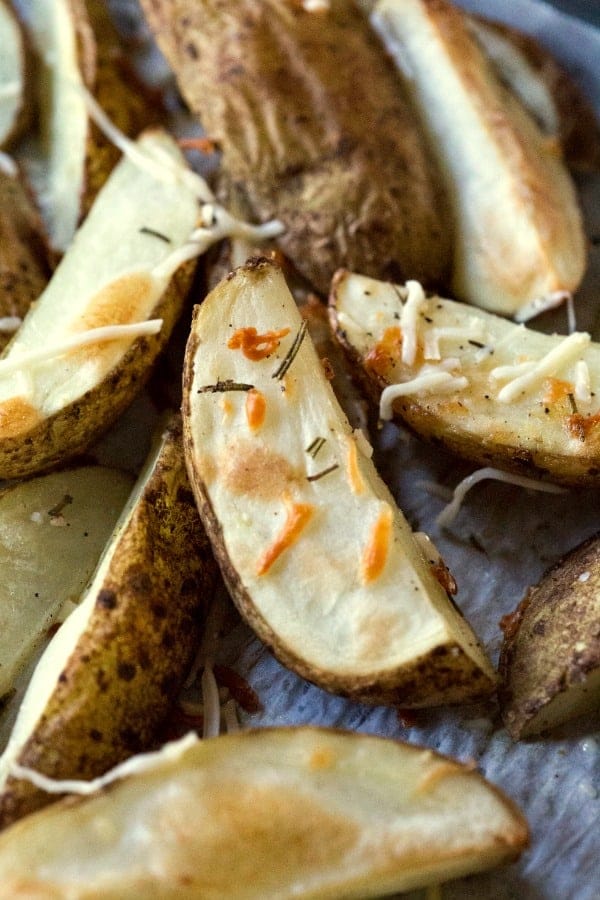 My grandma made amazing rosemary potatoes, but whenever we would ask her for one of her recipes, we always got the same answer. "Oh, you just put in a little of this and little of that until it looks right," she would say. This is my attempt to recreate those great potatoes, which are pretty tasty, if I do say so myself. Even my toughest food critic (my two-year old) will eat these.
Ingredients
4 medium baking potatoes (, scrubbed and dried)
1 T . olive oil
1 tsp . kosher salt
2 tsp . dried rosemary or 2 T. chopped fresh rosemary
2 T . Parmesan cheese (, finely grated)
Instructions
Preheat oven to 425 F. Line a baking sheet with aluminum foil or parchment paper.

Cut each potato in half length-wise. Cut each half into 2-3 wedges depending on size of the potato.

Lay the wedges on the baking sheet and drizzle with olive oil. Rub the oil to make sure the wedges are coated.

Sprinkle salt, rosemary, and parmesan over the potatoes.

Bake for 20-25 minutes until lightly browned, turning the wedges over halfway through cooking time.

Remove from oven and serve warm.