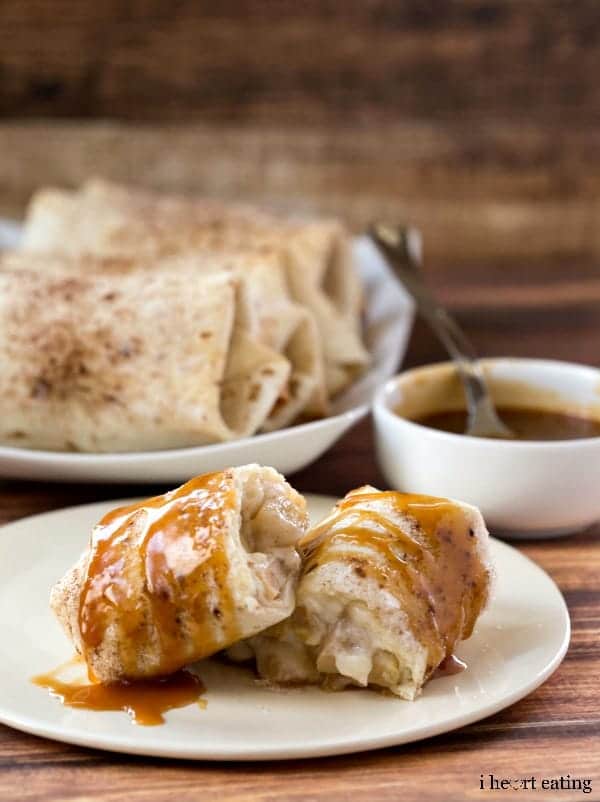 With Cinco de Mayo coming up, I've been thinking a lot about Mexican food recipes. And when I say Mexican food, I mean "Mexican" food – the kind of food that you'd find in restaurants that give you sombreros for your birthday.  I worked as a waitress in a restaurant like that for about a  year and a half while I was in college. I loved the food, and I still miss it sometimes.
These salted caramel apple cheesecake chimis would have been perfectly at home on the menu there. They are stuffed with creamy cheesecake and juicy apple filling. The tortillas are crispy and buttery and cinnamon sugar-y, and the salted caramel sauce puts the whole dessert over the top. Seriously, these are soooooo good!!
Salted Caramel Apple Cheesecake Chimis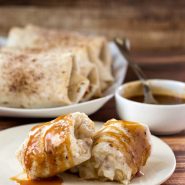 Ingredients
Apple Filling
1 T . butter
3 c . peeled and chopped apples
2 T . granulated sugar
1 tsp . ground cinnamon
1/4 tsp . ground nutmeg
1/4 tsp . ground allspice
Cheesecake filling
8 oz . reduced-fat cream cheese , at room temperature
1/3 c . granulated sugar
2 T . all-purpose flour
1/2 tsp . vanilla extract
Everything Else
6 (soft taco sized) tortillas
2 T . butter , melted, divided
1 T . granulated sugar
1 tsp . cinnamon
Salted caramel sauce
Instructions
Preheat oven to 350 F.

For the apple filling, in a large skillet over medium-low heat, melt butter.

Once the butter has melted, add chopped apples, sugar, and spices. Stir to combine.

Continue to cook apples for about 10 minutes, or until apples are softened but still hold shape.

For the cheesecake filling, beat together cream cheese, sugar, flour, and vanilla until well-combined.

To assemble, lay tortillas flat.

Divide cheesecake filling evenly among tortillas.

Pour apples evenly over cheesecake filling.

Brush 1 tablespoon of melted butter in the bottom of a casserole dish.

Stir together 1 tablespoon granulated sugar and 1 teaspoon cinnamon together.

Sprinkle half of the cinnamon sugar over butter in the dish.

Roll up tortillas, and place them seam side down in buttered dish.

Brush rolled up tortillas with remaining 1 tablespoon butter.

Sprinkle with remaining cinnamon sugar.

Bake for about 25 minutes or until tortillas are crisp.

Generously drizzle with salted caramel sauce, and serve warm.