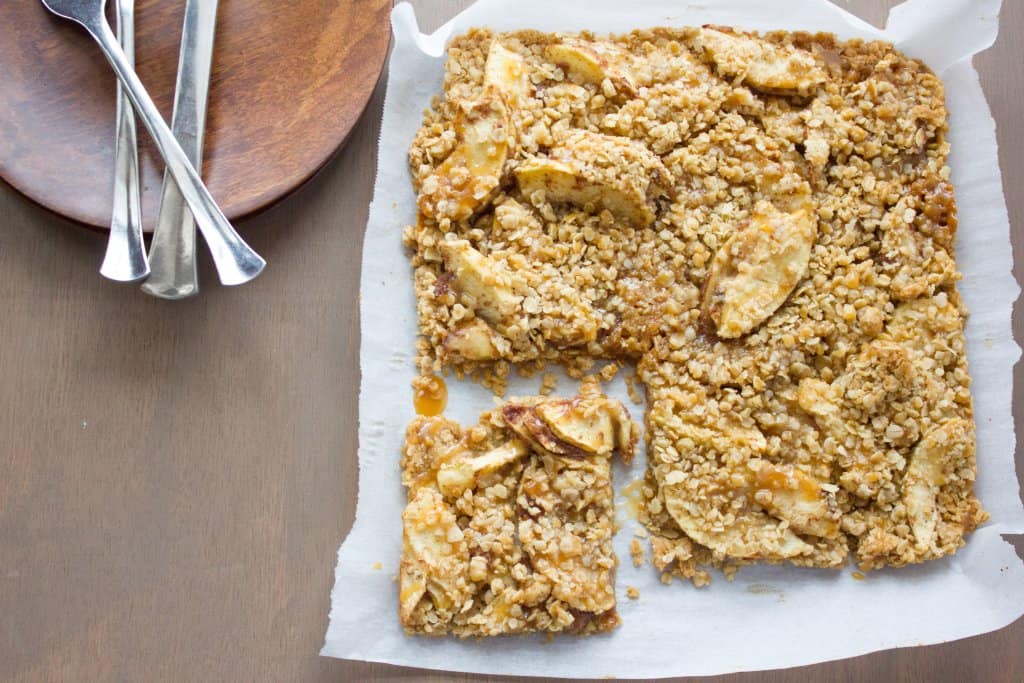 About a week ago, I shared a recipe for salted caramel sauce. I love it so much that I've sort of been going crazy adding it to everything. First, I added it to my salted caramel cashew bars, and now, I've added it to my apple crisp bars. Please don't feel like you have to make a batch just for this recipe. I hate when I read over a recipe and find out that I have to make three other things before I can make whatever it is that I wanted to make (sorry for the times when I do that!). It just makes me feel stressed out, and I don't want to stress you out. So, if you want to make a batch, great! It's delicious, and if you like caramel, you'll be thrilled with it (and me). If not, these bars a great without it – the salted caramel sauce just adds an extra oomph of deliciousness. One other note, if you like a lot of apple filling, you'll want to double the filling. These bars are about as much crisp as they are apple filling.
Salted Caramel Apple Crisp Bars
Ingredients
Crust and Topping
1

c

. oats

1/3

c

. all-purpose flour

1/3

c

. brown sugar

(not packed)

1/4

c

. butter

, melted
Filling
2

c

. peeled apple slices

1

T

. all-purpose flour

1

T

. granulated sugar

1/2

tsp

. ground cinnamon

1/4

tsp

. ground nutmeg

1/4

tsp

. ground ginger

1/4

c

. salted caramel sauce

, plus extra for drizzling
Instructions
Preheat oven to 350 F. Line an 8x8-inch pan with parchment paper, leaving a little overhang. Lightly grease parchment paper with nonstick cooking spray; set pan aside.

In a large bowl, stir together oats, flour, brown sugar, and butter until combined.

Scoop out 1 ½-cups of the oat mixture and press into prepared pan.

Bake crust for 10 minutes.

While crust is baking, stir together apple slices, flour, sugar, and spices.

Once crust has baked, pour apples over crust.

Drizzle caramel sauce over apples.

Sprinkle remaining crumb mixture over apples.

Bake for 30-40 minutes, or until crumbs are lightly golden brown and apples are soft.

Drizzle with extra caramel sauce, if desired, and serve warm.