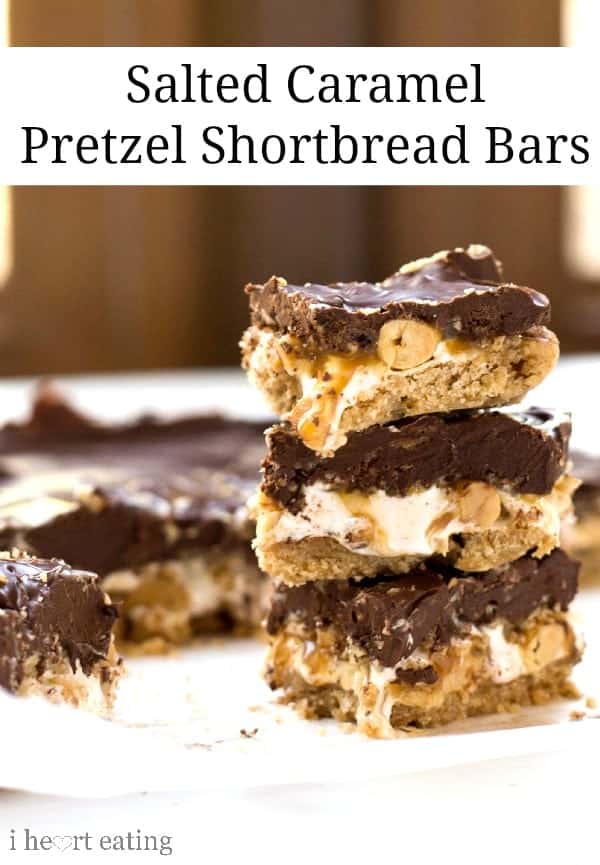 It's been a while since I'd made anything that was a little over the top. With Halloween coming up, this seemed like the time to make some crazy candy combination. So, I give you these chocolate, marshmallow, caramel, peanut, krispie, pretzel shortbread bars. Or, as I tried to shorten it to, Salted Caramel Pretzel Shortbread Bars.
These bars have a layer of shortbread made with ground pretzels topped with marshmallow, caramel, peanuts, rice krispies cereal, and chocolate. They are rich, indulgent combination of salty, sweet, gooey, and crunchy goodness.
 A few notes – first, the bars can be served at room temperature or chilled. Second, if you want to serve the bars chilled, it's easier to cut them after chilling them for about 15 minutes, and then continue to chill them until you're ready to serve them. Third, I like bigger pieces of peanuts in my bars. If you don't, you'll wan to chop the peanuts before using them.
Salted Caramel Pretzel Shortbread Bars
Ingredients
Pretzel Shortbread Crust
1/2

c

.

(8 T.) salted butter, softened

1/2

c

. powdered sugar

1

T

. vanilla extract

1/2

c

. all-purpose flour

1/2

c

. finely ground pretzel crumbs
Toppings
3.5

oz

. marshmallow fluff

2/3

c

. salted peanuts

(I used peanuts with sea salt because they aren't too salty)

1/2

c

. salted caramel sauce

1

c

. krispie rice cereal

1 ½

c

. chocolate chips
Instructions
Preheat oven to 300 F. Line an 8x8-inch pan with parchment paper. Lightly grease the parchment paper.

Stir in flour and pretzel crumbs until just incorporated.

Press crust evenly into prepared pan.

Prick the crust with a fork all over the base.

Bake for 25-35 minutes, or until edges are golden brown and middle is light golden brown.

Remove crust from oven, and top with dollops of marshmallow fluff.

Let the fluff sit for 2-3 minutes to soften.

Gently spread the marshmallow over crust.

Sprinkle peanuts evenly over marshmallow fluff.

Let the marshmallow cool to room temperature.

Pour caramel evenly over peanuts.

Sprinkle cereal evenly over caramel.

Melt chocolate chips. I microwaved them in 30 second increments, stirring after each 30 seconds. It took about 2 minutes for them to melt.

Gently spoon melted chocolate over bars. Very gently spread as needed. If you spread the chocolate in one direction, it's less likely to pull the cereal up.

Chill the bars for about 10-15 minutes, or until set, before slicing.