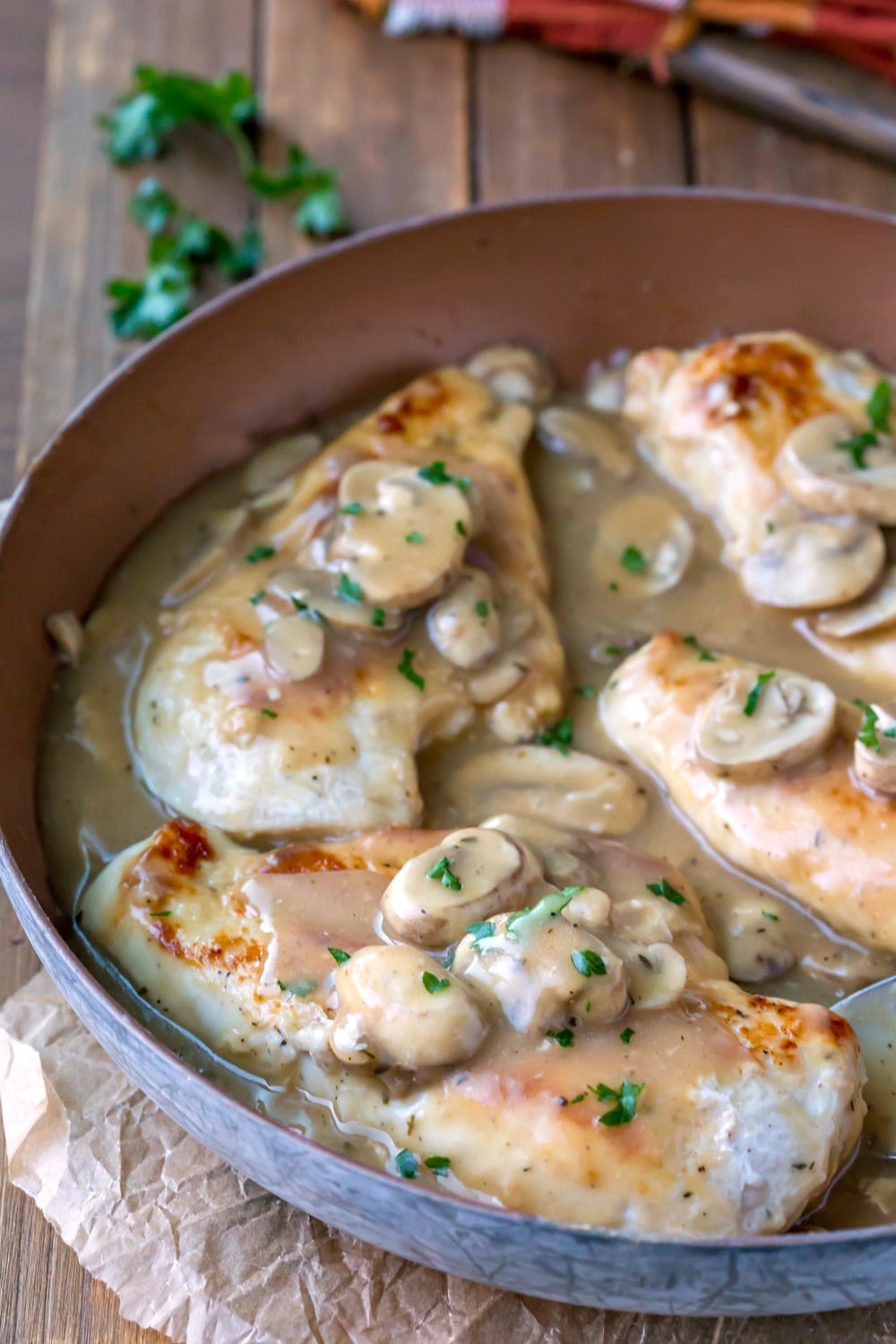 One can never have too many easy chicken dinner recipes.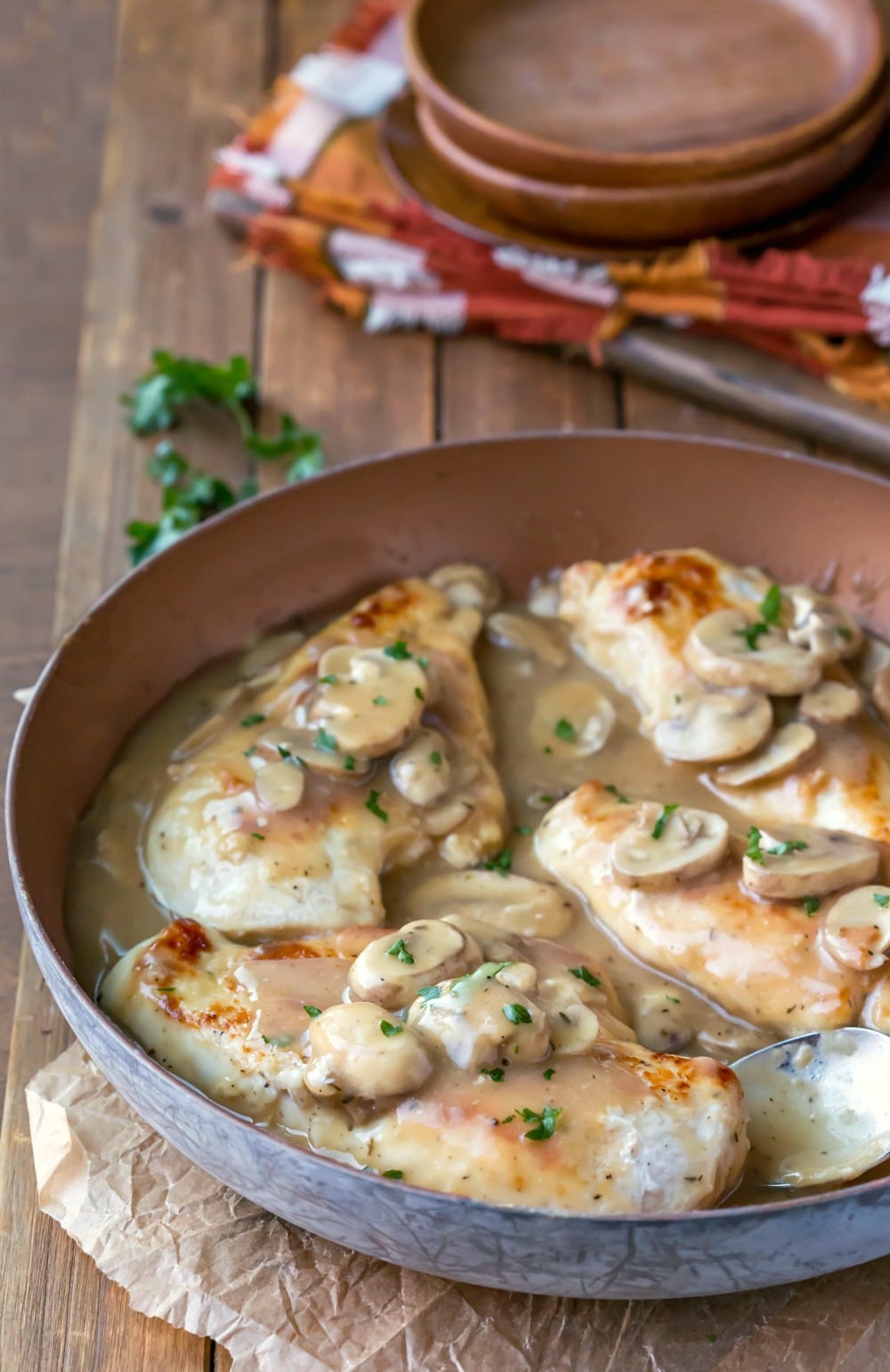 I love chicken dinners because chicken is almost always on sale, and you can do just about anything with it.

 This skillet chicken marsala recipe is an easy, one-skillet dinner recipe that's ready in about 30 minutes. It is a quick, tasty weeknight dinner that's delicious served over pasta.
MY LATEST VIDEOS
Skillet Chicken Marsala Recipe
Easy one-skillet dinner recipe that's ready in about 30 minutes.
Prep Time: 15 minutes
Cook Time: 18 minutes
Total Time: 33 minutes
Course: Main Course
Cuisine: Italian
Keyword: chicken
Servings: 4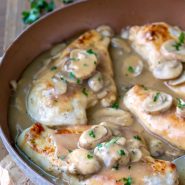 Ingredients
1/3 cup all-purpose flour
1/2 teaspoon dried thyme crushed
1/2 teaspoon dried sage
1/4 teaspoon salt
1/4 teaspoon ground black pepper
4-6 ounce boneless, skinless chicken breast halves
1 cup chicken broth
1/2 cup dry Marsala
3 tablespoons butter
1 tablespoon olive oil
2 cups sliced fresh button mushrooms
2 tablespoons finely chopped shallot 1 medium
Italian parsley
Instructions
In a shallow dish stir together flour, thyme, sage, salt, and pepper; set aside.

Place each chicken breast half between two pieces of plastic wrap.

Using the flat side of a meat mallet, lightly pound chicken to 1/4 inch thick.

Remove plastic wrap.

Dip chicken pieces into flour mixture, turning to coat.

In a large skillet, heat 1 tablespoon of the butter and the oil over medium-high heat.

Add chicken, and cook for 4-6 minutes, or until no longer pink, turning once.

Transfer chicken to a serving platter; cover and keep warm.

Meanwhile, whisk together any remaining flour mixture, broth, and Marsala; set aside.

Add mushrooms and shallot to now-empty skillet, and cook for 6-8 minutes, or until tender, stirring occasionally.

Gradually add Marsala mixture.

Cook until slightly thickened and bubbly, whisking regularly.

Whisk in the remaining 2 tablespoons butter until incorporated.

Serve sauce over chicken, and sprinkle with parsley.
Recipe Notes
*Nutrition values are estimates. 
Nutrition facts per serving (1serving)
Calories: 237kcal
Fat: 13g
Saturated fat: 6g
Cholesterol: 40mg
Sodium: 490mg
Potassium: 313mg
Carbohydrates: 13g
Sugar: 3g
Protein: 9g
Vitamin A: 5.2%
Vitamin C: 1.6%
Calcium: 0.3%
Iron: 6.3%
Slightly adapted from BHG.