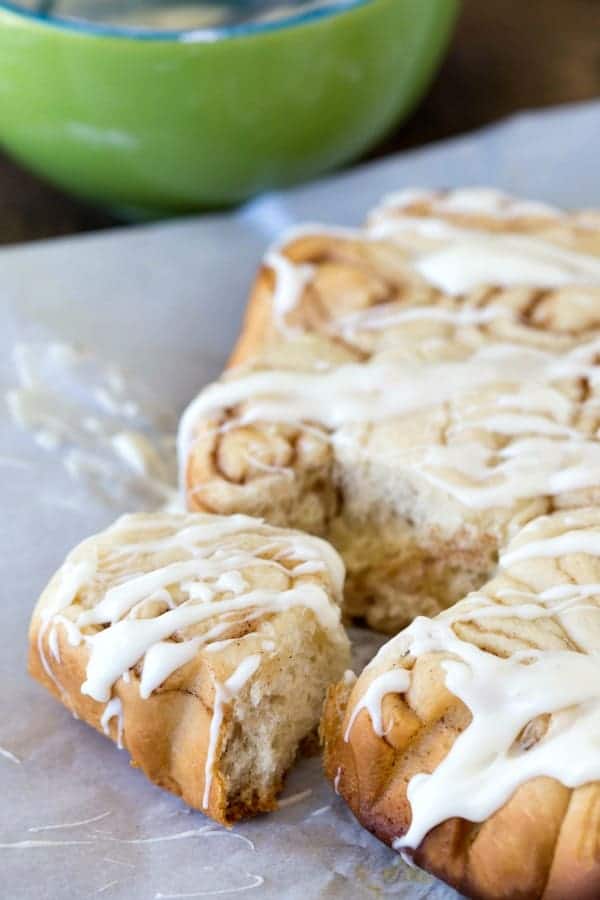 I am not ready for Christmas.
I haven't wrapped a single present, and I have no idea what we're going to have to our Christmas dinner.
Normally, I have holiday meals planned out well in advance, but it just hasn't happened this year.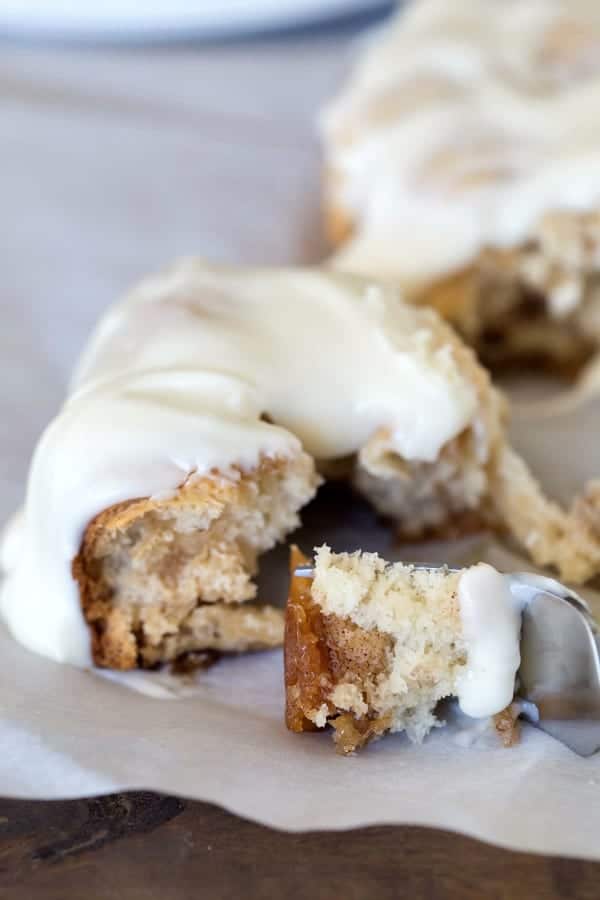 I asked my family what they'd like to have, and I got a lot of  not this or that.
So, we may be going super low key this year and just having big breakfast and then having a veggie tray and along with a big batch of Hawaiian sweet roll sandwiches later in the day.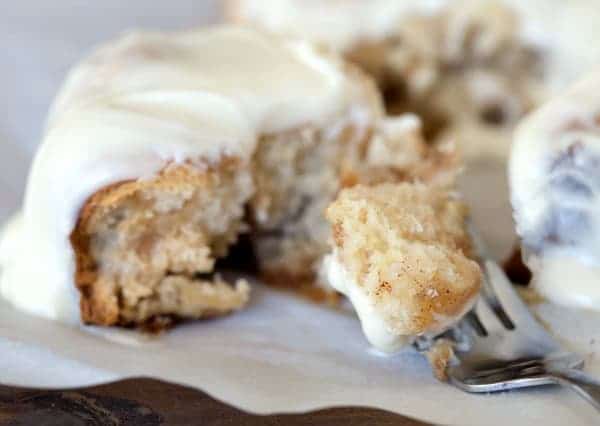 Speaking of breakfast, lately, I can't get enough of everything cinnamon roll!
I've made cinnamon roll bars, cinnamon roll cookies, and these Slow Cooker Cinnamon Rolls.
Lately, I've been loving making rolls in my slow cooker.
I like the longer cooking time with the slow cooker because it makes it so that I can toss them in and then get some other work done while they "bake".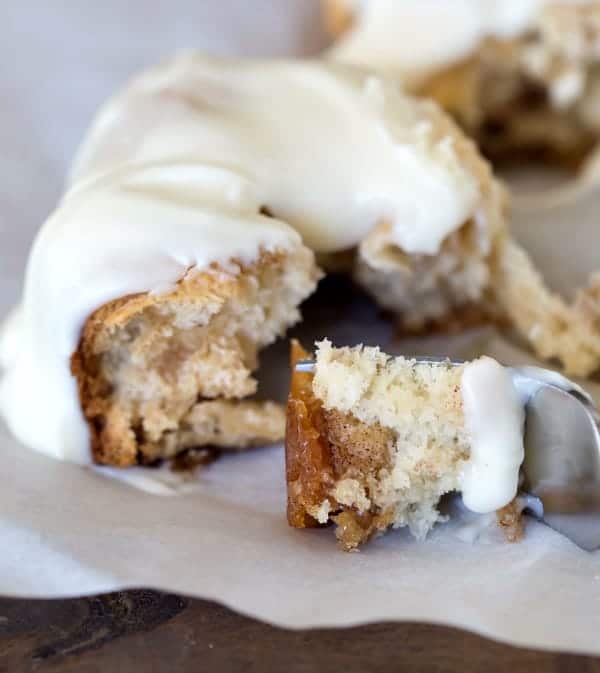 They're also perfect for those times (like holiday mornings!), when you just don't have any room in your oven.
One note about the frosting – the recipe makes enough to generously coat the cinnamon rolls (as shown below).
If you want more of a drizzle (like the photo above), you can halve the recipe.
More easy sweet rolls!
Slow Cooker Cinnamon Roll Recipe
Slow Cooker Cinnamon Roll Recipe
Prep Time: 30 minutes
Cook Time: 1 hour 30 minutes
Sitting: 10 minutes
Total Time: 2 hours
Servings:12 servings
Course: Breakfast
Cuisine: American
Keyword: crock pot cinnamon rolls, slow cooker cinnamon rolls
Ingredients
Cinnamon Rolls
1/4 c . warm low-fat milk (105F-115F)
1/4 c . granulated sugar
1 T . dry active yeast
3/4 c . warm water (105F – 115F)
1/4 c . butter (softened)
2 ½ –3 c . all-purpose flour
1/2 tsp . salt
Filling
2 T . softened butter
2/3 c . granulated sugar
1/3 c . brown sugar
1-2 tsp . ground cinnamon
Icing
3 oz . cream cheese (softened)
2 T . butter (softened)
1 c . powdered sugar
2-3 T . milk
Instructions
I've found that my slow cooker has hot spots. Chances are yours does, too. If it does, make yourself a foil collar in your slow cooker to ensure even "baking".

Line slow cooker with a piece of parchment large enough to go up the sides.

Turn slow cooker to warm, and set aside.

To make the rolls, add milk, sugar, yeast, and water to the bowl of a stand mixer fitted with a paddle attachment.

Give it a stir, and then let it sit for 5-10 minutes, or until foamy.

Add in butter, and stir to combine.

Add 2 cups flour and salt.

Switch to dough hook, and knead in.

Continue adding flour in 1/4 cup increments until dough clings to paddle and clears the sides of the bowl. Dough should feel a little sticky but shouldn't stick to your finger if you poke it.

Place dough on a floured surface, and roll out to an 9x13-inch rectangle.

Spread softened butter over dough.

Combine sugars and cinnamon, and sprinkle over butter.

Roll up lengthwise, and gently attach seam.

Cut dough into 12-14 pieces, depending on desired size of cinnamon roll.

Place slightly apart in 5-quart oval slow cooker.

Cover opening with a thin cotton towel, and let sit for 10 minutes.

Turn slow cooker to high, and cover with slow cooker lid.

Cook for approximately 1 1/2 hours.

Remove from slow cooker, and prepare icing.

To make the icing, beat together cream cheese and butter until well-combined.

Add powdered sugar and 2 tablespoons milk.

Continue beating, adding additional milk as necessary to get desired consistency.

Drizzle or spread over warm cinnamon rolls.
Notes
Nutrition values are estimates. 
Nutrition Information
Serving: 1servingCalories: 210kcal (11%)Carbohydrates: 32g (11%)Protein: 1g (2%)Fat: 8g (12%)Saturated Fat: 5g (25%)Cholesterol: 24mg (8%)Sodium: 204mg (9%)Potassium: 46mg (1%)Sugar: 31g (34%)Vitamin A: 290IU (6%)Calcium: 28mg (3%)Iron: 0.1mg (1%)