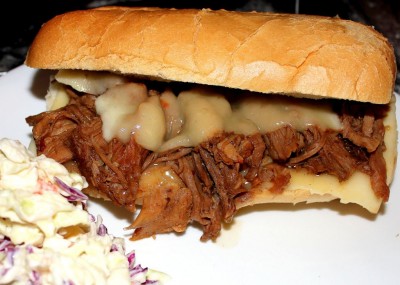 This is another one of those simple slow cooker recipes that I love. Even with the few extra steps that smoking the meat takes, this is a very simple recipe that produces tender, tasty meat. The meat made delicious sandwiches that my husband raved about. I topped my sandwich with some vinegar-y coleslaw, and it was fantastic. If you've never had some coleslaw on your BBQ sandwich, I highly recommend it.
1/4 c. brown sugar
1 T. smoked spice rub
4 pounds pork shoulder (or similar) roast
1 (12 oz.) can Cherry Coke, Diet Cherry Coke, or Cherry Coke Zero
1 bottles barbecue sauce
Soak your wood chips in water for at least 30 minutes. Drain the water.
Spread out a good-sized length of foil on the counter. Put the wood chips inside.
Fold over the edges of the paper to enclose the wood chips and make a packet that fits inside your slow cooker completely. Put it in.
With scissors or a knife, cut or poke tiny holes here and there in the top level of the foil to let smoky steam escape.
Rub all sides of your meat with brown sugar and spice rub.
Put it in the slow cooker directly on top of the foil packet.
Pour soda around the edges of the pork.
Put the lid on and cook on low for 8 hours, or until meat shreds easily.
Shred meat with two forks.
Remove the smoking packet from slow cooker and return meat to slow cooker.
Add barbecue sauce. Continue to cook on low for about 1 more hour.