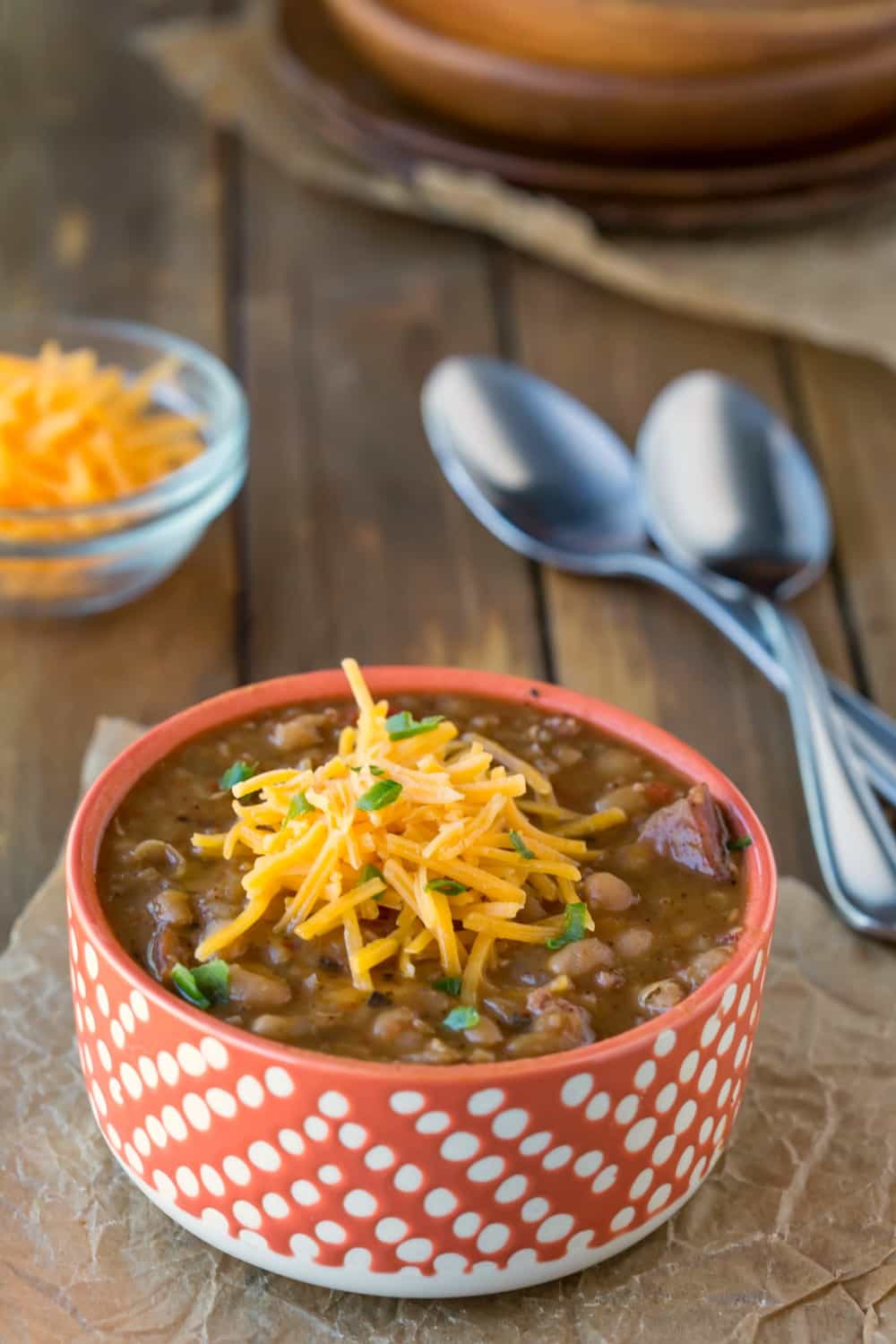 Sometimes, nothing beats a hot bowl of soup.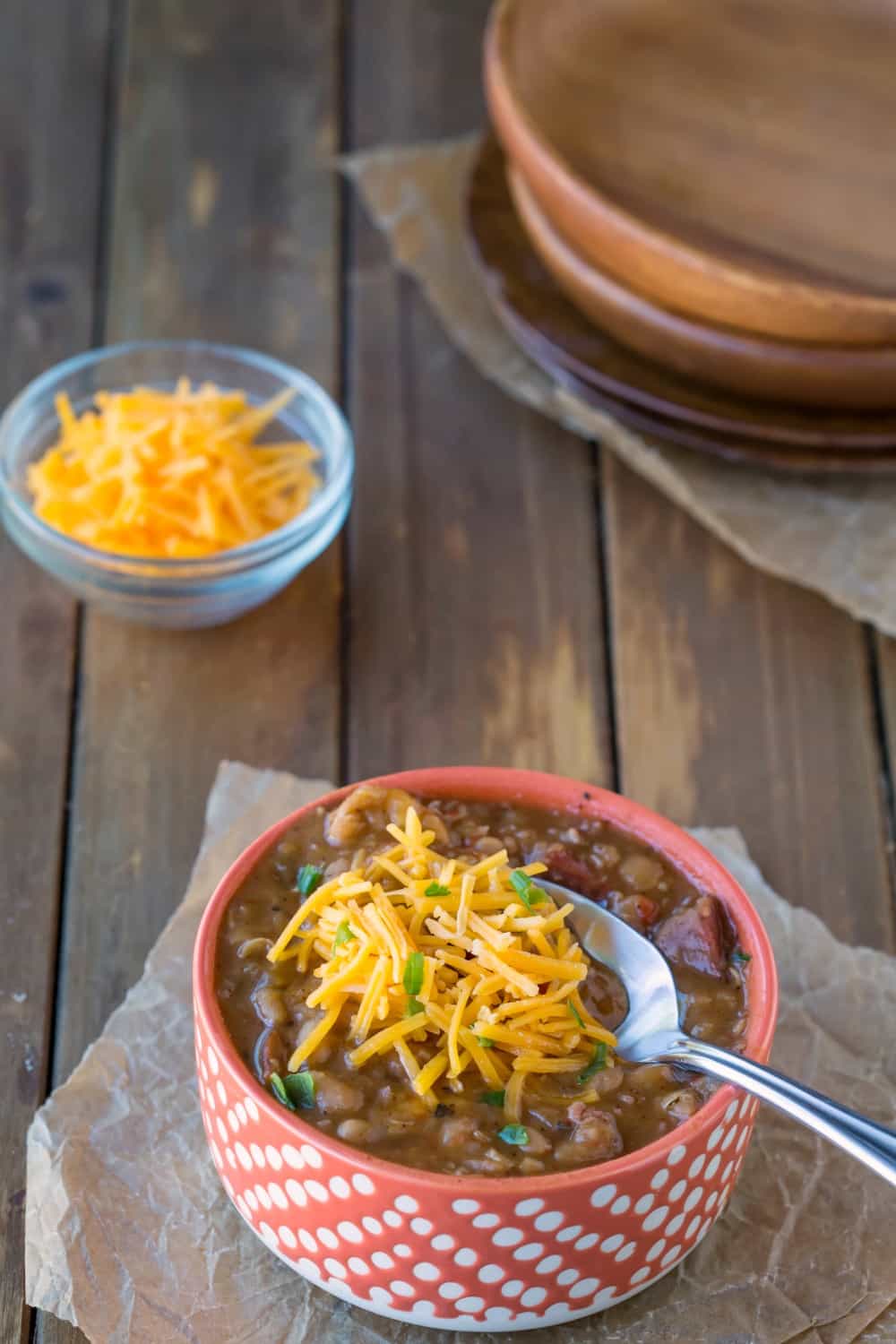 This slow cooker smoky white bean and sausage soup is an easy, hearty soup that's perfect for chilly fall days. The soup comes together quickly and doesn't require soaking the beans ahead of time.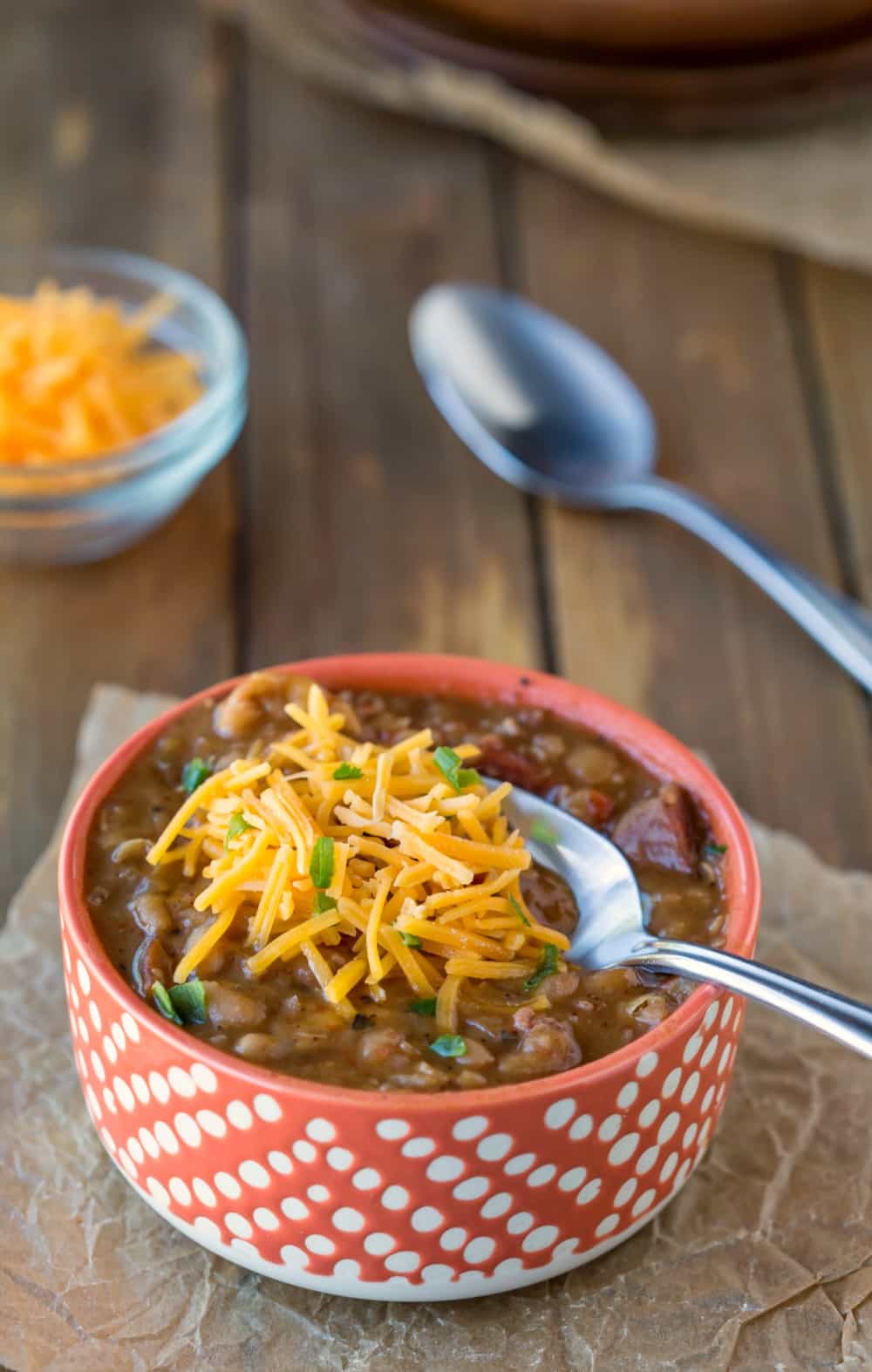 The soup has a nice smoky flavor but not a lot of heat. If you like things on the spicier side, just increase the amount of ancho chile powder, Tabasco sauce, or both.
More soup recipes!
Slow Cooker Smoky White Bean and Sausage Soup
Slow cooker smoky white bean and sausage soup is an easy, hearty crock pot soup that's made with dry beans - no soaking needed.
Prep Time: 15 minutes
Cook Time: 9 hours
Total Time: 9 hours 15 minutes
Course: Main Course
Cuisine: American
Keyword: soup
Servings: 6 servings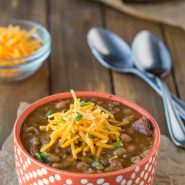 Ingredients
2 yellow or white onions finely chopped
2 red bell peppers finely chopped
6 cloves garlic minced
1-2 tablespoons ancho chile powder depending on desired heat
1 tablespoon ground cumin
1 tablespoon dried oregano
5 1/2 cups low-sodium chicken broth
2 tablespoons reduced-sodium soy sauce
1 tablespoon brown sugar
1 tablespoon Chipotle Tabasco sauce
1 teaspoon liquid smoke Can add up to 1 tablespoon for a smokier flavor.
1 pound dried navy beans rinsed and picked over
2 bay leaves
24 ounces kielbasa sausage sliced 1/2-inch thick
Salt and pepper
Instructions
Add onions, bell pepper, garlic, chile powder, cumin, and oregano to slow cooker. I use a 5 quart.

Stir in chicken broth, soy sauce, brown sugar, Tabasco sauce, and liquid smoke.

Add beans and bay leaves; stir to combine.

Cover, and cook on LOW for 9-11 hours or on HIGH for 5-7 hours.

Stir in kielbasa, and let cook until heated through, about 20-30 minutes.

Remove at least 1 cup of beans, and mash until smooth. Can mash more for a creamier soup.

Return mashed beans to slow cooker, and stir in.

Remove bay leaves, and season with salt and pepper.
Recipe Notes
*Nutrition values are estimates. 
Nutrition facts per serving (1serving)
Calories: 341kcal
Fat: 3g
Sodium: 333mg
Potassium: 1295mg
Carbohydrates: 59g
Fiber: 20g
Sugar: 8g
Protein: 22g
Vitamin A: 33.3%
Vitamin C: 67.8%
Calcium: 16.3%
Iron: 34.5%