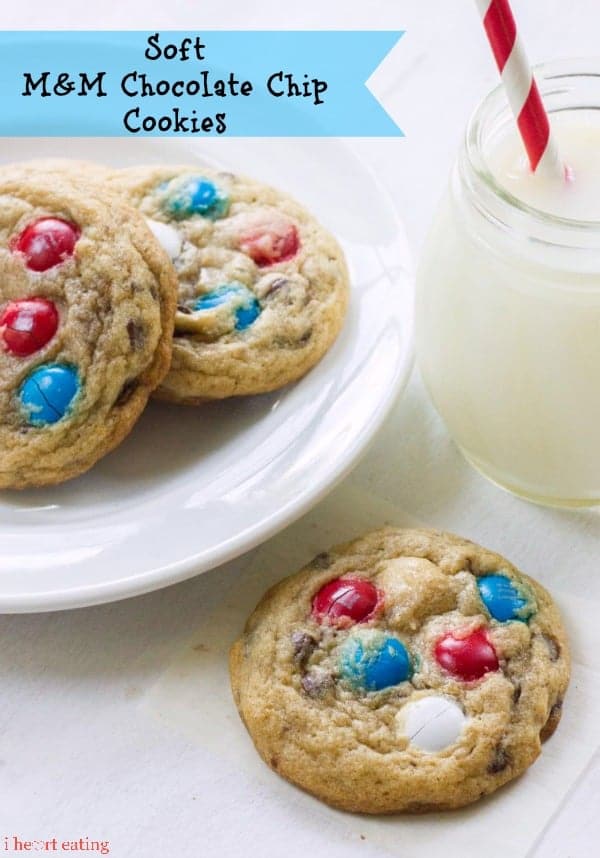 My son loves brightly colored foods. So, he's been dying to make something with all of the Fourth of July-themed goodies we've seen at the store. We decided to make some soft M&M Chocolate Chip Cookies because he loves M&M cookies (what kid doesn't?!).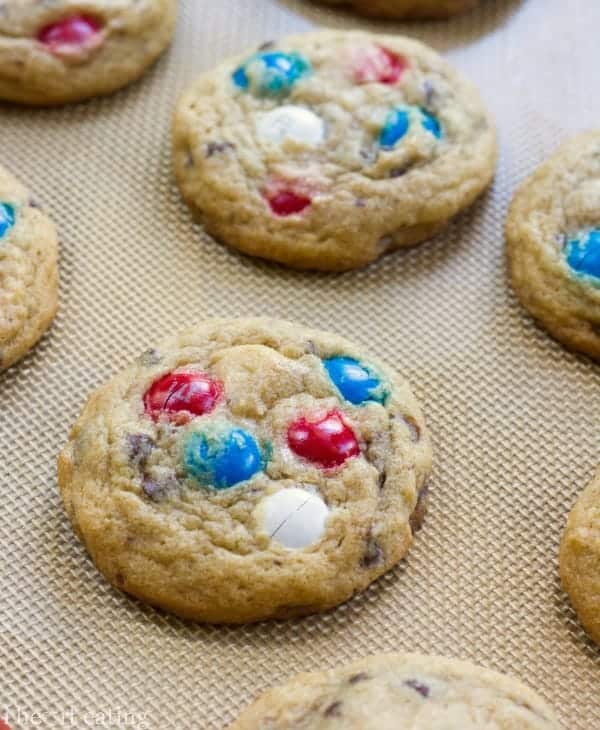 This is a really soft dough, and it makes a soft cookie. The chilling time is necessary for the dough to hold its shape, and I think the cookies taste a little better after the dough has chilled for about a day. It gives the dough a chance for the flavors to blend together, so you get more of the butter, sugar, and vanilla flavors (and less of the flour taste).
Soft M&M Cookies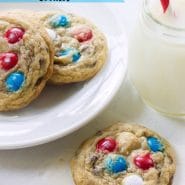 Ingredients
1 c . butter , softened
1/4 c . shortening
1 ½ c . brown sugar
1/4 c . granulated sugar
2 large eggs
1 egg yolk
1 ½ T . vanilla extract
2 c . all-purpose flour
2 c . bread flour
2 T . cornstarch
2 tsp . baking soda
1 tsp . kosher salt
1 ½ c . mini semi-sweet chocolate chips
1 c . M&M's
Instructions
Using an electric mixer (stand or hand), beat together butter, shortening, and sugars until light and fluffy.

Add eggs, yolk, and vanilla; beat until well-combined, scraping down the sides as needed.

In a medium bowl, whisk together the flours, cornstarch, baking soda, and salt until combined.

Add the dry ingredients, and mix until incorporated (it may be too much flour for a hand mixer, so you may have to do this step by hand if using a hand mixer).

Stir in the chocolate chips until just incorporated.

Cover, and chill dough for at least 6 hours or up to 48 hours.

When you're ready to bake the cookies, preheat oven to 350 F. Line 2 cookie sheets with parchment paper or silicone baking mats.

Using a medium cookie scoop (1 ½ tablespoons), scoop out dough and form into a ball.

Press 3-4 M&M's into the top of the cookie, and then press the dough back into the cookie scoop M&M side down (so that the M&Ms will be on the top of the cookie).

Place dough on prepared cookie sheets about 2 inches apart.

Bake for 7-9 minutes, or until edges are lightly golden brown.

Let the cookies cool on the sheet for 5-10 minutes and then remove to a wire cooling rack.

Serve warm or at room temperature.