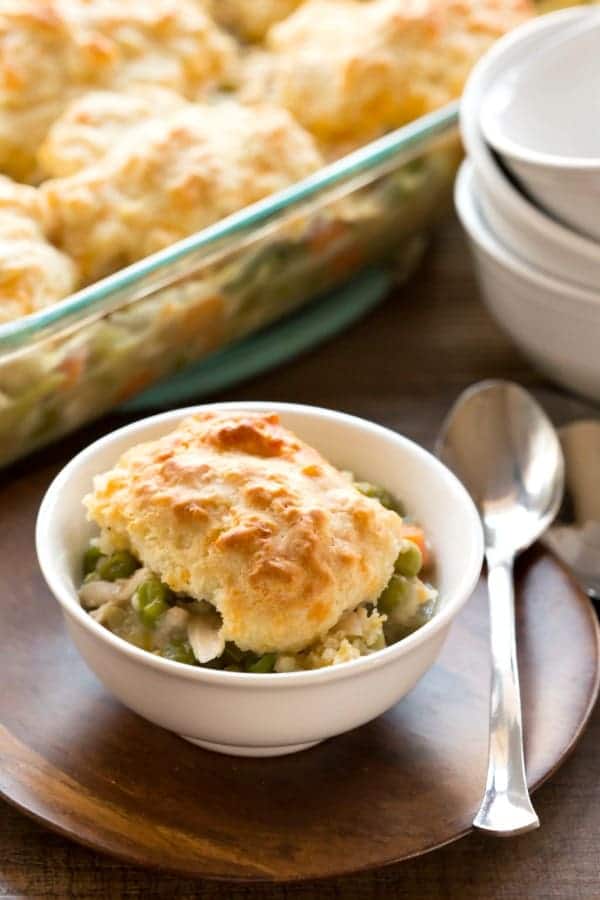 I hope you all had a very happy new year! We spent a very cold couple of days traveling to our new home. When we went out to our car on New Year's Day morning, it was -14. I had forgotten just how cold it can get, and I'm certainly going to miss those 50 degree winter days. Right now, all I want to do is enjoy some warm comfort food – like this Turkey Pot Pie.
It's a hot and hearty mix of turkey and veggies topped with cheesy biscuits. It is the kind of food that will take the chill off your bones. Plus, it's delicious. If you have some turkey leftover from the holidays, this is a must make!
Ingredients
Filling
2 tablespoons olive oil
1 medium onion (cut into 1/2-inch pieces)
2 large carrots (peeled and cut into 1/2-inch pieces)
1 celery rib (cut into 1/2-inch pieces)
1 clove garlic (finely minced)
1 teaspoon dried rosemary
1/2 teaspoon dried sage
1/2 teaspoon dried thyme
1/3 cup all-purpose flour
2-14 ounce cans chicken broth
4 cups shredded (cooked turkey)
10 ounce package frozen baby peas (thawed)
Salt and pepper (to taste)
Biscuit Topping
2 cups all-purpose flour
2 teaspoons baking powder
1 teaspoon baking soda
1/2 teaspoon garlic salt
1/2 teaspoon pepper
1 cup coarsely grated cheddar cheese
2 cloves garlic (finely minced)
1/4 cup grated parmesan cheese
6 tablespoons unsalted butter (cut into 1/2-inch pieces)
1 ¼ cups buttermilk
Instructions
To make the filling, heat olive oil in a large skillet.

Add onion, carrot, and celery.

Cook, stirring occasionally, until vegetables are soft and tender.

Add garlic, and cook for about 30 seconds.

Stir in rosemary, sage, thyme, and flour.

Cook for 1 minute, stirring constantly.

Stir in chicken broth and turkey.

Simmer for about 10 minutes, stirring occasionally.

Stir in peas.

Transfer the filling to a 13x9-inch baking dish.

Preheat the oven to 400 F.

Sift together the flour, baking powder, baking soda, salt, and pepper into a medium bowl.

Add the cheeses and garlic; toss to coat.

Blend in the butter with a pastry cutter (or your fingers) until the mixture resembles wet sand.

Add the buttermilk, and stir just until a dough forms.

Drop the biscuit dough onto the pot pie filling in 8 large mounds, leaving spaces between biscuits.

Bake until the biscuits are puffed and golden brown and the filling is bubbling, 35 to 40 minutes.

Let stand 10 minutes before serving.
Adapted from Just a Taste.