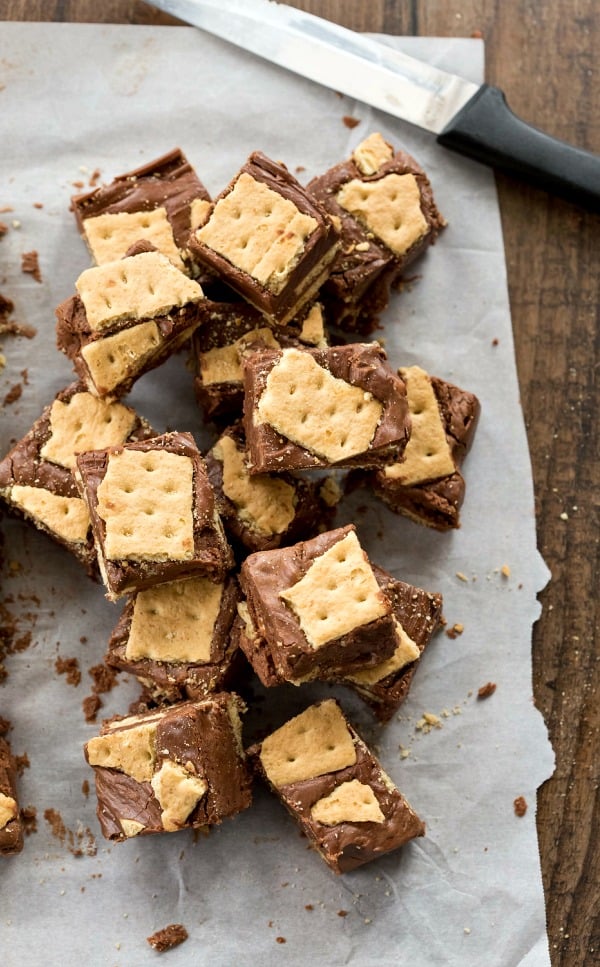 When it comes to dessert, I'm a cake and cookie kinda girl. I've never been as into ice cream or candy. However, lately, I've been all about the candy. I was craving some of the fudge that I grew up eating, so I adapted the Kraft Fantasy Fudge recipe to make this S'mores Fudge.
It's a rich, sweet, melt-in-your-mouth kinda fudge. I like the pieces of graham cracker because they add some good flavor and some nice crunch. One thing that I want to note is that some of the comments on the original recipe said that this fudge can be grainy when it's made with chocolate chips instead of baking chocolate. So, I recommend using baking chocolate in this recipe.
Ingredients
3 c . granuated sugar
3/4 c . butter
2/3 c . evaporated milk ((fat-free ok))
1 (4 oz.) package semisweet chocolate, in pieces
2 (4 oz.) packages bittersweet chocolate, in pieces
1 (7 oz.) jar marshmallow crème
1 tsp . vanilla extract
1 ½ c . mini marshmallows
About 7 sheets graham cracker (, in pieces)
Instructions
Line a 9-inch square baking dish with parchment paper or aluminum foil. Make sure to leave an overhang so that you can easily remove the fudge from the pan.

In a saucepan, bring sugar, butter and evaporated milk to full boil, stirring constantly.

Cook for 1 minute, stirring constantly.

Remove from heat.

Stir in chocolates and marshmallow crème until melted and well-combined.

Add vanilla and mini marshmallows. Stir until melted and combined.

Line the bottom of the pan with pieces of graham cracker.

Pour half of the fudge over the graham cracker pieces.

Place another layer of graham crackers over fudge.

Pour the remaining half of the fudge in, and top with remaining graham cracker pieces.

Let cool before cutting.

I also chilled mine for about 30 minutes to make it easier to cut.
adapted from Kraft