Kate was named Better  Homes & Gardens Blogger of the Month for February 2016.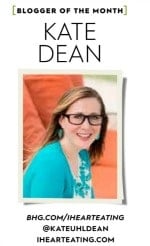 Below are some of the publications that have featured I Heart Eating®.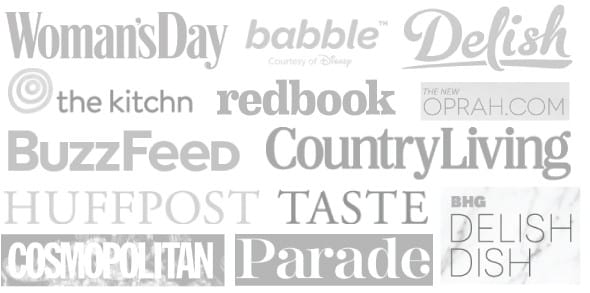 The Huffington Post named I Heart Eating® on of its Top 10 Food Blogs for May 2013.
417 Magazine named I Heart Eating® one of the 5 best local blogs.
Kate appeared on Ozarks Live! to demonstrate her Halloween Candy Bark recipe.
Here are some of the other places where you can find I Heart Eating® featured:
Food Network Canada
16 Seriously Delicious Sticky Bun Recipes
Better Homes & Gardens
Pumpkin + Chocolate Chips = Fall Dessert Perfection
15 No-Bake Dessert Recipes to Fix Every Craving
One-Pot Pasta: Forget Waiting for Water to Boil
10 DIY Hummus Recipes that Destroy Store-Bought Stuff
Shh!…It's a Box Cake Mix!
The Huffington Post
Marshmallow Fluff Recipes
15 Slow Cooker Oatmeals and Healthy Breakfasts to Prep Overnight
The Easiest Lasagna Recipes Ever
Semifreddo Recipes That Prove There Is Dessert Beyond Ice Cream
The Kitchn
Delicious Links
The Best Magic Cakes on the Internet
MSN
The 50 Most Delish No-Bake Desserts
Redbook Magazine
25 Grill Ideas for the Way Women Really Want to Eat
15 Light Desserts That are Still Totally Tasty
12 Life-Changing Chocolate Cakes You Need to Make
Oprah.com
The Easiest Lasagna Recipes Ever
BuzzFeed Food
27 Pasta Recipes to Help You Survive the Winter
29 Ways to Honor the Glory of Peanut Butter and Jelly
27 Ways to Remember "Stressed" is Just "Desserts" Spelled Backwards
27 Amazing Desserts Made with Leftover Halloween Candy
24 Delicious Chili Recipes You Need to Try
27 Low-Stress Chicken Dinners You Can Make In One Pan
23 Breakfasts You'll Want to Eat All Day
Country Living
13 Insanely Easy Breakfast Casserole Recipes That Will Let You Sleep In
18 Ways to Eat Breakfast On The Go
15 Amazing Pretzel Recipes
20 Totally Crazy Rice Krispies Treats Recipes
20 Impossibly Identical Copycat Restaurant Recipes
20 Insane Treats You Can Make with M&M's
12 Life-Changing Chocolate Cakes you Need to Try
Cosmopolitan
20 Insane Treats You Can Make with M&M's
20 Wonderful Waffle Recipes You Need to Try
20 Sweet & Savory Ways to Make Quinoa
15 Foods You Won't Believe You Can Make in the Microwave
15 Seriously Filling Salads for Lunch & Dinner
12 Ridiculously Fantastic Marshmallow Desserts
20 Totally Crazy Rice Krispies Treats Recipes
16 Winter Pasta Recipes that Will Warm Your Soul
12 Life-Changing Chocolate Cakes You Need to Make
15 Crazy Twists on Pretzels
18 Crazy Cute Funfetti Recipes
20 Delicious Ways to Make Rice Be Anything But Boring
The 15 Best Chocolate Chip Cookies You Will Ever Eat
18 Tasty Ways to Eat Breakfast on the Go
15 Light Desserts That Are Still Totally Tasty
20 Impossibly Identical Restaurant Copycat Recipes
Woman's Day
15 Chocolate Chip Cookies That Will Change Your Life
Parade
10 Mother's Day Recipes for Chocolate Lovers
10 Cookie Recipes for Chocolate Lovers
15 Delicious Recipes Using Cauliflower
Get Ready For Swimsuit Season with 19 Lightened-Up Desserts
18 Peach Desserts for the Peach Lover!
25 Creative Pancake Recipes
POPSUGAR
Time to Bake the Doughnuts! 11 Healthier Kid-Friendly Doughnut Recipes
Serious Eats
Tastespotting