Make the popular bread at home! This Outback Steakhouse Copycat Honey Wheat Bread recipe is an easy way to have the famous bread – no restaurant required!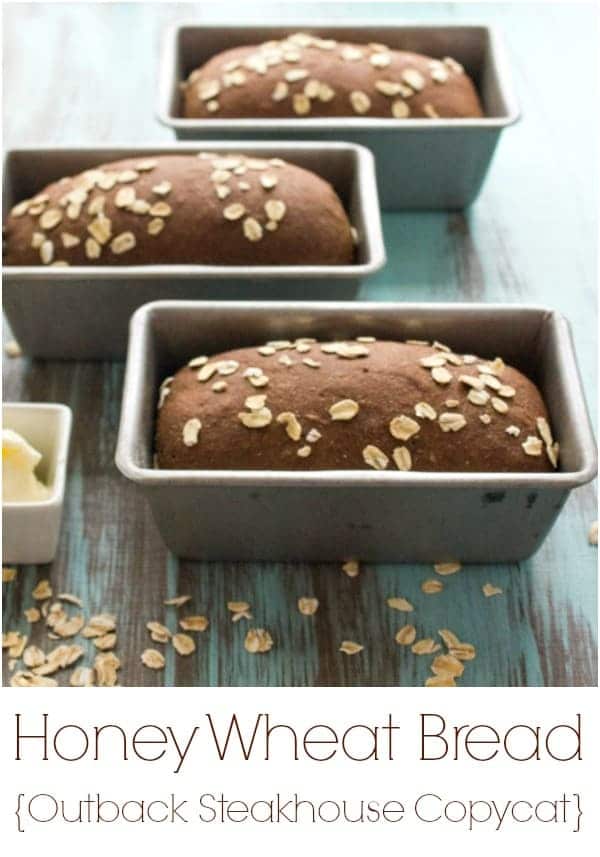 We don't go to sit-down restaurants very often, but when we do, it's all about which restaurant has the best bread. My husband, though, would probably tell you it's about which place has the best steak. Boo! Bread wins out every time for me.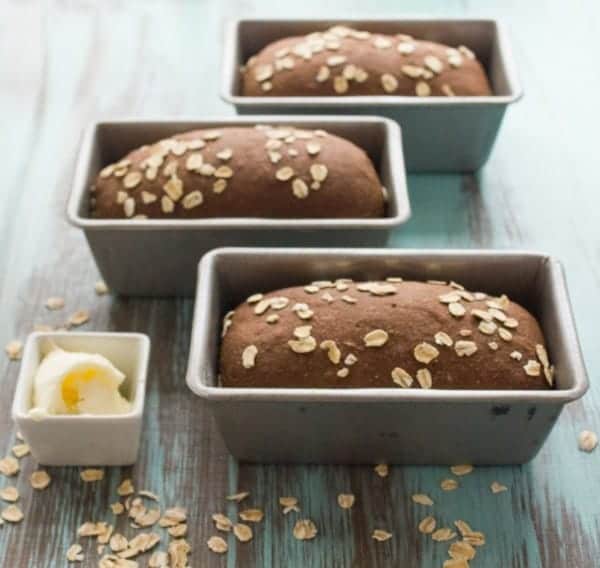 This recipe is nearly an exact copycat of one of my favorite breads. So, now I can eat all of the yummy bread I want without any of that steak business getting in the way.
Outback Steakhouse Copycat Honey Wheat Bread
Copycat recipe for Outback Steakhouse honey wheat bread
Prep Time: 15 minutes
Cook Time: 30 minutes
Total Time: 30 minutes
Course: bread
Cuisine: American
Keyword: bread
Servings: 24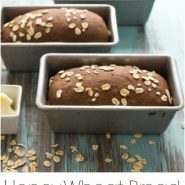 Ingredients
2 ½ c . warm water 100°-110°F
1/4 c . vegetable oil
2 T . caramel color
1/2 c . honey
3 ½ c . whole-wheat flour
2 T . cocoa
2 T . active dry yeast
1 tsp . salt
2-3 c . bread flour
rolled oats for dusting loaves
Instructions
In the bowl of a stand mixer fitter with a dough hook, stir together water, oil, caramel color, and honey until mixed well.

Add wheat flour to water mixture.

Add cocoa, yeast, and salt, and stir until blended.

Allow mixture sit for 10 minutes.

Stir in bread flour, one cup at a time, until dough clings to hook and almost clears the sides of mixer, about 3-4 minutes.

Cover bowl with greased plastic wrap.

Allow dough to rise in the bowl until doubled, about 30-60 minutes.

Divide into 2 pieces.

Cover each piece with greased plastic wrap, and let dough rest for 5 minutes.

Shape pieces into loaves, and sprinkle with oats.

Place each loaf in a greased 9x5-inch loaf pan.

Let dough rise until doubled, about 30-60 minutes.

Toward the end of the rising time, preheat oven to 350 F.

Bake at for 30-40 minutes.
Recipe Notes
*Recipe makes two loaves.
**Nutrition facts are estimates.
Nutrition facts per serving (1g)
Calories: 142kcal
Fat: 3g
Saturated fat: 1g
Sodium: 99mg
Potassium: 94mg
Carbohydrates: 26g
Fiber: 2g
Sugar: 5g
Protein: 4g
Calcium: 0.9%
Iron: 4.7%
adapted from Frieda Loves Bread