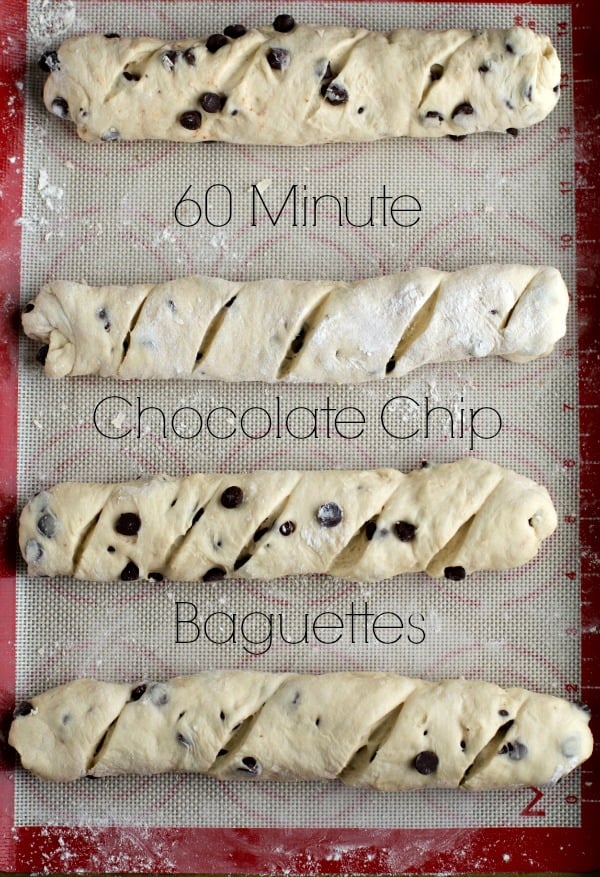 Most of my recipes don't have any story to go along with them. They're just recipes for food that sounds good. These 60 Minute Chocolate Chip Baguettes, though, do.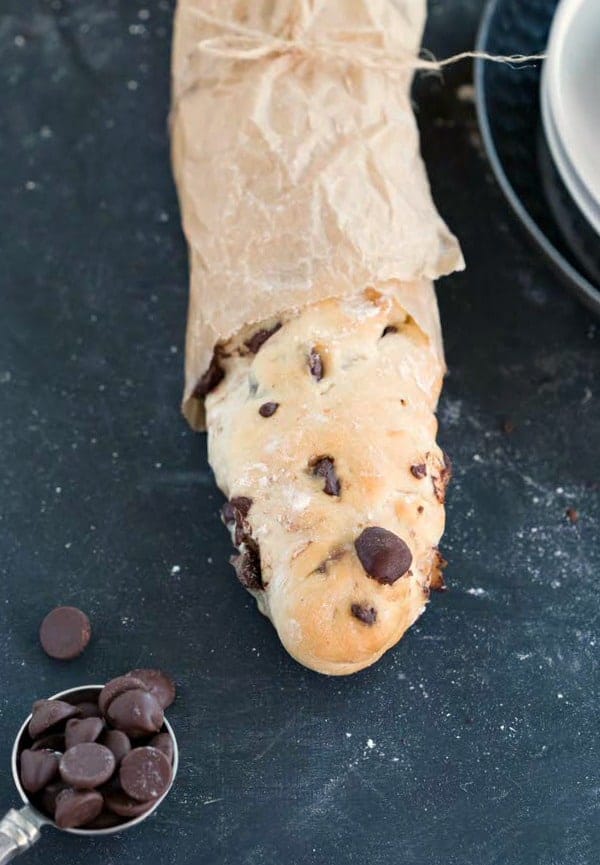 Between my first and second years in law school, I was able to study abroad in France. It was my first time outside of the U.S., and I had a great time. I loved the people and the sights and the food. One of my favorite treats was a simple one – small chocolate chip baguettes. Even though they were simple, they were delicious! Fresh, warm baguettes filled with melty chocolate chips and, sometimes, pearl sugar on top (affiliate link).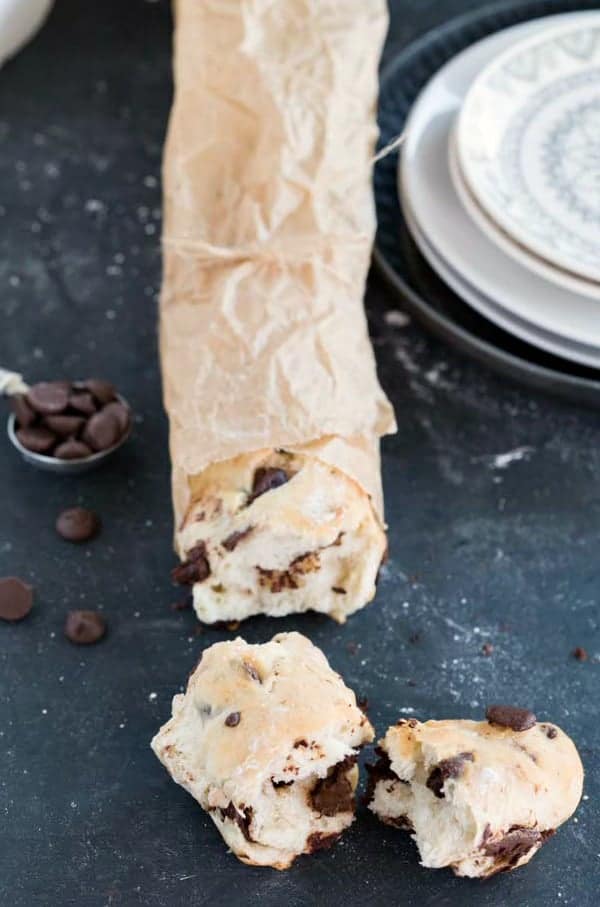 I have thought about those baguettes so many times! Finally, I decided to make my own version at home. These chocolate chip baguettes are really easy to make. I think I picked up the folding technique from Fine Cooking, and it's an easy way to shape the baguette. They have a nice chewy/crisp crust and soft interior. Plus, they're made from scratch and ready in just 60 minutes.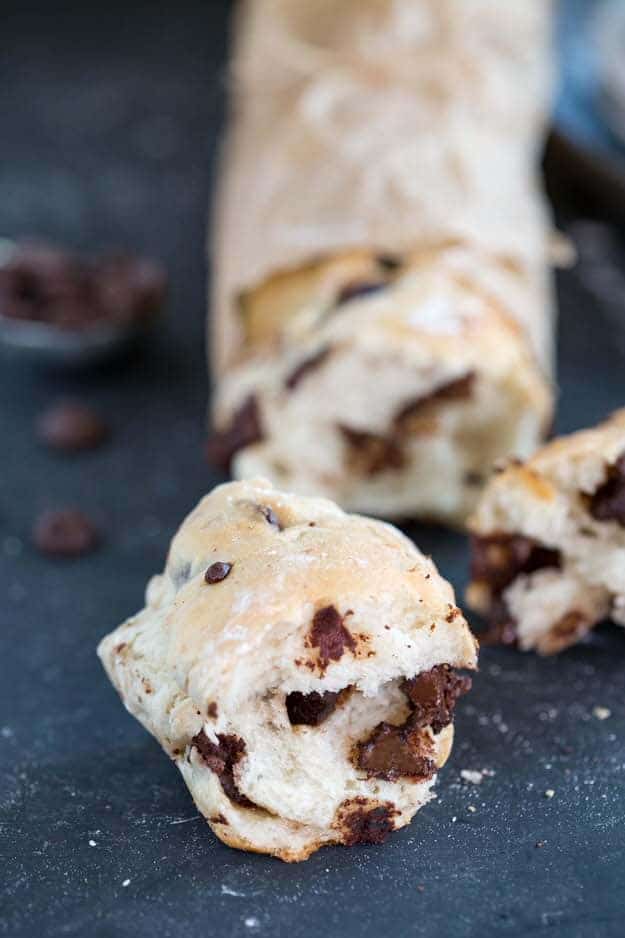 The biggest compliment came from my kids; they absolutely love these! They said that they're better than chocolate chip cookies, and, if you knew my little cookie monsters, you'd know that that's very high praise.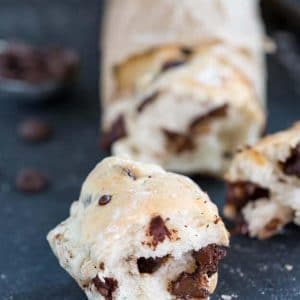 60 Minute Chocolate Chip Baguettes
Chocolate chip baguettes that can be made from scratch in one hour.
Ingredients
2 ½ cups warm water about 105 F
1 tablespoon + 1 teaspoon active dry yeast
3 tablespoons granulated sugar
1/2 teaspoon salt
3 tablespoons olive oil
5 ½-6 ½ cups all-purpose flour
12 oz package chocolate chips I use dark semisweet
Instructions
In a large bowl, stir together water, yeast, and sugar.

Let stand 5-10 minutes, or until foamy

Stir in salt, oil, and 2 cups flour.

Continue stirring in enough flour to form a soft, sticky dough (It takes me around 6-6 ¼ cups).

Cover bowl with greased plastic wrap, and let it sit in a warm place for 15 minutes.

Knead in chocolate chips. It's ok if they aren't perfectly incorporated at this point.

With lightly floured hands, divide dough into 8 pieces.

Place dough on a lightly floured surface.

Form a piece into a rectangle (about 4x2 inches).

Fold top 3rd of dough back to middle.

Fold bottom 3rd of dough back to middle.

Continue until dough is about 8 inches in length.

Dust dough with additional flour if desired (this just gives it a more rustic look).

Repeat process with remaining dough.

Place dough onto parchment-lined or silicone baking mat-lined baking sheets.

Slash the tops diagonally with a thin, sharp knife.

Cover with greased plastic wrap, and allow the loaves to sit while you preheat your oven to 350 F.

Bake for 20-25 minutes until golden brown.
Notes
*Nutrition values are estimates. 
Nutrition
Serving: 1loaf | Calories: 278kcal | Carbohydrates: 33g | Protein: 2g | Fat: 15g | Saturated Fat: 6g | Cholesterol: 6mg | Sodium: 178mg | Potassium: 4mg | Fiber: 1g | Sugar: 31g | Vitamin A: 95IU | Vitamin C: 0.2mg | Calcium: 52mg | Iron: 0.6mg
Reader Interactions
Love this recipe?
Share your thoughts below and let's chat! Make sure to connect with me on your favorite social platform below and show me what you made!