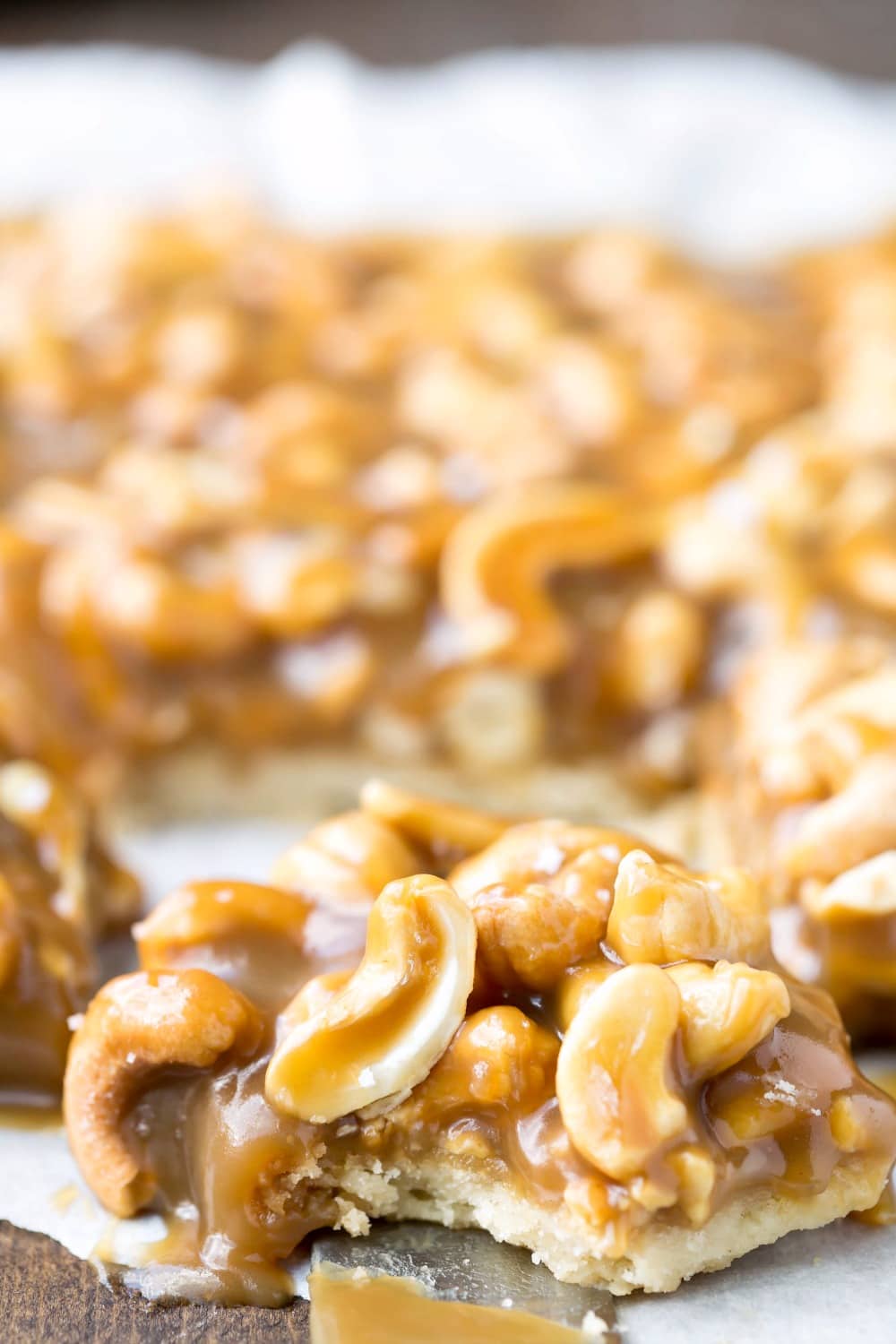 I like chocolate – in moderation. I've sort of chocolate-d myself out lately, so I needed a break from it. I decided to focus on caramel this week instead.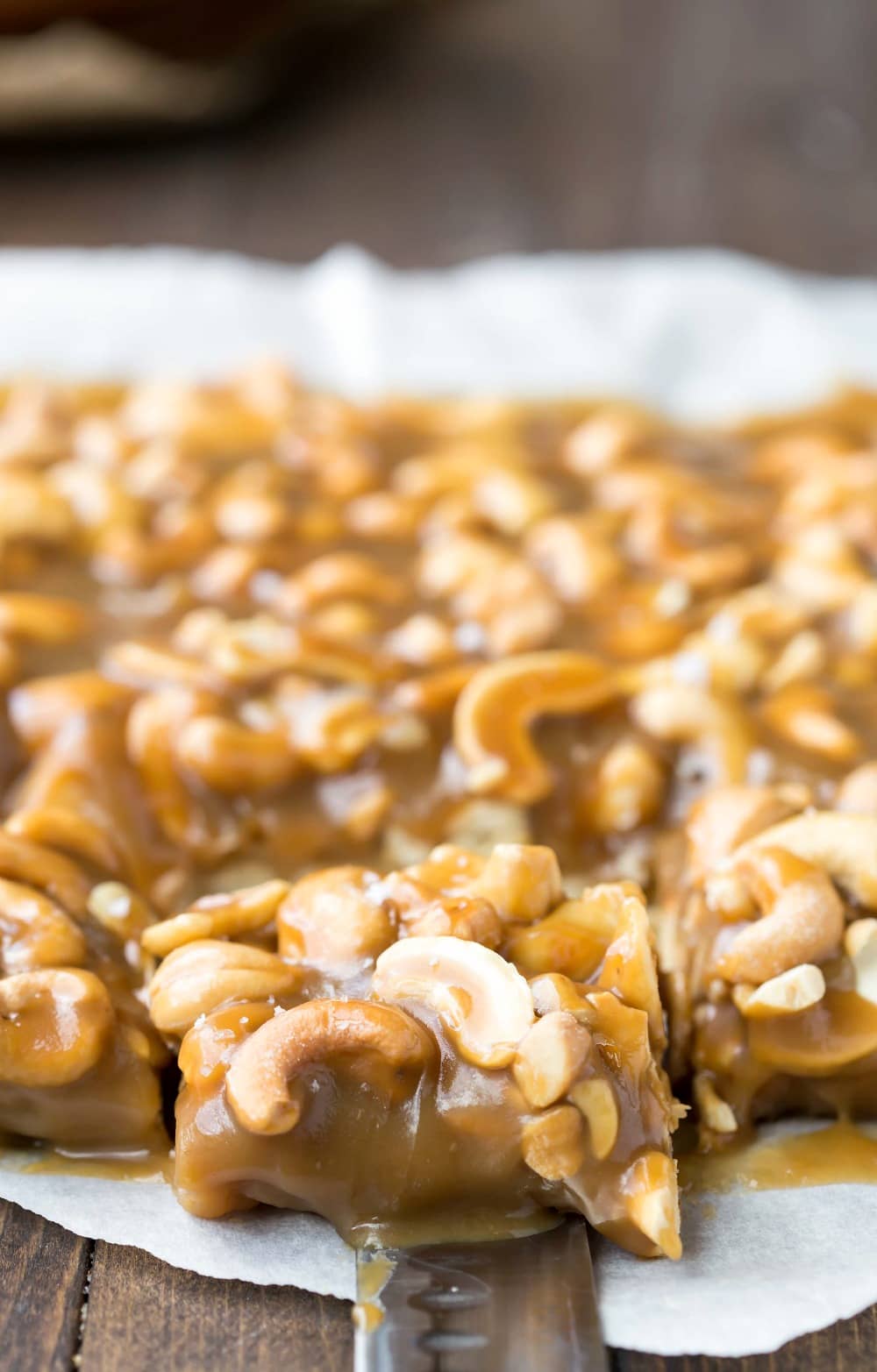 These salted caramel cashew bars were inspired by an ice cream sundae.
I found myself ordering the sundae, eating the caramel and cashews, and then just picking at the ice cream. So, I decided to try to recreate the dessert minus the ice cream.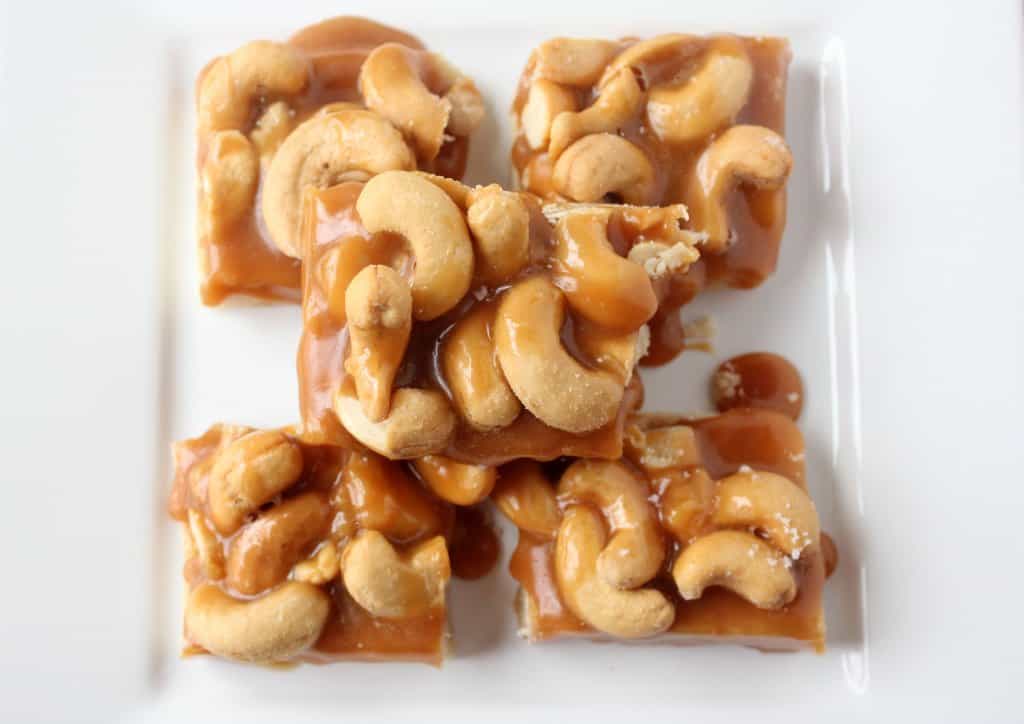 Now, it may sound like these bars would be too salty (salted butter, salted cashews, pinch of salt on top), but they need the salt to balance out all of the sugar in these guys.
Otherwise, the bars would taste really sweet and sort of flatly boring.
The salt keeps interesting. Mini science digression – salt allows you to more fully taste sugar, so it tastes better with a bit of salt.
The day that we talked about baking and taste in chemistry was the day that chemistry finally started to be interesting for me.
While we're talking about salt, please don't use regular table salt on top of these bars.
It has smaller grains and is saltier than a finishing salt like fleur de sel, so they may end up too salty if you use iodized (table) salt.
More salted caramel recipes!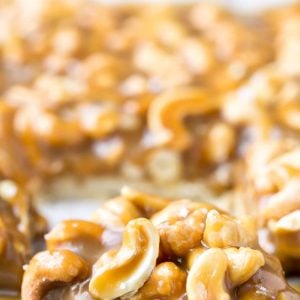 Salted Caramel Cashew Bars
Salted Caramel Cashew Bars
Ingredients
Salted Caramel Sauce
1 cup salted butter
1 cup dark brown sugar packed
1 cup heavy cream
1 teaspoon vanilla extract
Shortbread Crust
1/2 cup . salted butter softened
1/2 cup powdered sugar
1 tablespoon vanilla extract
1 cup all-purpose flour
Everything Else
2 cups unsalted cashews
Pinch of fleur de sel optional
Instructions
To make the caramel, add butter, brown sugar, and heavy cream to a heavy saucepan.

Whisking regularly, bring to a boil.

Boil for 5 minutes, whisking regularly.

Remove from heat, and stir in vanilla extract.

Let sauce cool while you make the crust.

Preheat oven to 300 F. Line an 8x8-inch pan with parchment paper. Lightly grease the parchment paper.

In the bowl of a stand mixer fitted with a paddle attachment, beat together butter, sugar, salt, and vanilla until well-combined.

Stir in flour until just incorporated.

Press crust evenly into prepared pan.*

Prick the crust with a fork all over the base.

Bake for 25-35 minutes, or until edges are golden brown and middle is light golden brown.

Remove crust from oven, and let cool in the pan to room temperature.

Sprinkle cashews over crust.

Pour 2 cups caramel evenly over cashews and crust, and sprinkle with fleur de sel, if using.

Place bars in fridge, uncovered, and chill until set.

Cover, and chill remaining caramel.
Notes
*If you're having trouble pressing the crust into the pan, place a piece of plastic wrap on the crust and press it.  Nutrition values are estimates.
Nutrition
Serving: 1serving | Calories: 534kcal | Carbohydrates: 39g | Protein: 5g | Fat: 41g | Saturated Fat: 21g | Cholesterol: 88mg | Sodium: 219mg | Potassium: 183mg | Sugar: 24g | Vitamin A: 1000IU | Vitamin C: 0.1mg | Calcium: 47mg | Iron: 2mg
Reader Interactions
Love this recipe?
Share your thoughts below and let's chat! Make sure to connect with me on your favorite social platform below and show me what you made!