Rich, buttery homemade caramel sauce is easy to make with this simple recipe! Just a few staple ingredients are all you need to make gourmet caramel sauce at home!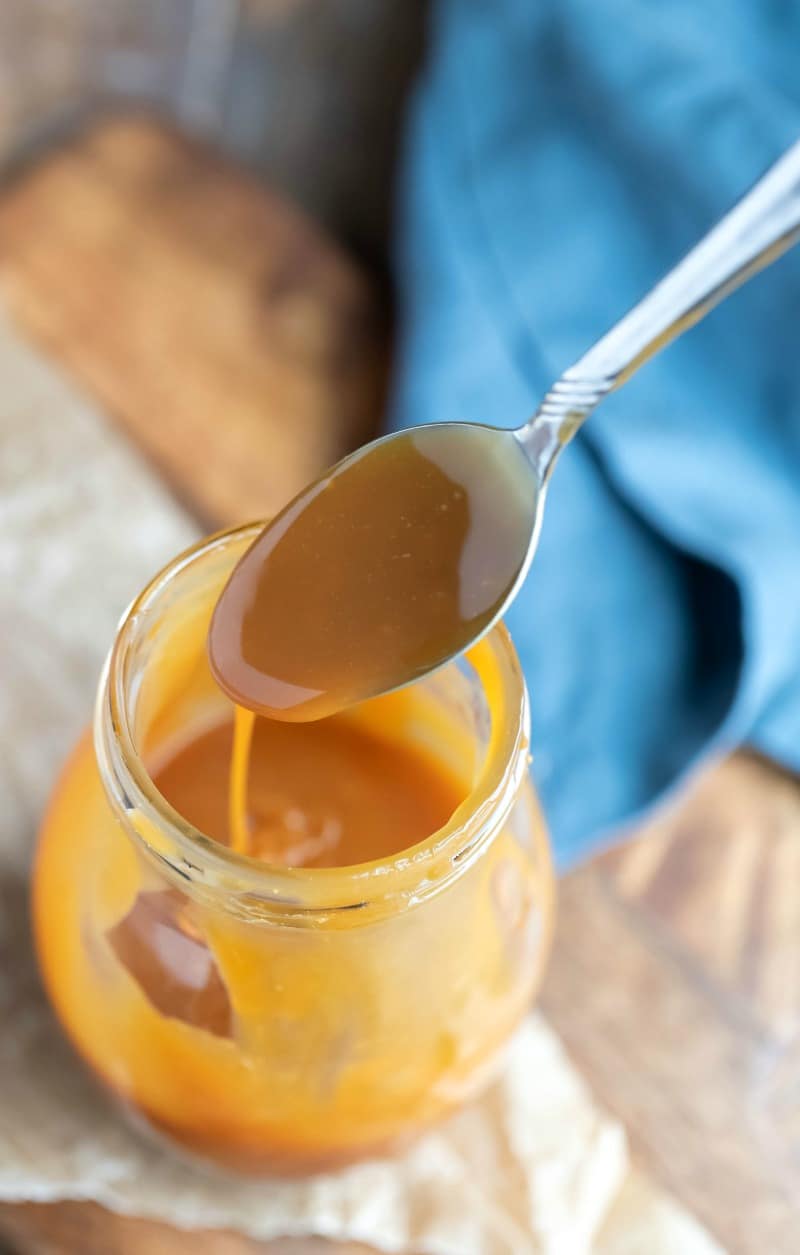 Do you have a food that, no matter how many times you try, just never comes out right?
I have couple, but the one that was the worst was caramel. I've burned it, and I've boiled the water out and been left with a solid clump of sugar.
If there is a way to ruin a batch of caramel, I've done it – twice. On my 3, 187th attempt, I found a faster, easier way that, best of all, actually ended with caramel sauce.
Delicious, buttery, sweet and salty caramel sauce. I use this salted caramel sauce in a number of other recipe, but it's just so good that it needed its own post.
How to make homemade caramel sauce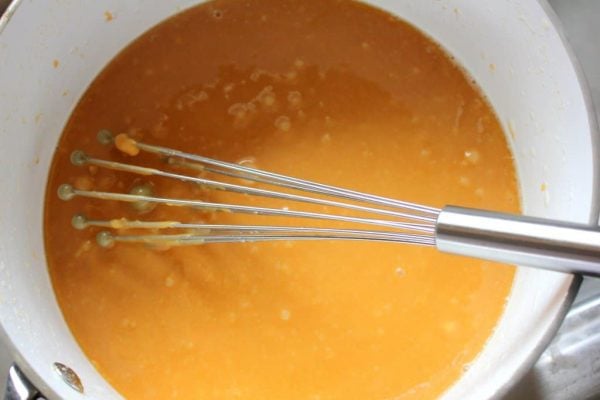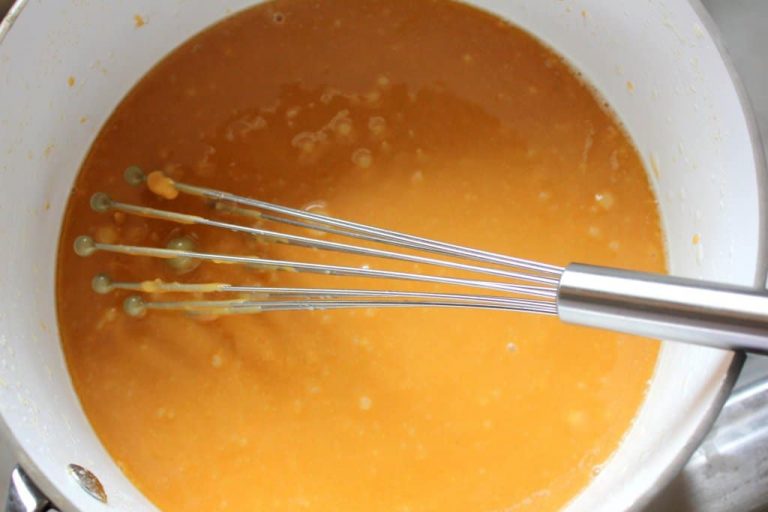 Begin by melting the sugar in a heavy saucepan. After making this sauce many, many times, I've stopped using a thermometer.
I know that's pretty much candy-making heresy, but I've found that it turns out as well when I just go by the color.
I don't recommend using a dark-colored saucepan because you won't  be able to judge the color of the sugar.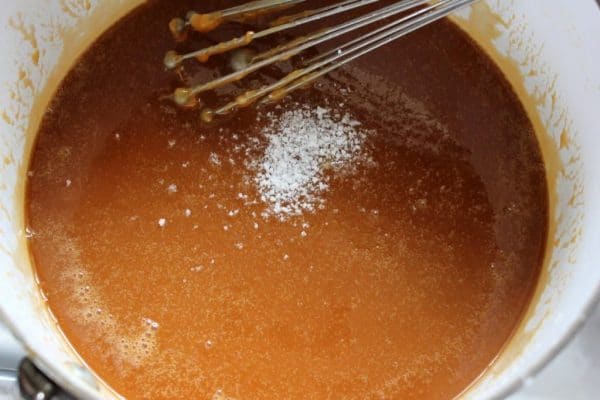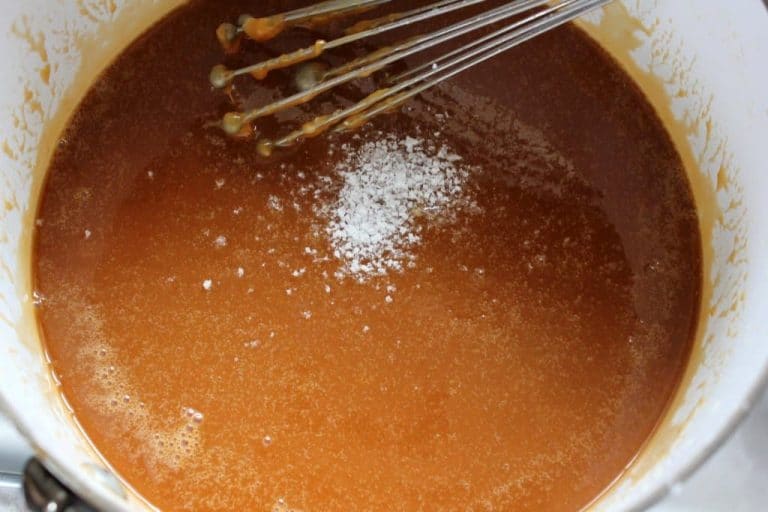 Once the caramel is a deep amber color, add the butter to the melted sugar, and whisk in. The sugar can bubble up, so it's important to use a larger saucepan.
Also, it's important that the butter and cream be at room temperature. Otherwise, they can cause the sugar to seize up.
Remove from heat, and stream in the cream, whisking as you go. Add the vanilla and fleur de sel, and whisk in.
Let the caramel sauce sit for about 10-15 minutes before pouring it into glass jar. I don't recommend using plastic as the hot caramel can melt plastic containers.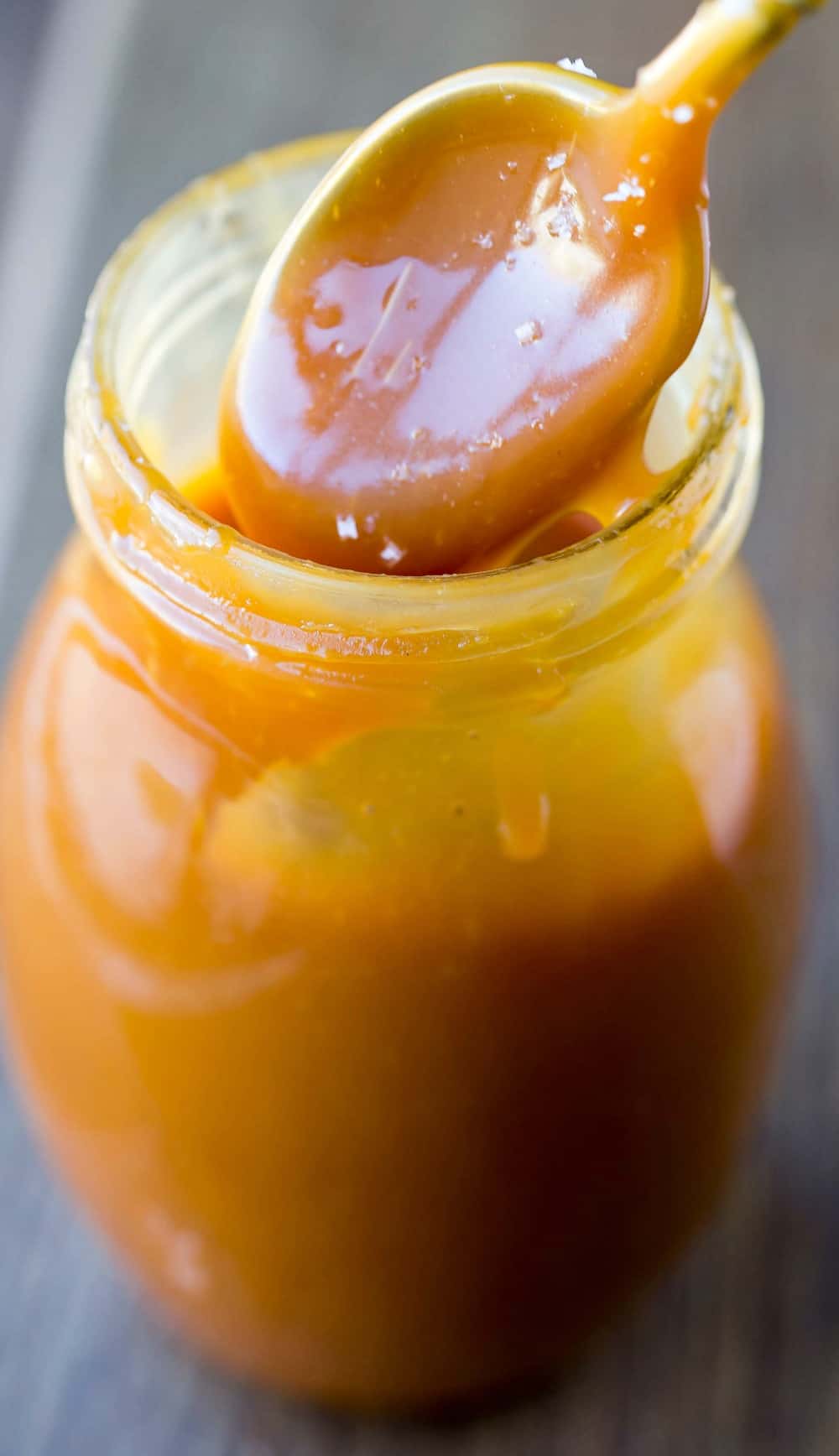 What is fleur de sel?
Fleur de sel is a finishing salt that's used to "finish" dishes. It has larger grains and is less "salty" than table salt.
What is a good substitute for fleur de sel?
The best substitute will be a good-quality large-grain sea salt flake. Maldon sea salt in one substitute. If you can't find fleur de sel or Maldon sea salt, kosher salt would be the best choice.
Can I use natural (coarse) sugar in this caramel?
I've tried this with coarser grain sugar (organic and raw sugars), and I found that it didn't work as well.
I recommend using regular granulated sugar for this recipe.

Does homemade caramel need to be refrigerated?
It does. The caramel needs to come to room temperature before being stored in the fridge.
The sauce will keep for up to 1 month in the fridge. The sauce will thicken as it sits in the fridge. You'll need to either set it out to let it come up to temperature or warm it up a bit before use.
Recipes that use this caramel sauce!
If you've tried this salted caramel sauce recipe, don't forget to rate the recipe and leave me a comment below. I love to hear from people who've made my recipes!
You can SUBSCRIBE to receive my latest recipe newsletters or FOLLOW ME on FACEBOOK, INSTAGRAM and PINTEREST for even more delicious food.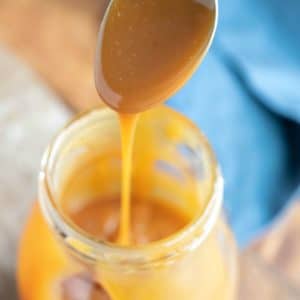 Salted Caramel Sauce
Rich and buttery salted caramel sauce
Ingredients
2 cups granulated sugar
3/4 cup salted butter at room temperature, cut into pieces, 12 T.
1 cup heavy cream at room temperature
1 tablespoon vanilla extract
1 teaspoon fleur de sel
Instructions
Pour the sugar into a large, heavy saucepan.

Heat over medium-high heat, whisking it regularly. The sugar will form clumps and puddles, but just keep whisking it until all of it has melted.

Once all of the sugar has melted, stop whisking it.

Keep cooking the sugar until it reaches a deep golden amber color. Watch the sugar closely as it could easily overcook.

Once the caramel is deep golden amber, add the butter, and whisk until it is completely incorporated. The caramel will bubble up, so be careful.

Remove the pan from heat.

Slowly stream the cream into the caramel, whisking to combine. The caramel will bubble up again, so be careful.

Once the cream has been incorporated, whisk in the vanilla and fleur de sel.

Let the caramel sit for 10-15 minutes.

Pour into a glass jar, and let cool to room temperature (uncovered).

The caramel can be refrigerated for up to 4 weeks.

Warm before using.
Nutrition
Serving: 1g | Calories: 226kcal | Carbohydrates: 25g | Fat: 14g | Saturated Fat: 8g | Cholesterol: 43mg | Sodium: 81mg | Potassium: 13mg | Sugar: 25g | Vitamin A: 485IU | Vitamin C: 0.1mg | Calcium: 12mg
Originally published 2/13/13. Last updated 3/14/19.
adapted from Brown Eyed Baker
Reader Interactions
Love this recipe?
Share your thoughts below and let's chat! Make sure to connect with me on your favorite social platform below and show me what you made!