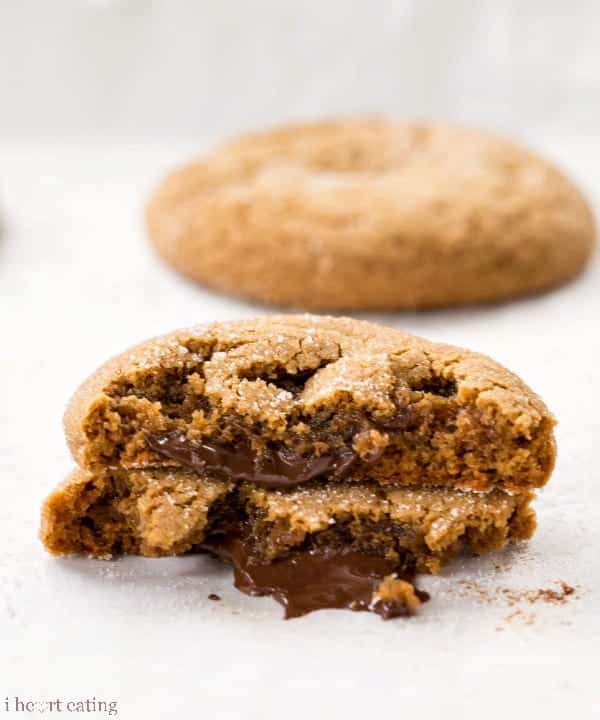 Gingerbread cookies are some of my favorite holiday cookies. I'm not much of a crunchy gingersnap kinda girl, though I wouldn't say no to one. I just usually prefer soft cookies. And the only thing better than big, soft, thick gingerbread cookies are big, soft, thick chocolate-stuffed gingerbread cookies. These guys have a pool of melted chocolate hiding in the center. So, it's a delicious surprise in the middle of a super yummy cookie.
Also, there are several other great cookie recipes below if you'd like even more cookie deliciousness.
Chocolate-Stuffed Gingerbread Cookies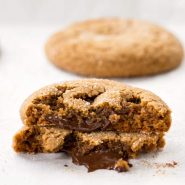 Ingredients
1/2 c . butter
1/2 c . brown sugar , packed (preferably dark brown sugar)
1/4 c . molasses (not blackstrap)
1 large egg
1/2 tsp . vanilla extract
2 c . all-purpose flour
1 T . cornstarch
3/4 tsp . baking soda
1 tsp . ground ginger
1/2 tsp . ground cinnamon
1/4 tsp . kosher salt or 1/8 tsp. salt
About 48 semisweet chocolate disks
Granulated sugar for rolling the dough
Instructions
Melt butter in a saucepan over medium-low heat. Let the butter cook until it just starts to brown.

Pour the melted butter into the bowl of a stand mixer fitted with the paddle attachment (or a large bowl if using an electric mixer).

Add the brown sugar and molasses, and beat together until well-combined.

Beat in egg, scraping down the sides as needed.

Stir in vanilla extract until incorporated.

In a separate medium bowl, whisk together the flour, cornstarch, baking soda, ginger, cinnamon, and salt.

Stir in flour mixture until just incorporated.

Cover, and refrigerate (or freeze if you're in a hurry) for at least 6 hours (or 4 hours in the freezer). If you put the dough in the freezer, you'll need to set it out while the oven preheats.

When you're ready to bake the cookies, preheat oven to 350 F. Line two cookie sheets with silicone baking mats or parchment paper.

Using a medium cookie scoop (1 ½ tablespoons), scoop up a ball of dough.

Press 2 chocolate disks (flat sides together) into the center of dough, and then reshape dough around it.

Roll dough in granulated sugar.

Place dough about 2-inches apart on prepared baking sheets.

Bake for 7-9 minutes. You want the edges to be just barely golden brown.

Remove from oven, and let cool for 5-10 minutes on the cookie sheet.

Transfer to wire rack to finish cooling.

This recipe makes about 2 dozen cookies.