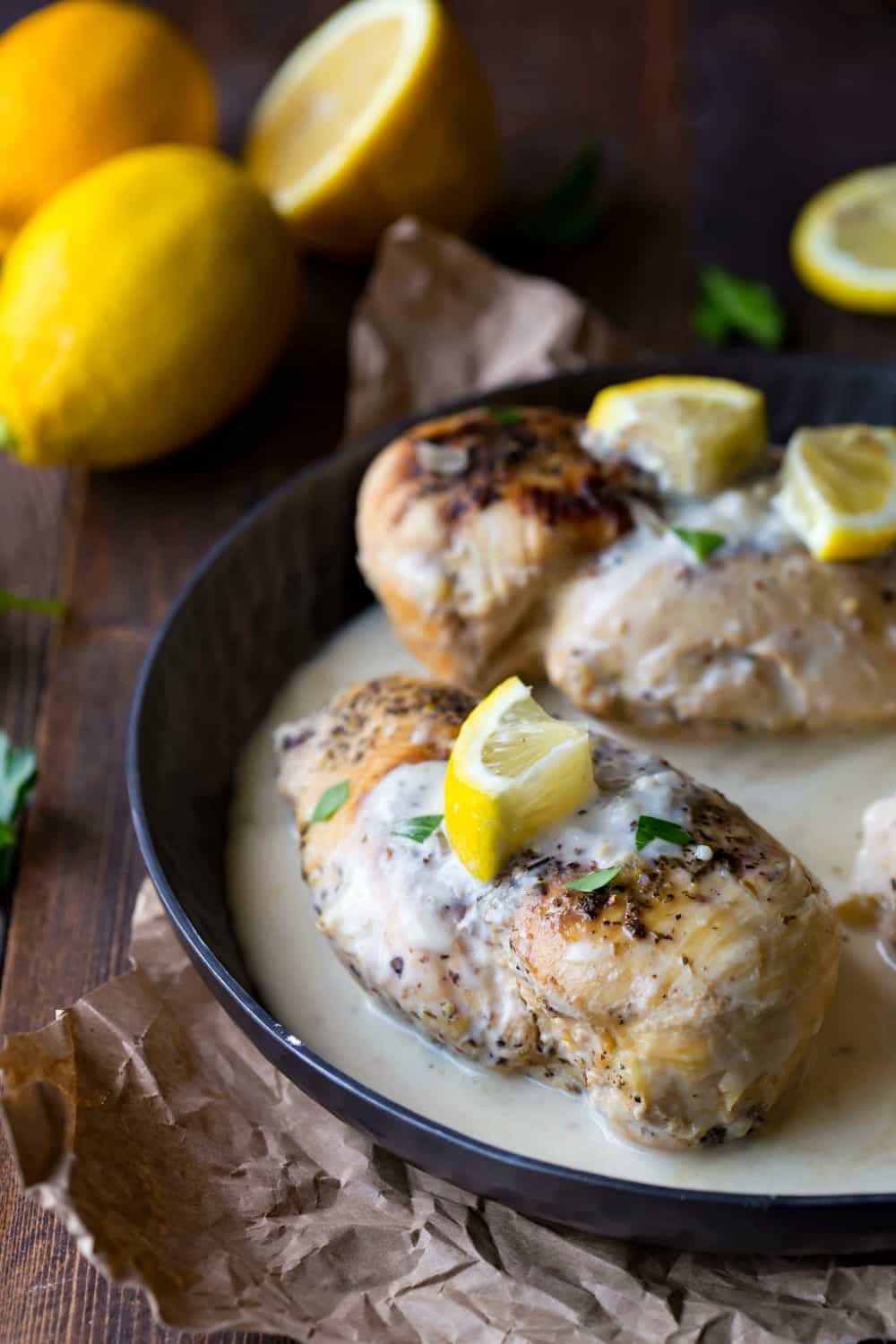 When we were looking at houses over the summer, we asked our kids what their favorite thing about the house that we ultimately bought was.
I was surprised when both of our older kids said that it was the lime tree in the back yard. They were both so excited about being able to make their own homemade limeade.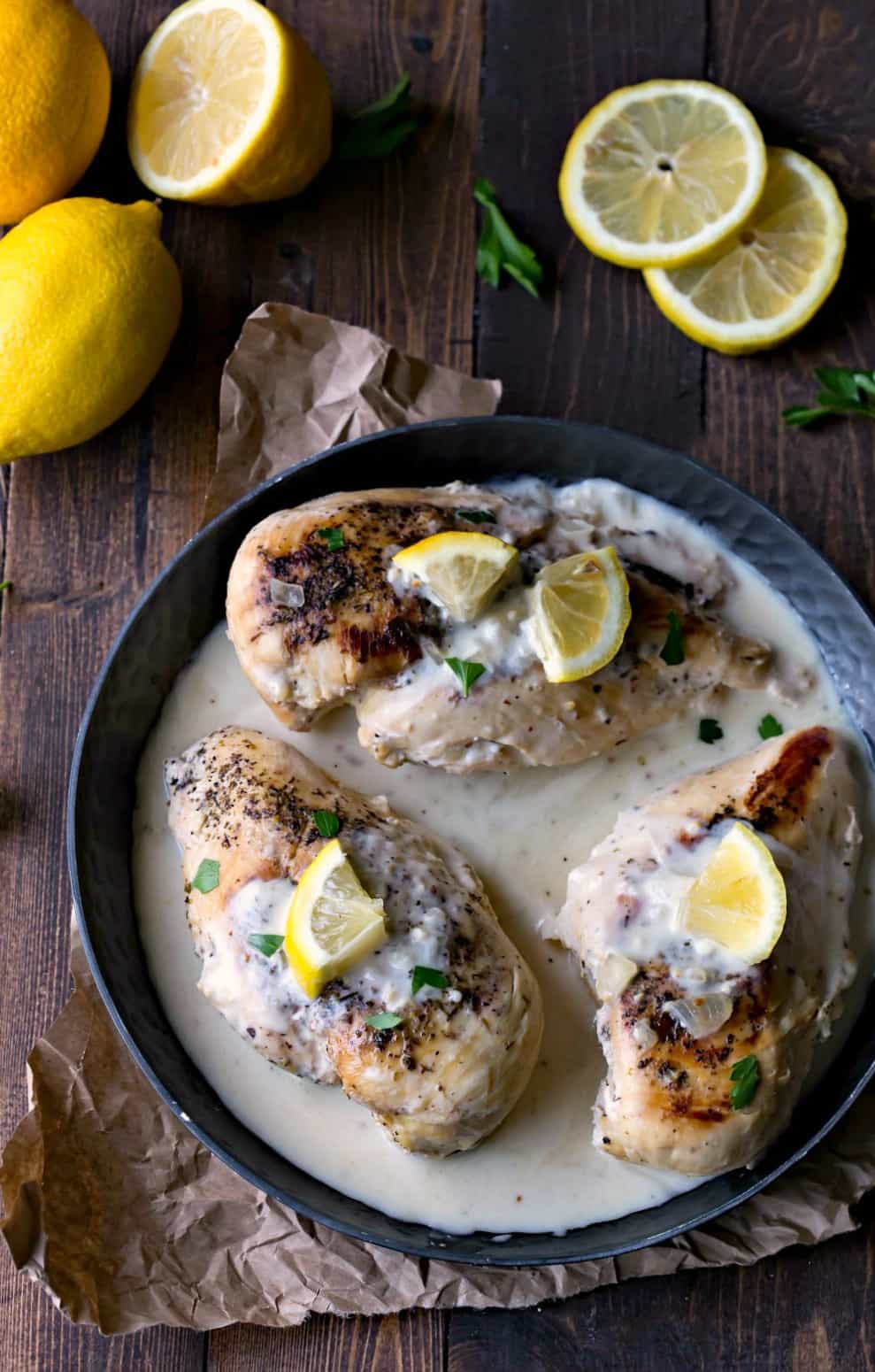 So we started to call this house "the lime tree house", and one of the first things that we did when we moved in was to make limeade from those limes.
Fast forward a few months, and it turns out that our lime tree is, in fact, a lemon tree. Never having had a citrus tree before, I had no idea that all of those little green guys that looked like limes were actually unripe lemons (The unripe lemon limeade was actually pretty good in case you're wondering).
So, now I have a tree that is overflowing with lemons, which gave me the perfect excuse to make this Crock Pot Creamy Lemon Chicken.
This slow cooker recipe is easy to make, and the tender chicken topped with the creamy lemon sauce is awesome!
Also, I know that it can be a pain to have to saute veggies and brown chicken before tossing them in the crock pot, but all of the extra flavor really is worth the extra 10 or so minutes that it takes.
I served this chicken with broccoli and and whole wheat noodles to soak up some of that yummy sauce.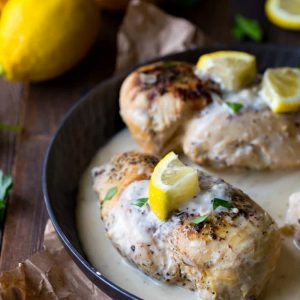 Crock Pot Creamy Lemon Chicken
Moist chicken topped with creamy lemon sauce
Ingredients
3 pounds boneless skinless chicken breasts or thighs
1 tablespoon olive oil
1 tablespoon butter
1/2 small yellow onion diced
3 cloves garlic minced
1 teaspoon Italian seasoning
1/2 teaspoon salt
1/2 teaspoon pepper depending on taste
1½ cups chicken broth
3 tablespoons lemon juice divided
2 teaspoons grainy mustard
3/4 cup heavy cream
2-4 tablespoons cornstarch
Instructions
Sprinkle both sides of chicken with Italian seasoning, salt and pepper.

In large skillet over medium high heat, melt butter with olive oil.

Add onion and saute for about 2 minutes.

Stir in garlic, and saute for about 1 minute.

Move onions and garlic to side of pan, and add seasoned chicken.

Saute for about 3 minutes on each side, or until nicely browned.

Transfer chicken, garlic, and onions to the crock pot.

Pour chicken broth and 2 tablespoons lemon juice around chicken.

Cover and cook on low for 5-6 hours or high for 3-4 hours.

Remove chicken and keep warm.

Stir together cream, mustard, remaining tablespoon lemon juice, and 2 tablespoons cornstarch. Whisk in juice in crock pot. Do not cover.

Continue to stir until thickened. Sauce will thicken a little more as it continues to cook.

Whisk in additional corn starch as needed to get sauce to desired consistency.

Season with additional salt and pepper to taste.

Serve creamy lemon sauce over chicken.
Notes
*Nutrition facts are estimates.
Nutrition
Serving: 1g | Calories: 420kcal | Carbohydrates: 5g | Protein: 49g | Fat: 21g | Saturated Fat: 9g | Cholesterol: 190mg | Sodium: 736mg | Potassium: 905mg | Vitamin A: 565IU | Vitamin C: 6.9mg | Calcium: 43mg | Iron: 1mg
Adapted from Life in the Lofthouse.
Reader Interactions
Love this recipe?
Share your thoughts below and let's chat! Make sure to connect with me on your favorite social platform below and show me what you made!