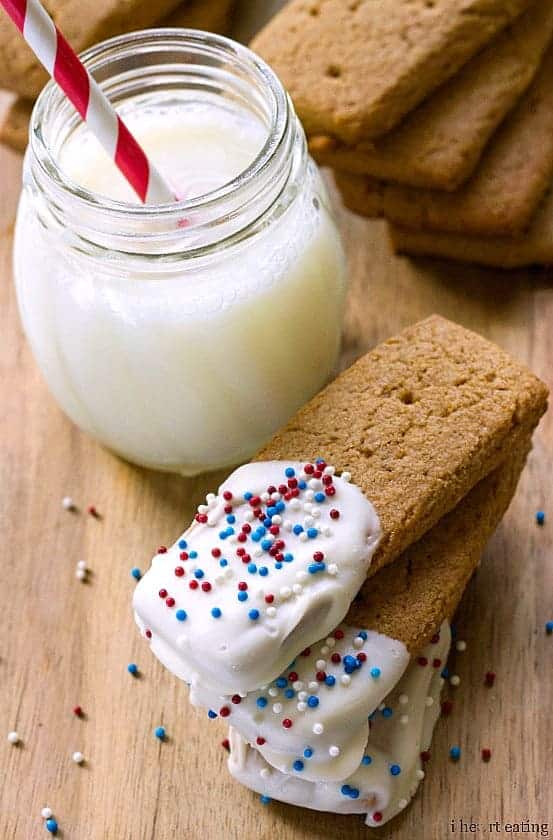 We go through a lot of graham crackers in our house.
My kids love to snack on them, and I spread them with peanut butter for quick and easy  lunches.
Since we go through about a box a week, I decided that it was time to try making them.
I left the dough a little on the thicker side, so they were more like soft, graham cookies than crisp graham crackers (the unholy amount of humidity in my house didn't help them crisp up either).
Even though they weren't just like the crackers from the store, we loved them!
These graham cracker (cookies) have a lot more flavor, and they're really easy (and fun) to make.
More kid-friendly cookie recipes!
Homemade Graham Crackers
Homemade Graham Crackers
Prep Time: 20 minutes
Cook Time: 15 minutes
Total Time: 35 minutes
Servings:24 cookies
Course: Dessert
Cuisine: American
Keyword: homemade graham crackers
Ingredients
1 ½ c . all-purpose flour
1 c . whole wheat flour
1/2 c . brown sugar , packed
1 tsp . baking soda
1/2 tsp . salt
1/2 tsp . cinnamon
1/2 c . butter chilled & cubed
1/4 c . mild honey
1/4 c . water
1 tsp . vanilla extract
Instructions
Preheat oven to 350 F.

In in the bowl of a stand mixer (or a large bowl if using a hand mixer), stir together flours, sugar, baking soda, salt, and cinnamon.

Add butter to the mix until it makes coarse crumbs.

Stir in honey and water until dough comes together.

Place dough between two sheets of parchment paper, and roll into a flat disk that is about 1/4-inch thick.

Cut into dough into desired shapes.

Line a rimmed baking sheet with parchment paper or a silicone baking mat.

Place dough in prepared pan. The cookies will puff as they bake, so space them about 2 inches apart.

Bake for about 15 minutes.

Remove cookies to a wire cooling rack to cool.

Cookies are delicious served warm or at room temperature.
Notes
Nutrition values are estimates. 
Nutrition Information
Serving: 1cookieCalories: 108kcalCarbohydrates: 17g (6%)Protein: 1g (2%)Fat: 4g (6%)Saturated Fat: 2g (10%)Cholesterol: 10mg (3%)Sodium: 136mg (6%)Potassium: 34mg (1%)Sugar: 7gVitamin A: 2.4%Calcium: 0.8%Iron: 3.3%
adapted from weelicious.com