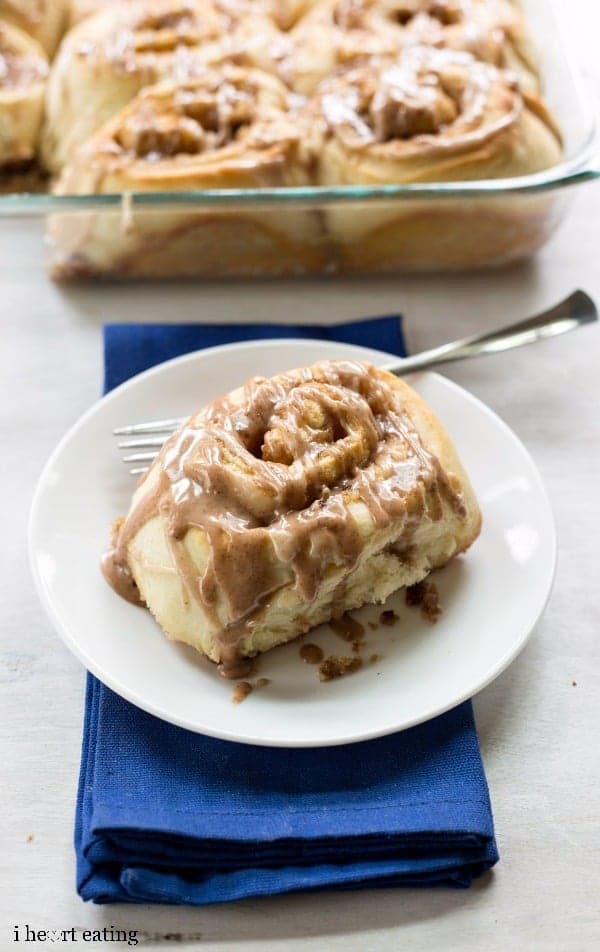 Every year around the holidays when my mom would ask what I wanted to eat for our big meal, there was only one thing that I cared about – potato rolls. I didn't really  care what else we had as long as we had those rolls. I still love them, so when I have leftover mashed potatoes, potatoes rolls are the first things I think about.
Or at they were until I started making these Potato Cinnamon Rolls. Before I talk about how awesome these cinnamon rolls are (and they absolutely are!), let me get one thing out of the way: you can't taste the potato. All you can taste is all of the fantastic cinnamon roll deliciousness.
The cinnamon rolls have a gooey cinnamon-sugar  filling and extra cinnamon-sugar crust along the bottom. They're also covered with a sweet, cinnamon-y glaze. So, if you love big, soft cinnamon rolls, these guys are for you.
Potato Cinnamon Rolls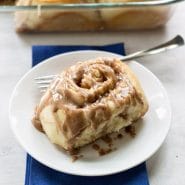 Ingredients
Dough
2 ¼ tsp . active dry yeast
1/2 c . granulated sugar
1/4 c . warm water (about 105 F)
1 tsp . cornstarch
1/2 c . mashed potatoes , at about room temperature
1 c . warm milk (about 105 F)
1/3 c . butter , melted
1 large egg
1/2 tsp . salt
1 tsp . vanilla extract
4-5 c . all-purpose flour
Filling
2 T . butter , melted
1/2 cup packed brown sugar
1/4 c . granulated sugar
1 T . ground cinnamon
For the pan
2 T . butter , melted
1/3 c . brown sugar , packed
1/2 T . ground cinnamon
Icing (optional)
1 c . confectioners' sugar
2-3 T . milk
1/2 tsp . vanilla extract
1/2 tsp . ground cinnamon
Instructions
In the bowl of a stand mixer fitted with the paddle attachment (or in a large bowl if mixing by hand), dissolve yeast and sugar in warm water.

Let yeast mixture stand 5-10 minutes, or until foamy.

Add cornstarch, mashed potatoes, milk, butter, egg, salt, vanilla; stir to combine.

Stir in 2 cups flour until incorporated.

Add enough of the remaining flour to form a soft dough.

If mixing with the stand mixer, switch to the dough hook and knead for 4-5 minutes. If mixing by hand, knead until smooth and elastic on a lightly floured surface for about 6-8 minutes.

Place in a greased bowl, and cover.

Let rise until double, about 1 ½ hours.

On a lightly floured surface, roll dough into a 13x9-inch rectangle.

Brush dough with melted 2 tablespoons of melted butter.

For the filling, stir together sugars and cinnamon, and sprinkle cinnamon-sugar mixture over melted butter.

Roll dough up, starting with a long side.

Cut into 12 pieces.

To prepare the pan, brush a 13x9-inch pan with 2 tablespoons butter.

Stir together brown sugar and cinnamon; sprinkle over the melted butter in the pan.

Place cinnamon roll slices, cut side down, in prepared pan.

Cover, and let cinnamon rolls rise for 45 minutes – 1 hour.

Toward the end of the second rising time, preheat oven to 350 F.

Bake cinnamon rolls for 20-30 minutes, or until light golden brown.

Remove the cinnamon rolls from the oven, and let them cool in the pan on a wire rack for about 10 minutes.

While the cinnamon rolls are cooling, prepare the icing, if using.

In a medium bowl, stir together icing ingredients.

Drizzle over cinnamon rolls, and serve warm.