Blueberry Lemon Ricotta Muffins are light and fluffy blueberry lemon muffins.  The  lemon sugar topping really makes the muffins!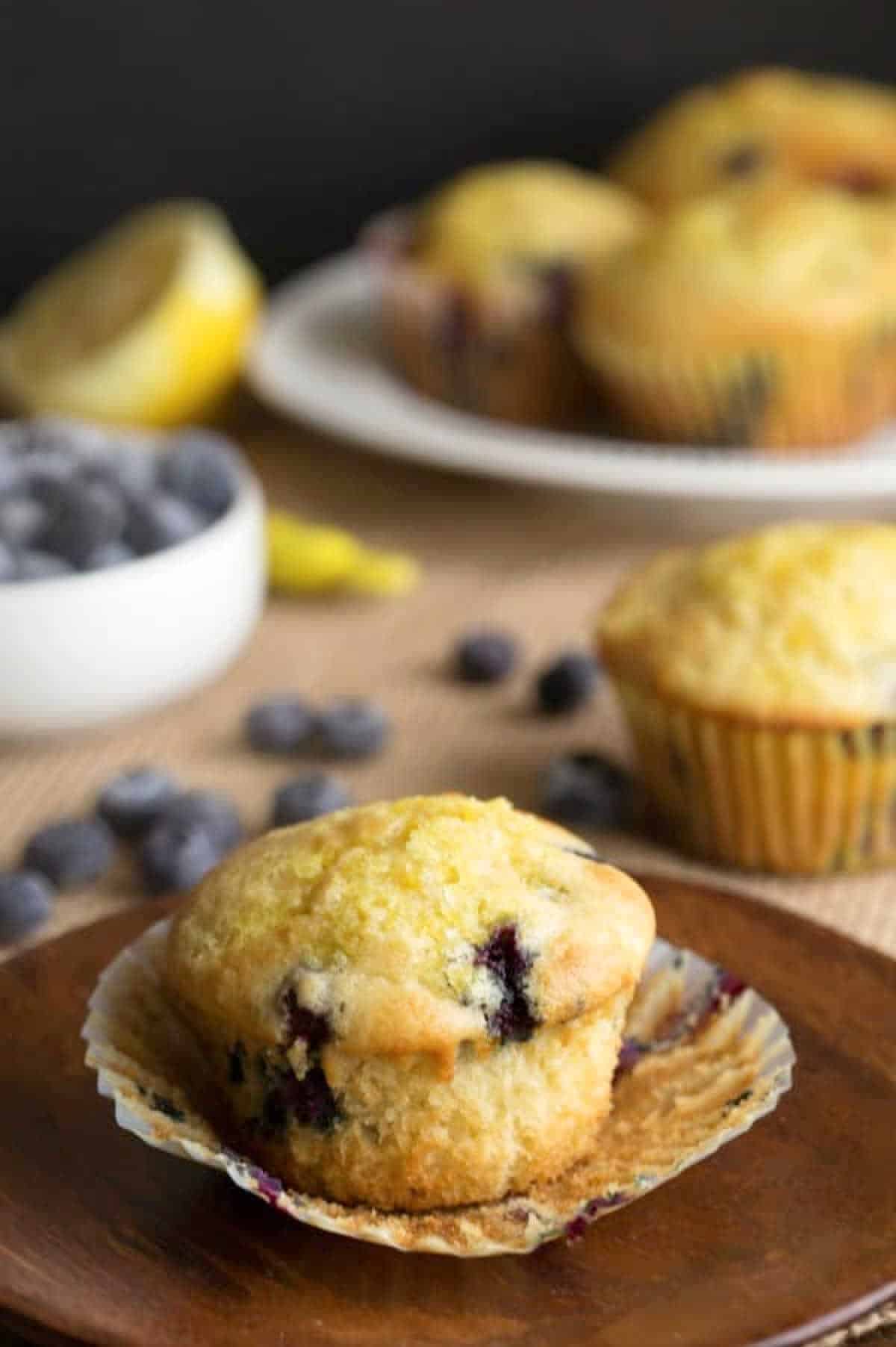 Blueberry muffins are such a nostalgic food for me. I can't make them without thinking about my mom.
My mom makes amazing blueberry muffins, and she always topped them with a little lemon zest. That little bit of extra flavor really made the muffins.
These Blueberry Lemon Ricotta Muffins were inspired by my Blueberry Lemon Ricotta Pancakes and my Bakery-Style Blueberry Muffins. The buttermilk and ricotta help to make the muffins nice and tender.
They're full of blueberries, and the lemon sugar really puts these muffins over the top. If you like a lot of sugar on top, you'll want to double the amount of lemon sugar so that you have plenty.
How to make blueberry lemon ricotta muffins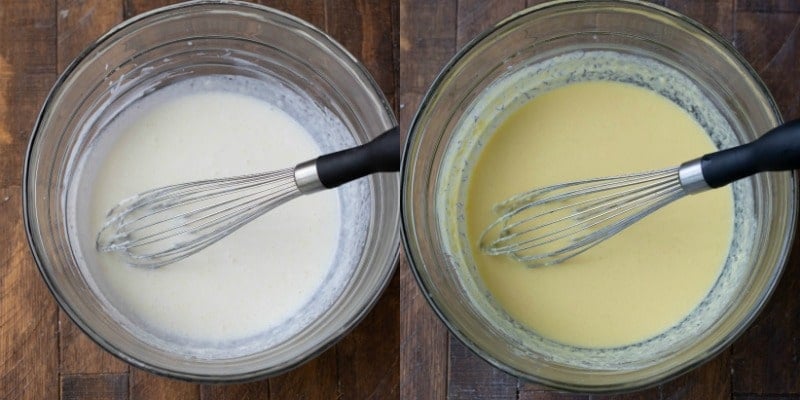 Whisk the butter, ricotta, and buttermilk together in a large mixing bowl.
I recommend having the ricotta, buttermilk, and eggs at room temperature. If they're too cold, they can cause the butter to solidify, and you'll end up with little chunks of butter in your batter.
Add the eggs, and whisk in until combined.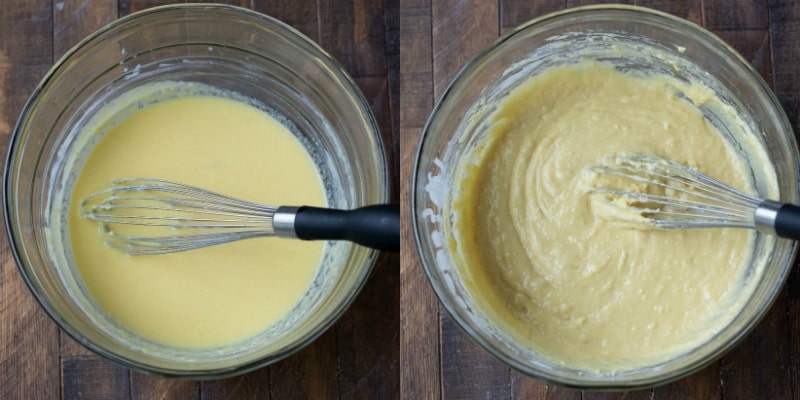 Add the lemon juice, vanilla, and lemon zest. Whisk in until combined.
Whisk in the flour, sugar, baking soda, and salt. Don't overmix.
Overmixing can cause the muffins to be dense or tough.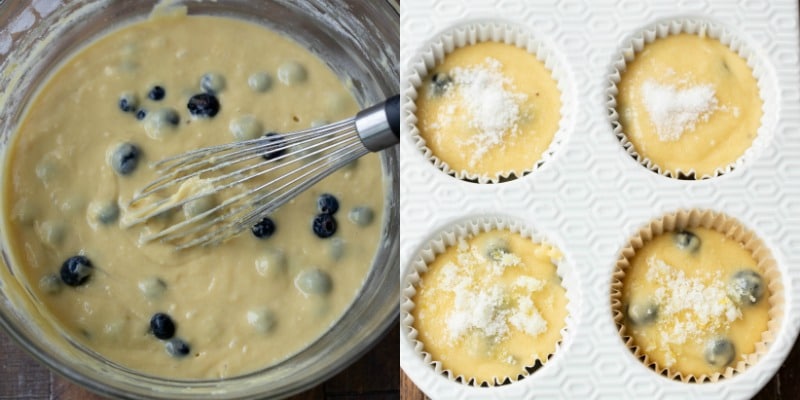 Add the blueberries, and mix in just until combined. Don't use an electric mixer to mix the blueberries in, or it will smash the berries.
Divide the batter between the prepared muffin tin cups, and sprinkle with lemon sugar.
What makes these blueberry muffins light and fluffy?
The buttermilk and the ricotta help to make these muffins light and fluffy and super moist.
How to store
These muffins can be stored, covered, either at room temperature or chilled.
They're best eaten in the first 2-3 days.
How to reheat
To reheat the muffins, I microwave them for about 10 seconds.

More muffin recipes!
If you've tried this blueberry lemon ricotta muffin recipe, don't forget to rate the recipe and leave me a comment below. I love to hear from people who've made my recipes!
You can subscribe to receive my latest recipe newsletters or follow me on Facebook, Instagram and Pinterest for even more delicious food.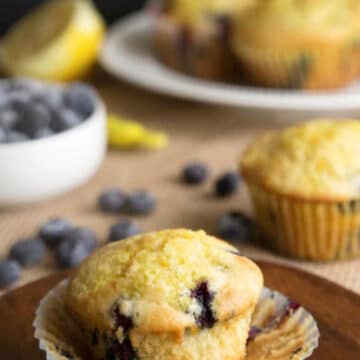 Blueberry Lemon Ricotta Muffins
Moist and fluffy lemon blueberry muffin recipe
Ingredients
Lemon Sugar
2 tablespoons granulated sugar
2 teaspoons finely grated lemon zest
Muffins
1/4 cup butter melted1
1/4 cup ricotta cheese2 at room temperature
1 cup buttermilk3 at room temperature
2 large eggs at room temperature
2 tablespoons fresh lemon juice
1 teaspoon grated lemon zest
1 teaspoon vanilla extract
2 ½ cups all-purpose flour
1 cup granulated sugar
1 ½ teaspoons baking soda
1 teaspoon salt
6 ounce package fresh blueberries about 1 ¼ cups
Instructions
Preheat the oven to 400 F. Grease or line 16 muffin cups.

To prepare the lemon sugar, stir together the granuated sugar and the lemon zest. Set aside.

In a large bowl, whisk together the butter, ricotta, and buttermilk until well-combined.

Whisk in the eggs until combined.

Add lemon juice and vanilla; whisk until well-combined.

Stir in flour, sugar, baking soda, and salt just until combined. Don't overmix.

Carefully fold in blueberries.

Divide the batter among the prepared muffin tins.

Top batter with a sprinkle of lemon sugar.

Bake for 15-20 minutes, or until a wooden toothpick comes out clean.

Let cool for 10 minutes before removing from pan.
Notes
The butter should be just melted, not hot and sizzling. I melt the butter most of the way and then whisk it until completely melted.
Part-skim or whole milk. I don't recommend fat-free.
Whole milk or low-fat. I don't recommend fat-free.
Nutrition values are estimates. 
Nutrition
Serving: 1muffin | Calories: 171kcal | Carbohydrates: 30g | Protein: 3g | Fat: 4g | Saturated Fat: 2g | Cholesterol: 29mg | Sodium: 317mg | Potassium: 55mg | Sugar: 14g | Vitamin A: 140IU | Vitamin C: 1.3mg | Calcium: 35mg | Iron: 1mg
Originally published 4/10/15.
Reader Interactions
Love this recipe?
Share your thoughts below and let's chat! Make sure to connect with me on your favorite social platform below and show me what you made!