Light and airy Caramelized Apple German Pancakes are a delicious twist on the usual puff pancake or Dutch baby recipe!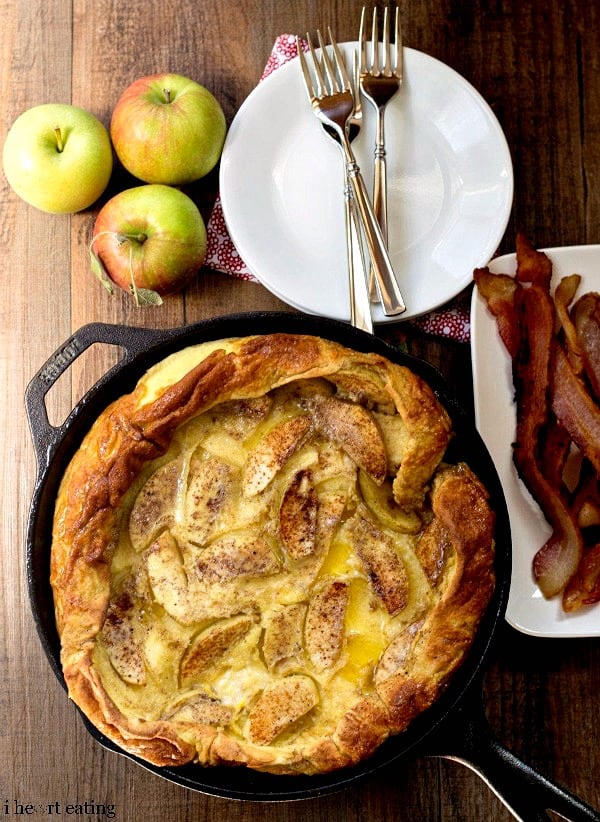 I can remember the first time that I had German pancakes. I thought they were the most amazing pancakes ever because of the way that they puffed up while they were baking.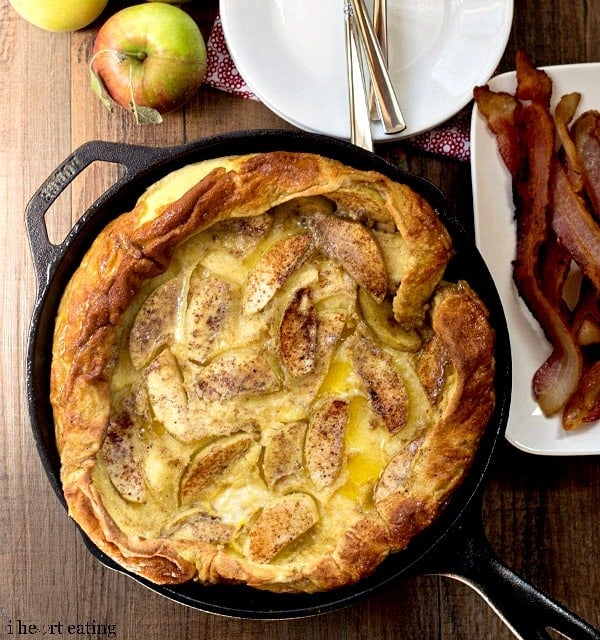 I still love the way the pancakes get all puffed while they're baking.
I also love how delicious they are, and these Caramelized Apple German Pancakes are especially tasty. The cinnamon-sugar apples caramelize in the pan and create a buttery, caramel-y topping that bakes right into the pancake.
Caramelized apple german pancakes are especially good served warm right out of the oven – no syrup necessary.
Caramelized Apple German Pancake
Puff pancake with caramelized apple topping.
Prep Time: 15 minutes
Cook Time: 25 minutes
Total Time: 40 minutes
Course: Breakfast
Cuisine: American
Servings: 4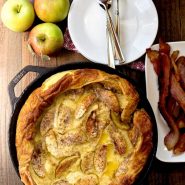 Ingredients
1 c . thin apple slices peeled
1/4 c . granulated sugar divided
1 tsp . ground cinnamon
1/2 tsp . ground ginger
1/4 tsp . ground nutmeg
1/4 tsp . allspice
1/4 c . butter
1/4 c . brown sugar
3/4 c . all-purpose flour
1/2 tsp . salt
1 c . milk
1/2 tsp . vanilla
5 large eggs
Instructions
Heat the oven to 350 F.

In a small bowl, toss apple slices, 2 tablespoons sugar, cinnamon, ginger, nutmeg, and allspice together; set aside.

Cut the butter into four pieces, and place them in a deep cast iron skillet. I use this 10-inch cast iron skillet or an 8x8-inch baking dish.

Put the skillet or baking dish in the oven for 3 to 4 minutes, or until the butter has melted.

Take the pan out of the oven; sprinkle brown sugar over the melted butter.

Add apple slice mixture evenly over brown sugar.

Put the pan back in the oven while you make the remaining batter.

In a medium bowl, whisk together flour, remaining 2 tablespoons sugar, and salt.

Whisk in milk, and continue whisking until no flour lumps remain.

Add eggs, one at a time, and whisk until incorporated.

Stir in the vanilla extract.

Take the pan out of the oven, and pour the batter over the apples.

Bake for 18-25 minutes, or until the center is set and sides are lightly browned.

The pancake with start to deflate once it is removed from the oven. Serve warm.
Recipe Notes
*Nutrition facts have been estimated.
Nutrition facts per serving (1g)
Calories: 424kcal
Fat: 19g
Saturated fat: 10g
Cholesterol: 241mg
Sodium: 501mg
Potassium: 233mg
Carbohydrates: 52g
Fiber: 1g
Sugar: 32g
Protein: 11g
Vitamin A: 15.3%
Vitamin C: 1.7%
Calcium: 12.5%
Iron: 12.2%
adapted from The Kitchn