Easiest Chocolate Chip Cookie recipe is a simple chocolate chip cookie recipe that makes super soft chocolate, super yummy chip cookies – no mixer necessary, no chilling needed.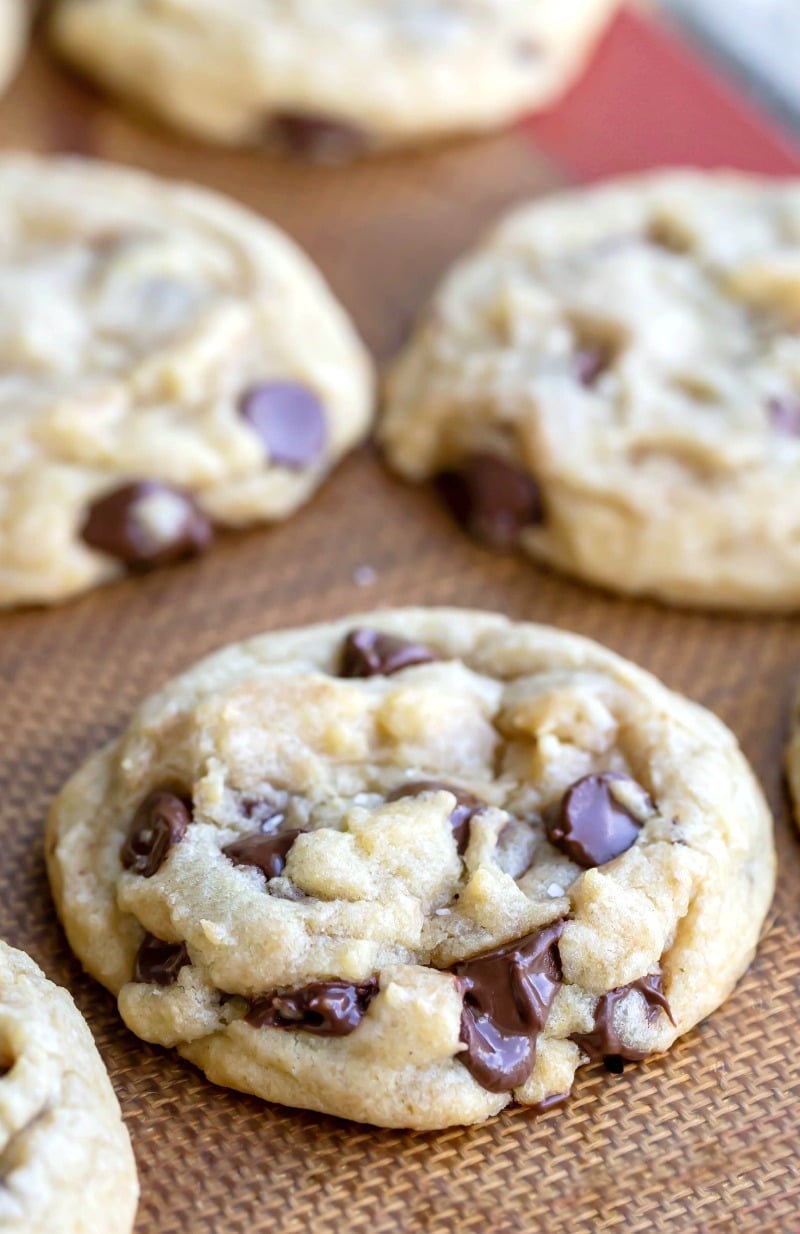 I've made a lot of chocolate chip cookies. A lot a lot. Probably more cookies than I should say. Sometimes, I break out my mixer and make a recipe like my brownie cookie recipe that needs time to chill.
Other times, I want cookies five minutes ago. When those cookie cravings hit, I need a simple, easy, go-to cookie that I can whip up in just a few minutes.
This Easiest Chocolate Chip Cookie recipe is just such a recipe. The cookies can be made from scratch in less than 20 minutes, and there's no need to get the mixer out or to chill the dough. All of which make this the simplest chocolate chip cookie recipe.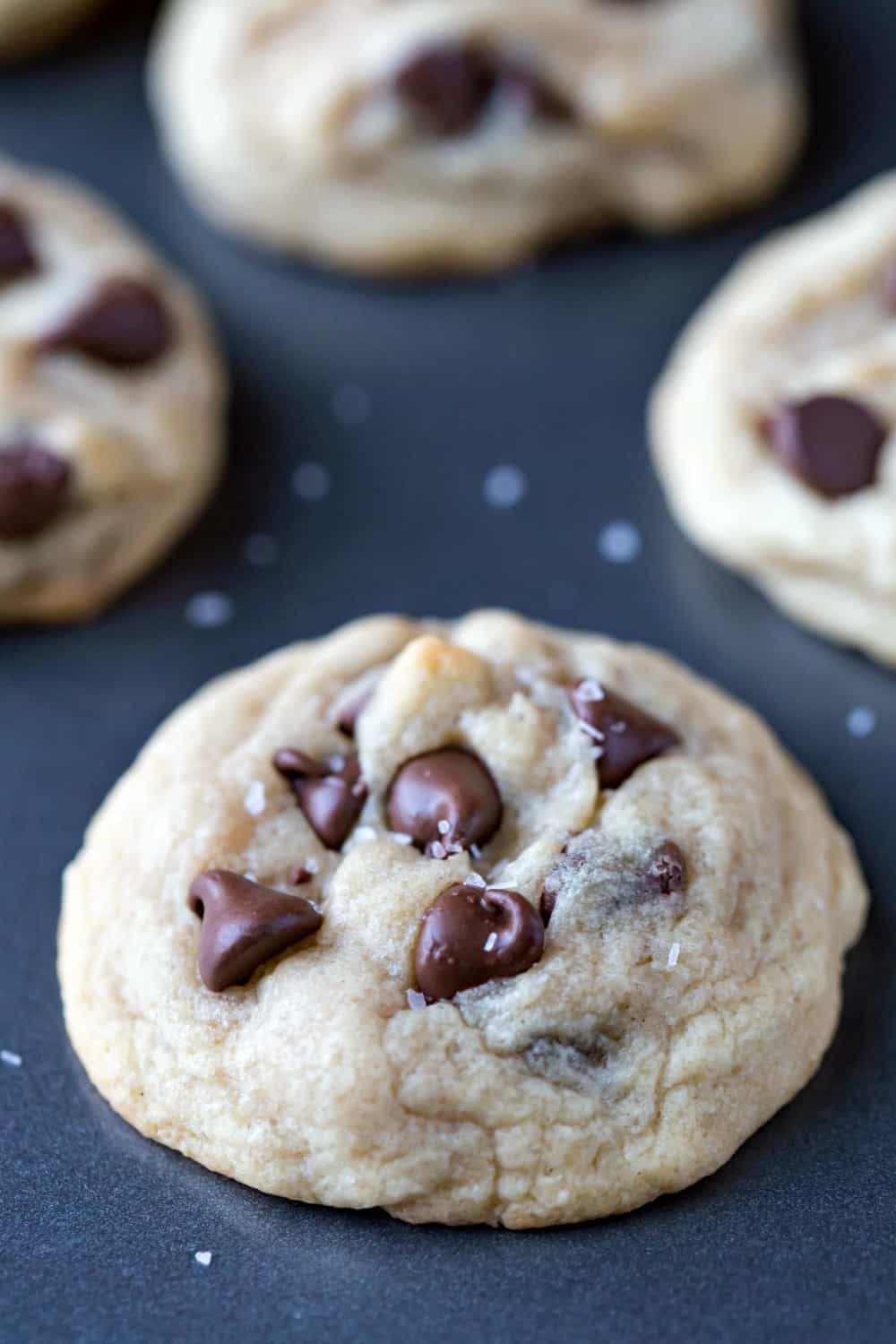 What Makes This the Simplest Chocolate Chip Cookie Recipe?
This recipe uses just a few basic ingredients – flour, sugar, baking soda, salt.
Also, it is so fast and so easy – no mixer needed, no chilling required – that the cookies can be mixed up and baked in less than twenty minutes.
How To Make Chocolate Chip Cookies

For this recipe, you're going to start by melting the butter. The butter shouldn't be sizzling hot. If you're not sure how hot is too hot, you'll want it about 90% melted, and then you'll whisk it until it finishes melting.
Once the butter has melted, whisk in the sugars until well-combined. Mix in the vanilla extract and egg.

Add the flour, baking soda, and salt. Stir in just until combined. You don't want to overmix the dough.
Stir in the chocolate chips, and then scoop the dough. Place about 2 inches apart on the prepared baking sheet.
Bake until the cookies are set on the edges but slightly underdone in the middle, about 7-10 minutes.
Slightly under-baking the cookies helps to keep them soft. Since oven temperatures can vary, you may find that you need to adjust the baking times.
Can I Use an Electric Mixer?
Sure! You can use one if you would prefer. I do recommend mixing in the flour by hand, though, to avoid overmixing the dough.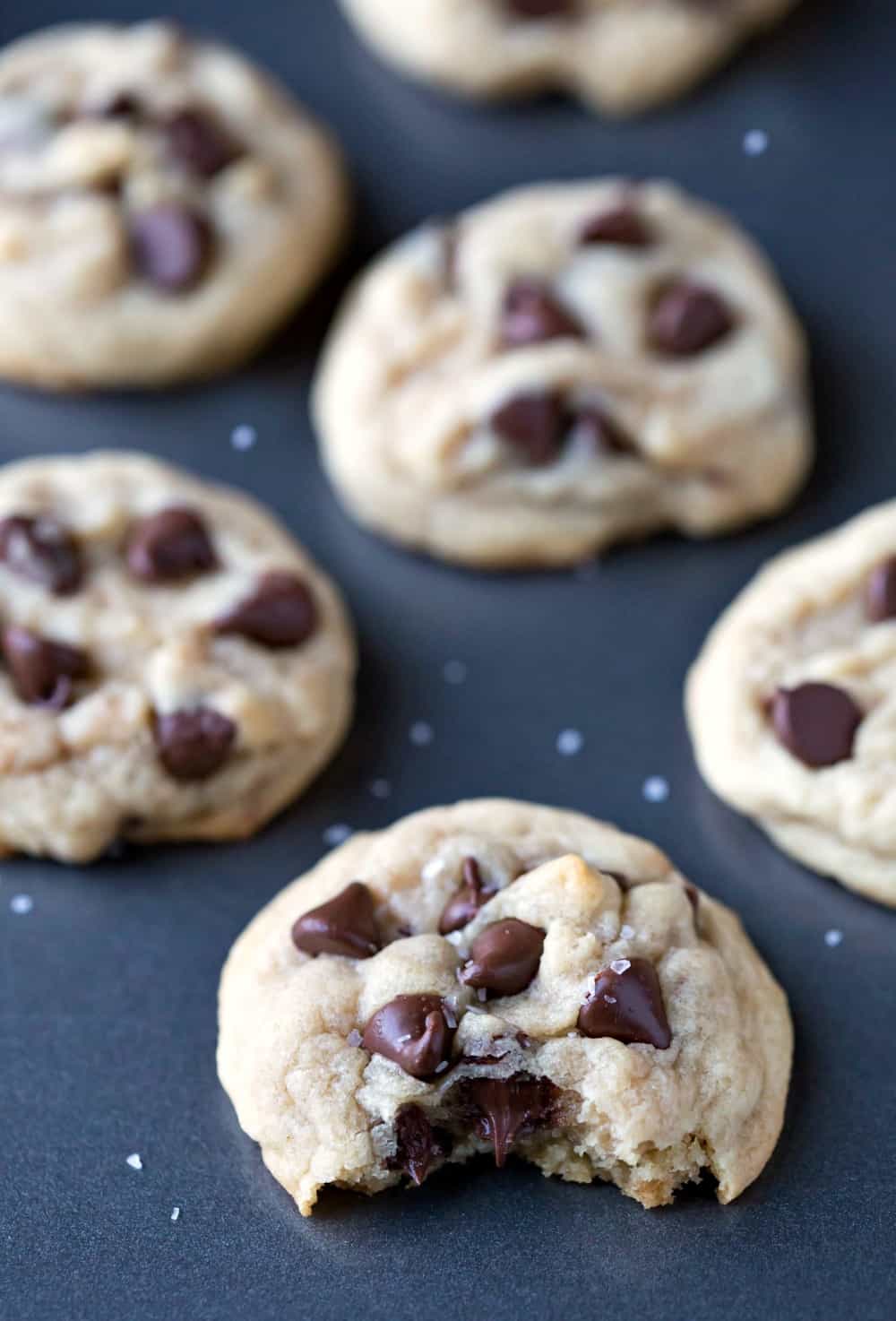 Tips/FAQ
There are over 1,000 comments and questions on this recipe. I've added this section to answer some of the common questions in the hope that it saves people from having to try to sift through all of those comments. If you have a question that isn't answered below, please feel free to ask!
Gluten Free: I haven't tried it, but I've heard from several people who have used a measure-for-measure gluten-free flour in this recipe, and they've said that it worked well. However, I haven't heard from anyone regarding other flours, such as almond flour.
Butter: This recipe begins with melted butter. I prefer to use salted butter, but you can use unsalted butter if you prefer.

The butter should just barely be melted. That means that it shouldn't be sizzling hot or browned.
If you're worried about getting it too hot, melt the butter about 90% of the way and then whisk it until it is completely melted.

Sugars: This recipe uses both brown sugar and granulated (white sugar). If you would like to use only brown sugar, check out my brown sugar chocolate chip cookie recipe.

 Using only granulated sugar will give you crispier cookies.
For this recipe, you can use either dark or light brown sugar. Dark brown sugar will give you a slightly richer flavor.

Measuring Flour: If you aren't weighing your ingredients, I can't recommend that enough. If you are using measuring cups, be sure to sift or stir the flour before measuring. Flour packs easily and using too much flour in cookies will give you dry, crumbly dough and cookies that don't spread.
Salt: Kosher salt is a larger-grain salt that isn't as "salty" as table salt. If you're using table salt, be sure to use 1/4 teaspoon.

Please note the measurements on the salt. I've seen people who have commented that the cookies were salty, and it turned out that they had used several times the amount of salt that the recipe calls for.

Chocolate Chips: I use semisweet chocolate chips. You can use dark, bittersweet, milk, or white chocolate chips.

People have used all sorts of mix-ins, like M&Ms or other candy and chip combinations, in this recipe.
Tips For Making Soft Chocolate Chip Cookies
The best way to make soft chocolate chip cookies is to slightly under-bake the cookies. In order to slightly under-bake the cookies, the edges should look set (but not brown).
The center of the cookies should look soft and even a little puffy still. This trick will help to keep your cookies nice and soft.
Kitchen Tools I Use When Making Homemade Cookies
Here are some of my must-have kitchen essentials that help to make this recipe even easier.
Whisk: A good whisk doesn't have to be expensive, but it's a kitchen must-have for really combining ingredients like the melted butter and sugars.
Cookie Scoop: I use my cookie scoop so often that I bought a second one. It's great for scooping cookies, mini muffins, and even meatballs.
Silicone Spatula: A great all-purpose spatula is a must-have. They're great for incorporating dry ingredients that are harder to whisk in and scraping the bowl.
Kitchen Scale: Using a kitchen scale is easier than measuring with measuring cups. It's also more accurate! I was a holdout for a long time, but now I love using my kitchen scale.
More Easy Cookie Recipes!
If you've tried this easiest chocolate chip cookie recipe, don't forget to rate the recipe and leave me a comment below. I love to hear from people who've made my recipes!
You can SUBSCRIBE to receive my latest recipe newsletters or FOLLOW ME on FACEBOOK, INSTAGRAM and PINTEREST for even more delicious food.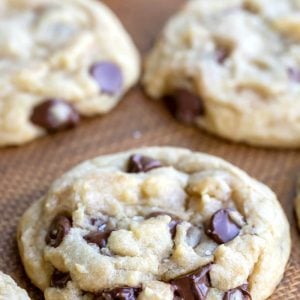 Easiest Chocolate Chip Cookie Recipe
Easiest chocolate chip cookie recipe - no mixer, no chilling necessary. Also, check out the video just above the recipe!
Ingredients
1/2 cup butter
1/2 cup granulated sugar
1/4 cup brown sugar packed
2 teaspoons vanilla extract
1 large egg
1 ¾ cups all-purpose flour¹
1/2 teaspoon baking soda
1/2 teaspoon kosher salt2
1 cup semisweet chocolate chips
Instructions
Preheat the oven to 350 F.

Microwave the butter for about 40 seconds. Butter should be completely melted but shouldn't be hot.

In a large bowl, mix butter with the sugars until well-combined.

Stir in vanilla and egg until incorporated.

Add the flour, baking soda, and salt. Please read the recipe note about properly measuring flour.

Mix dough until just combined. Dough should be soft and a little sticky but not overly sticky.

Stir in chocolate chips.

Scoop out 1.5 tablespoons of dough (medium cookie scoop) and place 2 inches apart on baking sheet.

Bake for 7-10 minutes, or until cookies are set. They will be puffy and still look a little underbaked in the middle.3
Notes
Be sure to fluff and then scoop and sweep to measure the flour. Too much flour will result in a dry or crumbly cookie. For the ingredient measurements by weight, please click "metric" directly underneath the ingredients. 
Or 1/4 teaspoon table salt. 
Don't over-bake the cookies, or you won't end up with soft cookies. Several people have said that they've needed to bake the cookies for longer. Since oven temps can vary, I suggest starting with the listed baking time and increasing the time as needed.
If you're interested in the chocolate version of these cookies, you can find that recipe here. 
Nutrition facts are estimates.
Nutrition
Serving: 1cookie | Calories: 138kcal | Carbohydrates: 17g | Protein: 1g | Fat: 6g | Saturated Fat: 4g | Cholesterol: 17mg | Sodium: 109mg | Potassium: 57mg | Sugar: 9g | Vitamin A: 130IU | Calcium: 10mg | Iron: 1mg
Published 8/16/16. Updated with new photos and tips 10/3/18.
Adapted from Pinch of Yum.
Reader Interactions
Love this recipe?
Share your thoughts below and let's chat! Make sure to connect with me on your favorite social platform below and show me what you made!