How to soften butter quickly! These four simple tips and tricks will teach you how to soften a stick of butter quickly and easily.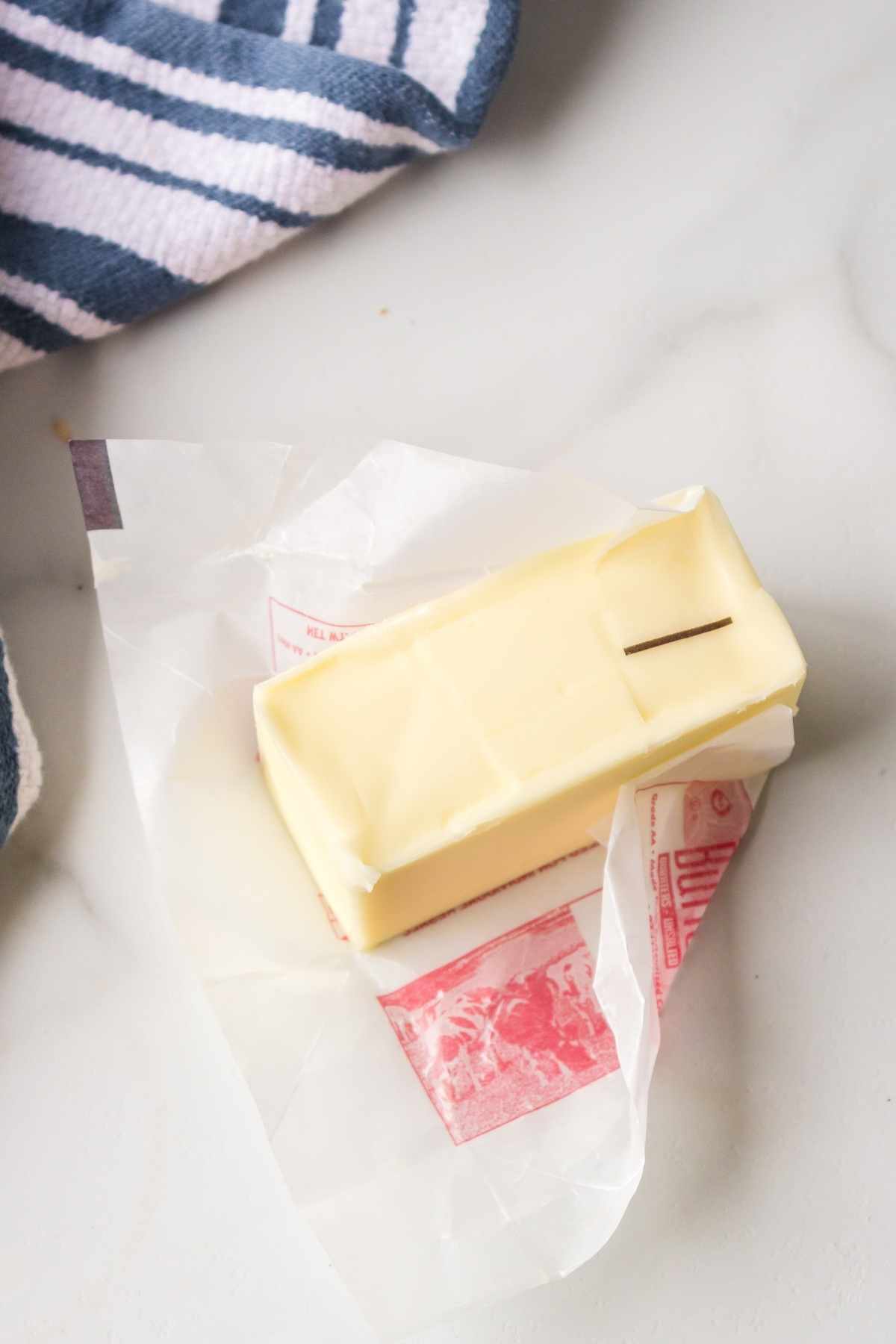 Most baking recipes that use butter call for softened butter. You'll find softened butter in everything from chocolate chip cookies to blueberry muffins to chocolate cupcakes.
The tips and tricks below will help you quickly and easily soften butter so you're ready to bake in no time!
Why should I soften butter?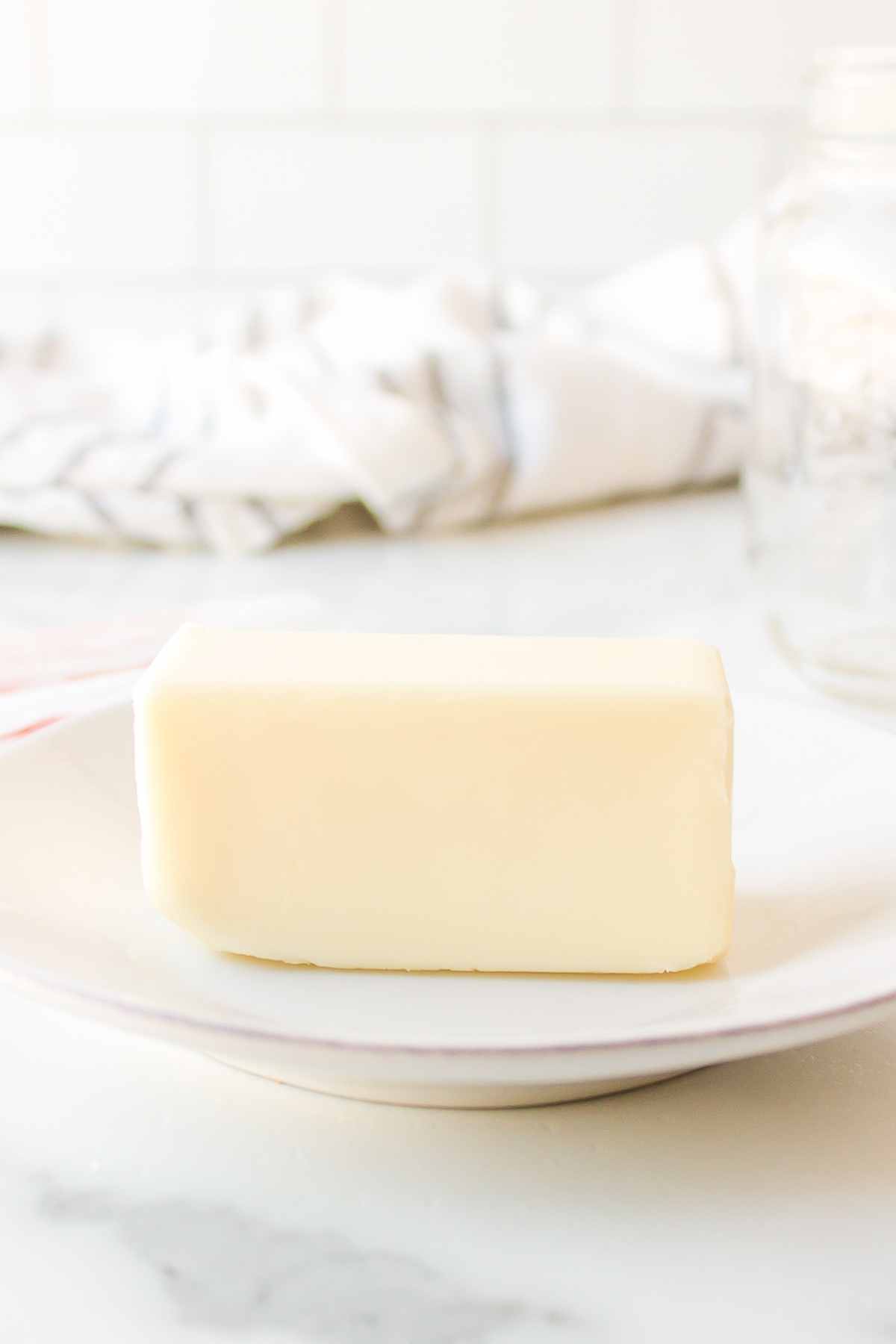 It's important that butter be at the correct temperature when baking. Butter is a fat that's a solid at room temperature.
Many recipes call for creaming (beating) butter and sugar together. This creaming process incorporates air pockets into the butter/sugar mixture. When that mixture is heated, the air expands, and this expansion helps to create lighter, fluffier baked goods.
Using cold butter will leave you with chunks of butter in your batter or dough. Chunks of cold butter are great for making flaky biscuits, but they won't give you the proper consistency in cakes, cookies, and muffins.
What does "room temperature" mean for butter?
Room temperature butter should be at about 70-72F. Some recipes will call for butter at "cool room temperature". Cool room temperature butter should be 65-68F.
When the butter is at room temperature it should indent when pressed, but the butter shouldn't lose its shape.
How to soften butter
There are several different methods for softening butter. Here are four easy tricks to soften butter:
Set it out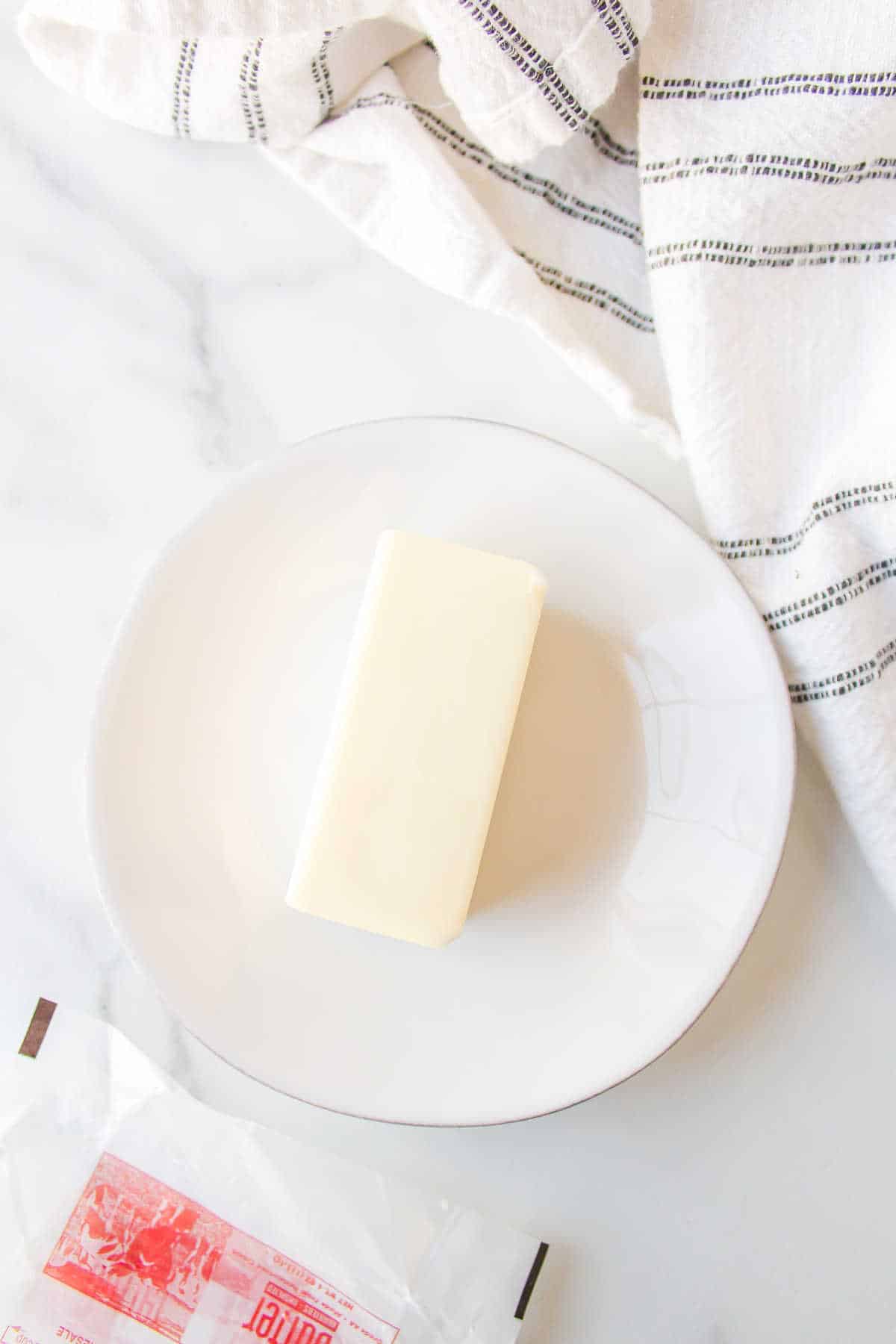 Setting butter out on the counter is the easiest and most foolproof method for perfectly softened butter. When a whole stick of butter is set out, it only takes about 30-60 minutes for the butter to reach room temperature.
At this point, you can also set out other ingredients, like milk or eggs, that need to come to room temperature.
Leaving the butter out for longer can result in warm, soft butter. Warm butter will give you cookies that bake out (are flat and greasy) and dense cakes or muffins.
Cut it into cubes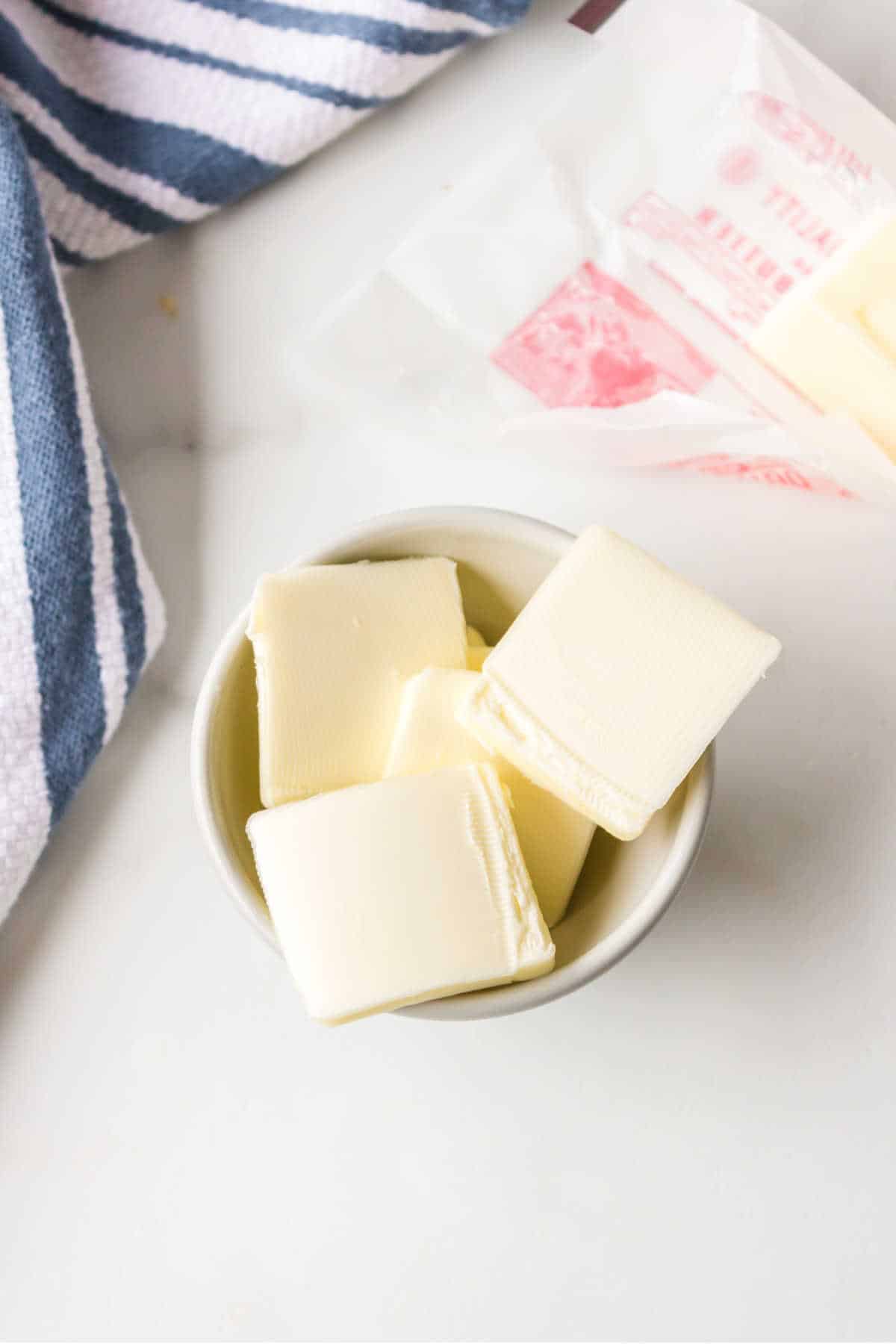 Cutting the butter into cubes or slices helps the butter to soften faster. Simply cut the butter into slices, cubes, or small chunks and place in a bowl.
This method cuts down the softening time to about 10-15 minutes.
Grate it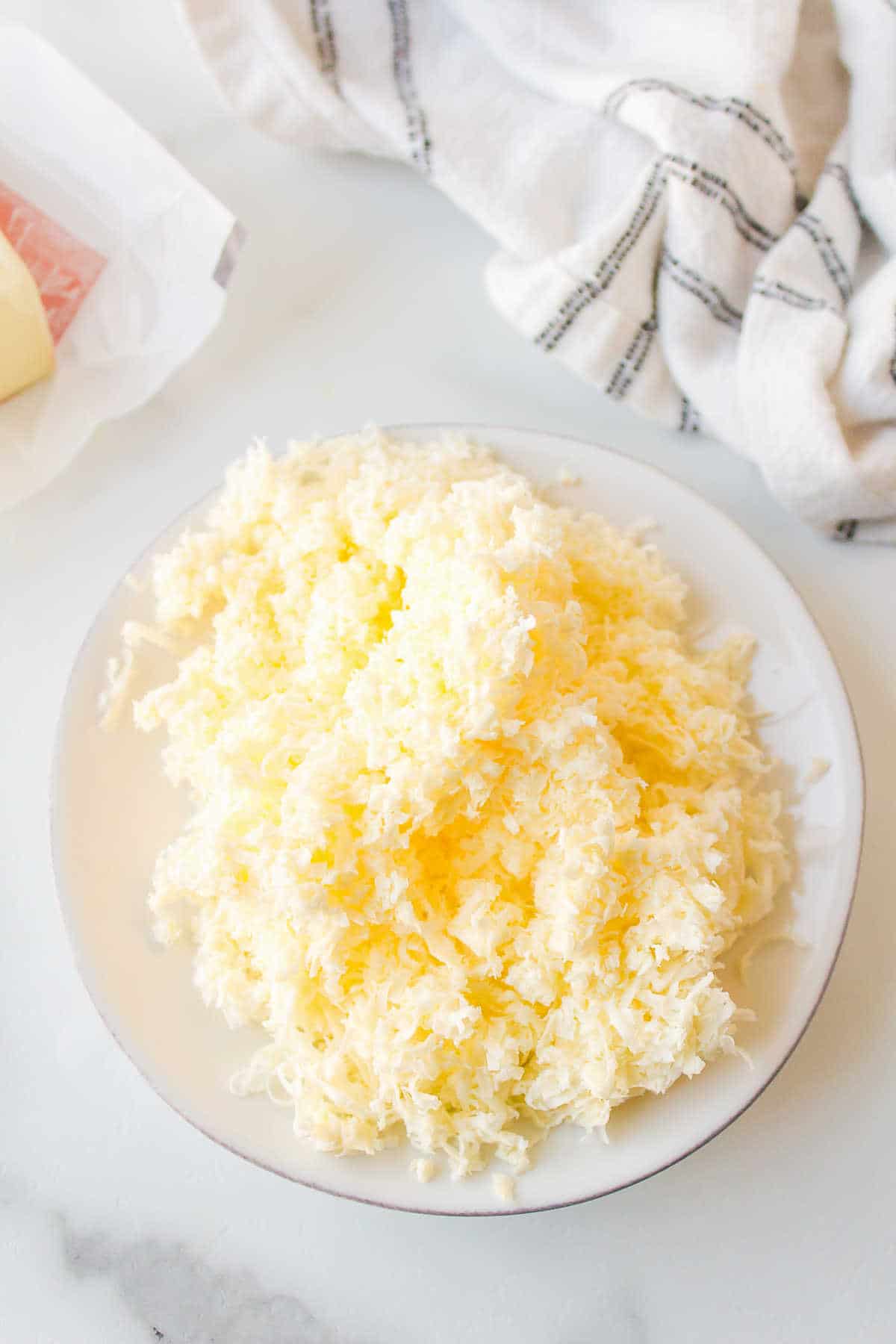 Grating the butter really speeds up the softening process! Simply use a box grater to grate the butter onto a large plate and let it sit at room temperature for about 4-5 minutes.
Warm glass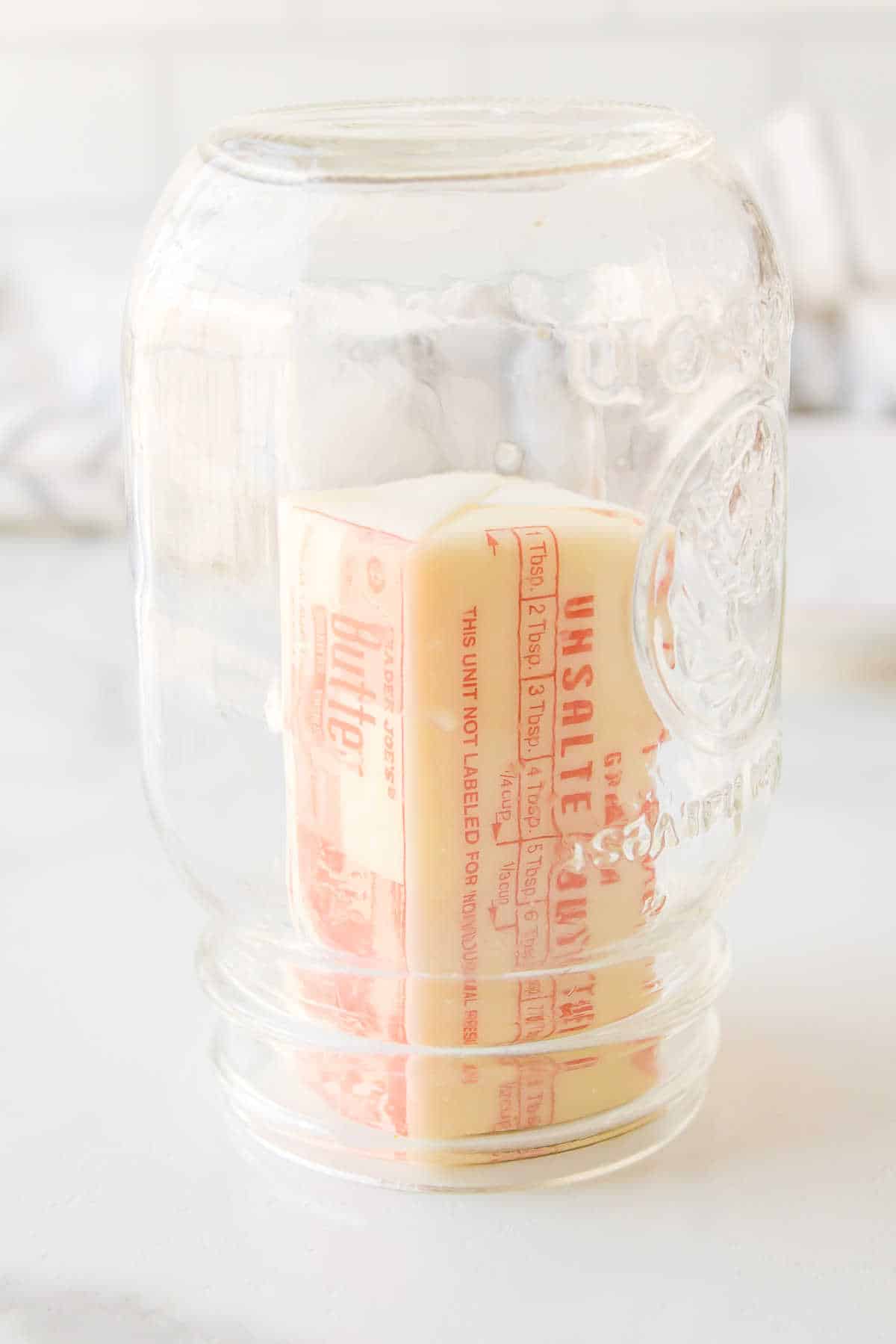 Heat water in a microwave-safe glass for 1 minute. Carefully pour out the hot water.
Place a wrapped stick of butter on the counter so that it's standing upright. Put the empty glass over the butter.
The warm air in the glass will help to soften the butter. Check the butter after 5 minutes, and remove the glass. You may find that you need to continue to let the butter sit at room temperature for a few more minutes.
The downside of this method is that it softens the outside of the butter while the inside stays cooler.
FAQs
What is the fastest way to soften butter?
The fastest way to soften butter is to microwave it. The downside to microwaving butter is that it's difficult to get uniformly softened butter. Instead, the butter may be cold in some spots and near melting in others.
Can I soften butter in the microwave?
You can! Microwaving butter can be tricky. In order to get the best results, microwave for 8 seconds, flip the butter, and continue to microwave for another 5 seconds. If the butter isn't softened, flip it and microwave for 5 more seconds.
Can I use melted butter in place of softened butter?
Probably not. Using liquid butter in place of softened solid butter will give your baked goods a different texture. It's best to use a recipe that calls for melted butter if you plan to use melted butter.
What if my butter is too soft?
If your butter is too soft, simply place the butter back in the fridge for a few minutes to help it cool off.
More baking tips!
If you've tried this how to soften butter recipe, don't forget to rate the recipe and leave me a comment below. I love to hear from people who've made my recipes!
You can subscribe to receive my latest recipe newsletters or follow me on Facebook, Instagram and Pinterest for even more delicious food.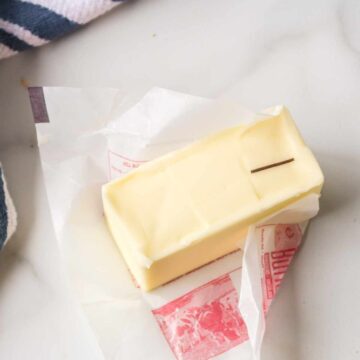 How to Soften Butter
Easy tips quickly soften butter.
Instructions
Room temperature
Unwrap a stick of butter and place it on a plate.

Leave the plate out at room temperature for about 30-60 minutes.
Cut into cubes
Cut the stick of butter into slices or small cubes and place in a dish or bowl.

Let the butter sit at room temperature for about 10-15 minutes.
Grated
Using a box grater to grate the unwrapped stick of butter onto a plate.

Let the butter sit for 3-4 minutes, or until softened.
Warm glass
Fill a microwave-safe glass about halfway full of water. Microwave on high power for about 1 minute.

Carefully empty the water. Place a wrapped stick of butter standing upright on the counter.

Put the warm glass over the upright butter.

Let the butter sit for about 5 minutes, or until softened.
Notes
It doesn't matter whether you use salted or unsalted butter. 
Nutrition values are estimates. 
Nutrition
Serving: 1stick | Calories: 814kcal | Carbohydrates: 1g | Protein: 1g | Fat: 92g | Saturated Fat: 58g | Polyunsaturated Fat: 3g | Monounsaturated Fat: 24g | Trans Fat: 4g | Cholesterol: 244mg | Sodium: 730mg | Potassium: 27mg | Sugar: 1g | Vitamin A: 2836IU | Calcium: 27mg | Iron: 1mg
Reader Interactions
Love this recipe?
Share your thoughts below and let's chat! Make sure to connect with me on your favorite social platform below and show me what you made!