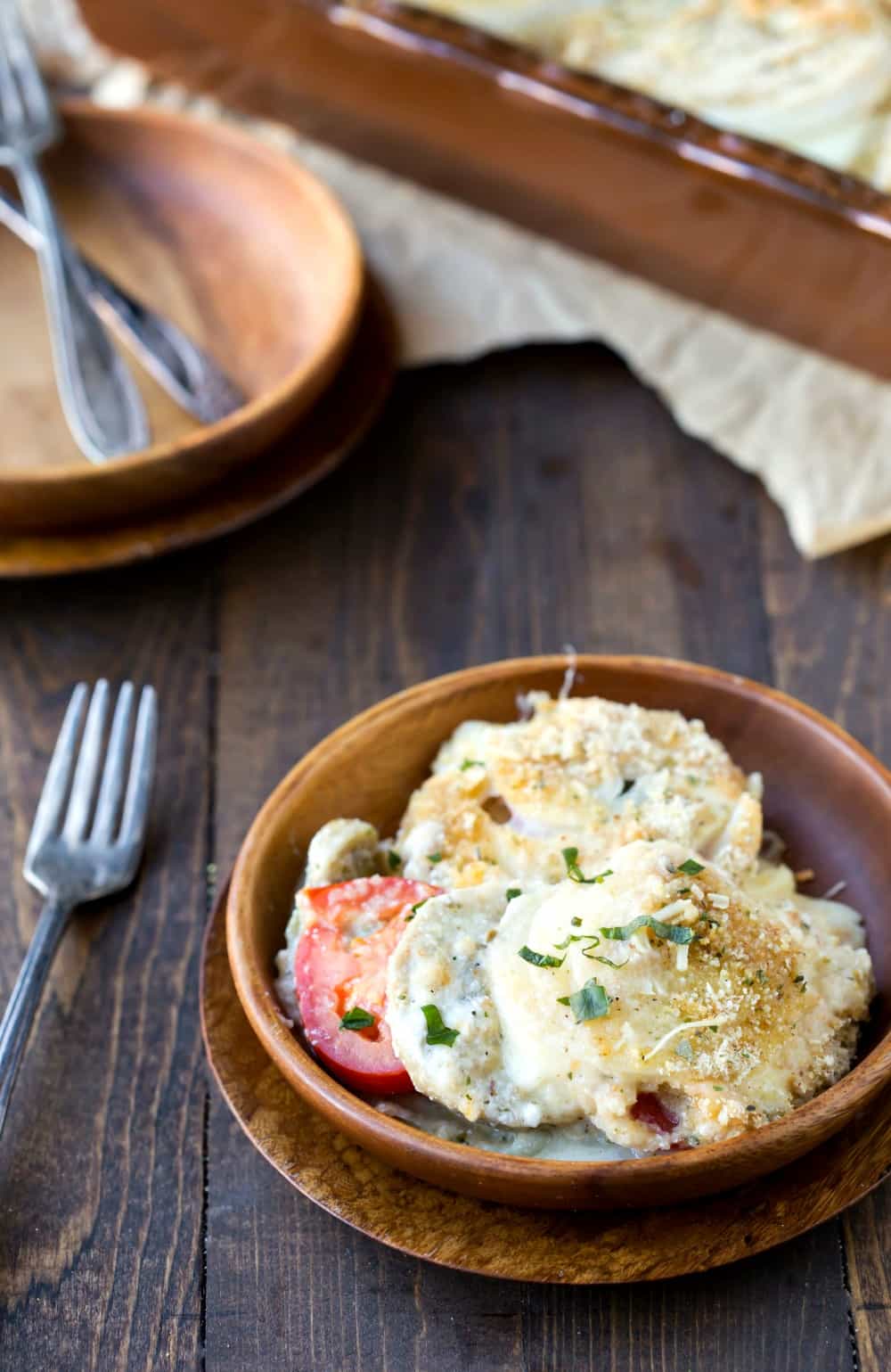 As much as I hate turning on the oven during the summer, this Layered Vegetable Bake is worth it!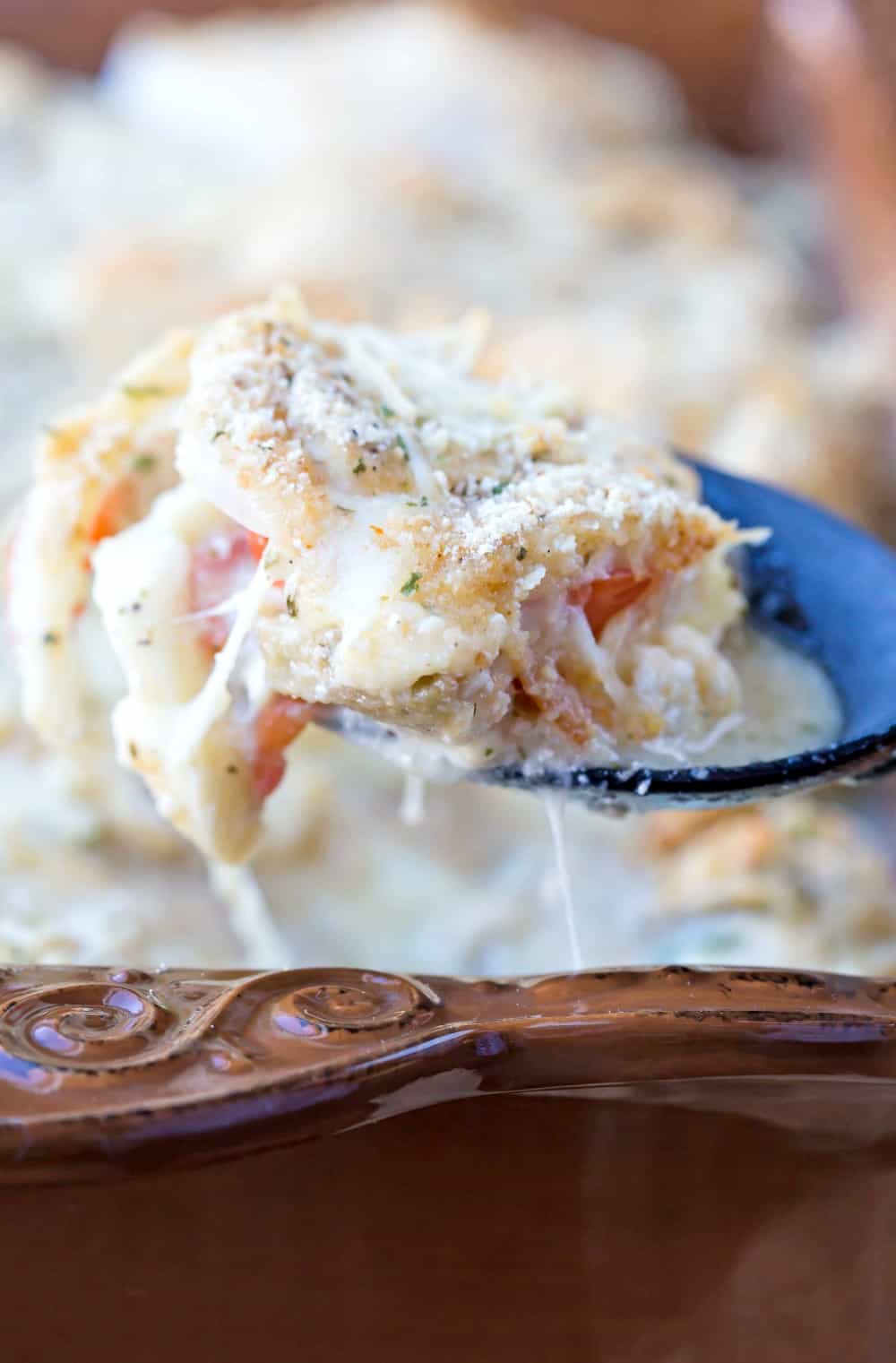 When the veggies are in season, this is a really inexpensive, filling meal.
The vegetables and cheese bake down form a yummy, cheesy dish that's similar to a noodle-less veggie lasagna.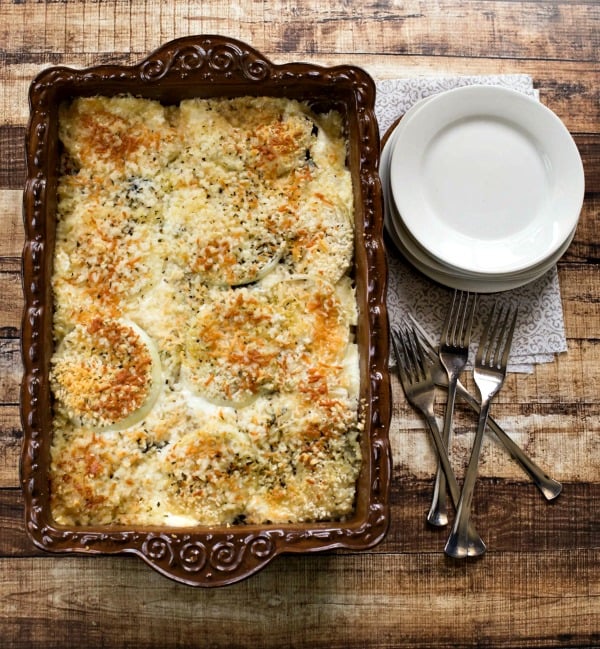 This Layered Veggie Bake makes a great, hearty side dish, but we usually eat it as a lighter supper.
We pair it with some French bread or garlic knots to complete the meal.
More hearty vegetarian dinners!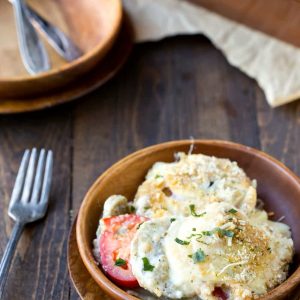 Layered Vegetable Bake
Layered vegetable bake recipe
Ingredients
1 cup ricotta cheese I use low-fat
1 cup cottage cheese I use low-fat
6 cloves garlic peeled and minced
1 tablespoon . Italian seasoning blend
1/4 teaspoon salt
2 pounds eggplants peeled and cut into ¼-inch rounds
1/2 tablespoon kosher salt divided
1 ½ pounds tomatoes in slices
8 ounces fresh mozzarella cut in slices
1/4 cup fresh basil leaves chopped
1/4 cup extra-virgin olive oil divided
2 large onions peeled, sliced 1/2-inch rounds
1 cup Italian bread crumbs
1/4 cup grated Parmesan cheese
Instructions
Preheat oven to 375 F. Spray a deep 13×9-inch baking pan with nonstick cooking spray.

In a medium bowl, stir together ricotta cheese, cottage cheese, garlic, Italian seasoning, and salt. Set aside.

Place a layer of eggplant in the baking pan.

Sprinkle lightly with kosher salt (about 1/2 teaspoonful).

Place a second layer of eggplant over the first layer.

Sprinkle lightly with kosher salt (about 1/2 teaspoonful)

Spread ricotta mixture over eggplant slices.

Add a layer of tomato slices over the ricotta mixture.

Sprinkle lightly with kosher salt (about 1/2 teaspoonful).

Top the tomatoes with mozzarella and basil.

Drizzle with 1 tablespoon olive oil over mozzarella and basil.

Next, add a layer of onions on top of mozzarella.

Sprinkle more kosher salt lightly over the onions (about 1/2 teaspoonful).

Sprinkle bread crumbs over onions.

Drizzle remaining olive oil over bread crumbs.

Sprinkle Parmesan over the bread crumbs.

Bake for about 35-45 minutes, or until hot and bubbly. Check it after 25 minutes, and if it's browning too quickly, tent a piece of aluminum foil over the top.
Notes
Nutrition values are estimates. 
Nutrition
Serving: 1serving | Calories: 282kcal | Carbohydrates: 20g | Protein: 14g | Fat: 16g | Saturated Fat: 6g | Cholesterol: 36mg | Sodium: 851mg | Potassium: 500mg | Fiber: 4g | Sugar: 7g | Vitamin A: 955IU | Vitamin C: 13.9mg | Calcium: 257mg | Iron: 1.3mg
Reader Interactions
Love this recipe?
Share your thoughts below and let's chat! Make sure to connect with me on your favorite social platform below and show me what you made!