Naturally gluten free and vegan, this Lentil Bolognese recipe is a hearty, healthy lentil recipe that's perfect for topping pasta or just about anything else!
This post was created as part of a relationship in which I was sponsored by Weight Watchers and given a free three month subscription to try their new Personal Coaching product and write about my experience.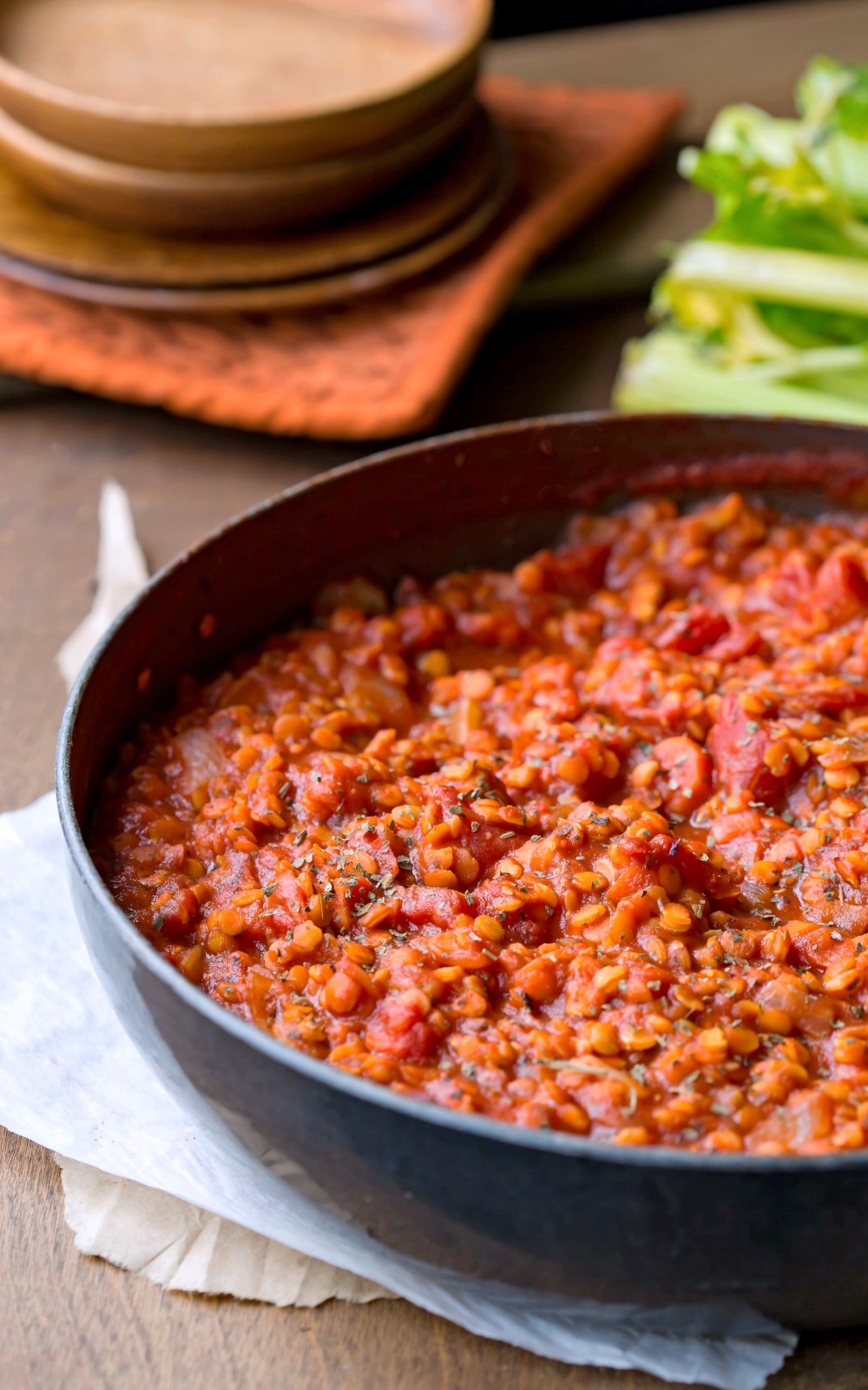 This is probably the hardest post that I've written. I'm not super comfortable talking about myself, so I tend to just talk about the food instead.
Having people criticize my recipes can be hard enough, but sharing extremely personal things like my struggle to lose weight is way (way, way) out of my comfort zone.
I decided that I wanted to share some things about my life, though, because it will make the direction that I'm going in on here make more sense.
In September, I had my third little one. Since this was my third time, I figured I knew what to expect.
Except that this time hasn't been like the last two time, and I have really been struggling to get my weight loss going this time. I definitely got off track while I was pregnant. I had hyperemesis during the beginning of my pregnancy. Once it was under control, I was hungry constantly, and so I ate.
After being so sick, I was beyond excited to be able to eat and to have food taste good again. It wasn't just how much I was eating, though.
At first, I craved healthy foods, and I ate lots of veggies and salads and good stuff. Towards the end, I craved more junk food, and that's when the weight jumped on.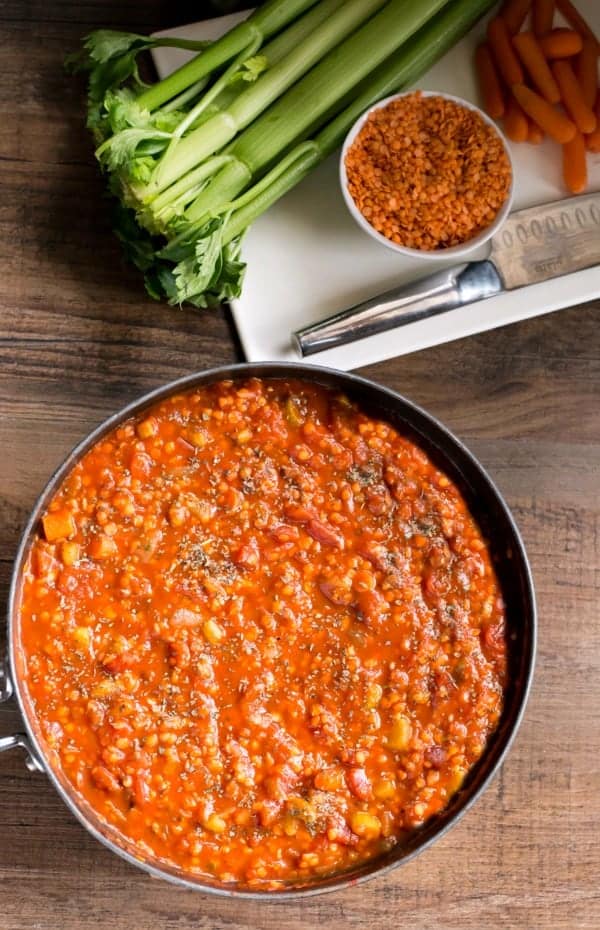 I gained about the same amount of weight during all three of my pregnancies. The last two times, it started to come off right away. I didn't diet or do anything special to try to lose it, and it took me about a year both times to get back to my pre-pregnancy weight.
This time, though, the weight seems to be pretty happy hanging around. So, when I had the opportunity to try Weight Watchers, I jumped at it. I certainly want to lose this baby weight, but more than that, I want to work on getting healthy again.
I love sweets, which shouldn't be a surprise to anyone who checks out my site. I really didn't realize how much sugar I was eating and how my eating habits were affecting my family until my little ones started asking for dessert after breakfast, after lunch, and after dinner. That was when I realized that it's time to get back to a more balanced diet.
One of the reasons that I wanted to try Weight Watchers was because I wanted to be able to keep cooking and be the one making the choices about what I eat. I know myself well enough to know that if I tried to cut out sugar altogether or give up bread or something like that, that it wouldn't work for me.
I want to still be able to indulge once in a while; I just have to work on that once in a while part. Since I'll still be cooking, it also means that my whole family will be eating healthier food right along with me.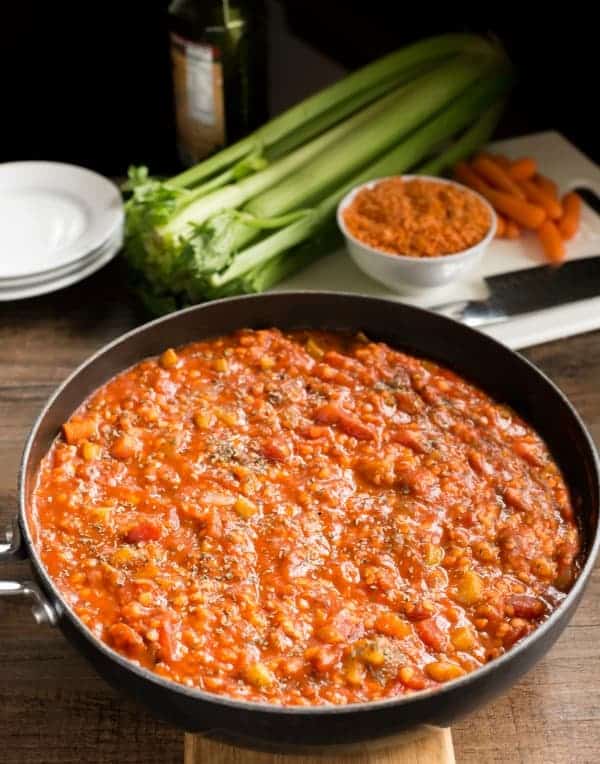 So, why am I telling you all of this? Well, the recipes that I share on here reflect what we're eating. Everything that shows up on here was first tried out on my family and friends.
So, starting around the beginning of the new year, you'll be seeing more variety on here. There will still be recipes for rich, decadent desserts, but they will be fewer and farther between, Instead, there will be more recipes for healthier options.
Even though I don't talk much about my life, I do want to be honest with what I do share. So, I don't want to pretend like I can eat a lots of cake, cookies, and other no-so-healthy food and lose weight because I can't. The struggle is real, my friends. And with that, on to the food!
Growing up, my mom made this great dish of lentils and rice, and I loved it. It was one of my favorite dinners, and I still love all lentil recipes. This Lentil Bolognese is my healthier take on pasta sauce. I'm not going to say that you'll think you're eating meat when you have this because you won't.
Instead, this lentil bolognese is delicious in its own right. The sauce is packed with veggies and has lots of flavor.  This sauce is incredibly hearty and super satisfying.
Since it's so hearty, it's great served over a sturdy pasta like a rigatoni (whole wheat, extra fiber, or just regular pasta all work).
More lentil recipes!
Beef and Lentil Sloppy Joes
More vegetarian dinner recipes!
Lentil Bolognese How-To Video
If you've tried this lentil bolognese recipe, don't forget to rate the recipe and leave me a comment below. I love to hear from people who've made my recipes! You can SUBSCRIBE to receive my latest recipe newsletters or FOLLOW ME on FACEBOOK, INSTAGRAM and PINTEREST for even more delicious food.
Lentil Bolognese
Hearty lentil bolognese makes an easy pasta sauce that's full of good-for-you ingredients.
Prep Time: 15 minutes
Cook Time: 30 minutes
Total Time: 45 minutes
Servings:10 servings
Course: Main Course
Cuisine: American
Keyword: gluten free, lentil, vegan
Ingredients
2 tablespoons olive oil
1 onion (finely diced)
1 rib celery (finely chopped)
3 large carrots (peeled and chopped)
7 cloves garlic (minced)
6 ounce can tomato paste
15 ounce can tomato sauce
2-14.5 ounce cans diced Italian tomatoes
2 tablespoons dried sweet basil
1 teaspoon dried oregano
1/4 teaspoon baking soda
Salt and pepper to taste
2 cups red lentils (rinsed and picked over)
2 cups water
Instructions
Heat olive oil in a large skillet.

Add onion, celery, and carrot.

Cook, stirring as needed, until softened, about 5-10 minutes.

Add garlic, and cook, stirring frequently, for 30 seconds.

Stir in tomato paste, and cook, stirring it in, for 1 minutes.

Add tomato sauce, diced tomatoes with juice, basil, oregano, baking soda, and salt and pepper to taste.

Stir in lentils and water.

Simmer, stirring regularly, until lentils have softened, about 20-30 minutes.
Notes
*Disclaimer: I'm not a nutritionist. Recipe nutrition facts are estimates.  **1 Weight Watchers Freestyle Point per serving. 
Nutrition Information
Serving: 1servingCalories: 195kcal (10%)Carbohydrates: 31g (10%)Protein: 11g (22%)Fat: 3g (5%)Sodium: 414mg (17%)Potassium: 782mg (22%)Fiber: 13g (52%)Sugar: 6g (7%)Vitamin A: 3545IU (71%)Vitamin C: 11.5mg (14%)Calcium: 70mg (7%)Iron: 4.6mg (26%)