Chicken Cordon Bleu Casserole is an easy, comfort food dish that's sure to please! Recipe includes make-ahead freezer meal directions.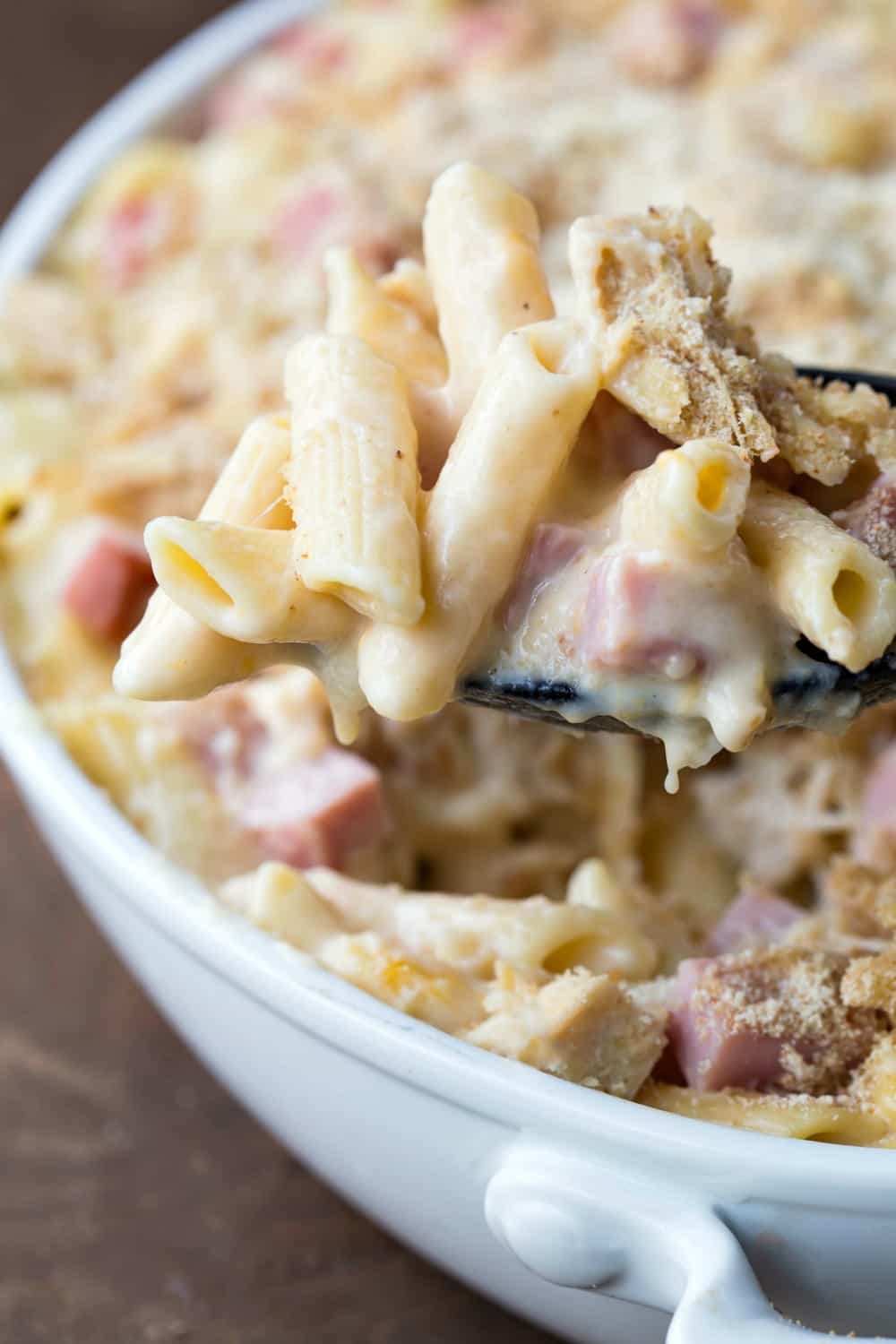 This is another Chicken Cordon Bleu Casserole is a make-ahead, freezer-friendly casserole. If you like to get an extra meal out of your efforts, then these two-for-one casseroles are the way to go.
I buy the disposable aluminum pans for the casserole that is going to go into the freezer because I don't want  all of my pans and dishes to end up in the freezer, and they seem to work well for the freezer casseroles.
This Chicken Cordon Bleu Casserole is also a great dinner to make with Christmas or Easter leftover ham or with weeknight leftover chicken.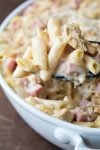 Chicken Cordon Bleu Casserole
Ingredients
Casserole
4

c

. milk

1/2

c

. all-purpose flour

8

oz

. shredded casserole cheese blend

(mozzarella, cheddar, and Monterrey Jack)

12

oz

package dried shaped pasta - like penne

Salt and pepper to taste

2

c

. cooked chicken

cubed

2

c

. cooked ham

cubed
Topping
1/2

c

. dried bread crumbs

Panko or traditional

8

oz

. Swiss cheese

shredded
Instructions
Preheat oven to 350F. Grease two 9x9-inch casserole dishes or a 9x13 baking dish if making one casserole.

Cook pasta to almost al dente, about 1-2 minutes less than al dente if freezing or to al dente if not.

Drain and set aside.

In a large pot whisk together milk and flour until smooth.

Heat over medium-low heat until thickened, whisking regularly.

Remove from heat, and whisk in casserole cheese blend until smooth.

Season with salt and pepper.

Add pasta to baking dish(es).

Pour cheese sauce over pasta.

Top with chicken and ham.

Sprinkle Swiss cheese and then bread crumbs over the top.

Bake casserole for 15 minutes, or until hot and bubbly.

If freezing, let come to room temperature.

Cover pan tightly with plastic wrap and then foil.

Freeze.

When ready to use, thaw in fridge overnight.

Uncover, and bake at 350F for about 20-25 minutes, or until hot and bubbly.