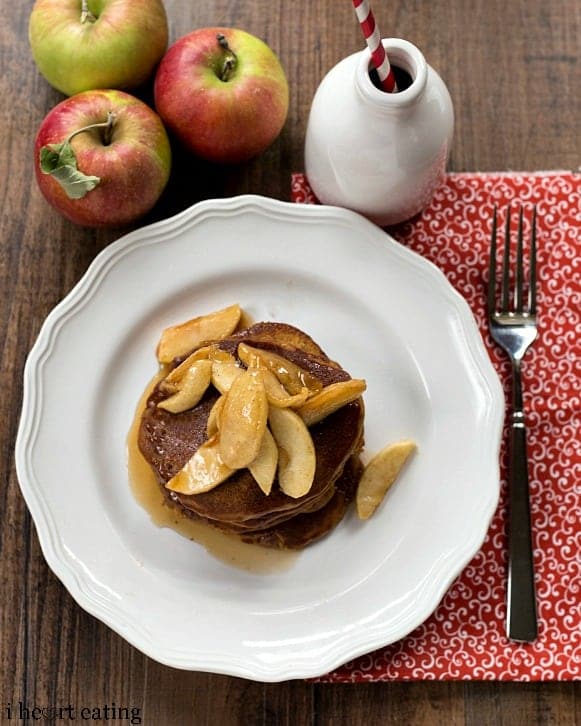 This is one of those times when I'm going to admit that I have no story for this recipe. With these gingerbread pancakes, it's really just as simple as the fact that I love gingerbread. And pancakes. So, gingerbread pancakes are a must-make in the Fall.
These pancakes are light and fluffy with just the right amount of spice and molasses flavor. They're good with some butter and maple syrup on top, but they're even better when they're covered with sauteed apples.
Ingredients
1 ¼ c . all-purpose flour
1 tsp . baking powder
1/2 tsp . baking soda
1/2 tsp . salt
1 tsp . ground cinnamon
3/4 tsp . ground ginger
1/4 tsp . allspice
1/4 c . dark brown sugar (, firmly packed)
2 eggs
1/4 c . molasses ((not blackstrap))
3 T . unsalted butter (, melted, divided)
1/4 c . non-fat Greek yogurt
1/2 c . warm water
Instructions
In a large bowl, whisk together the flour, baking powder, baking soda, salt, cinnamon, ginger, and allspice.

In a medium bowl, whisk together the brown sugar, eggs, molasses, 2 tablespoons melted butter, yogurt, and water.

Add the brown sugar mixture to the flour mixture; stir until just blended. There will be some small lumps.

Heat a large griddle or pan over medium heat until hot.

Brush with some of the remaining tablespoon of melted butter.

Pour about 1/4 cup batter onto the hot surface.

Reduce the heat to medium-low, and cook until small bubbles appear and the edges start to look dry, about 3-4 minutes.

Flip the pancakes over; cook until lightly browned on the other side, about 1 minute more.

Repeat with the remaining batter to make about 8 pancakes, each about 4 inches in diameter.