Make your own buttermilk substitute for when you don't have any using this easy recipe! Milk, yogurt, sour cream, and nondairy substitutes are all given.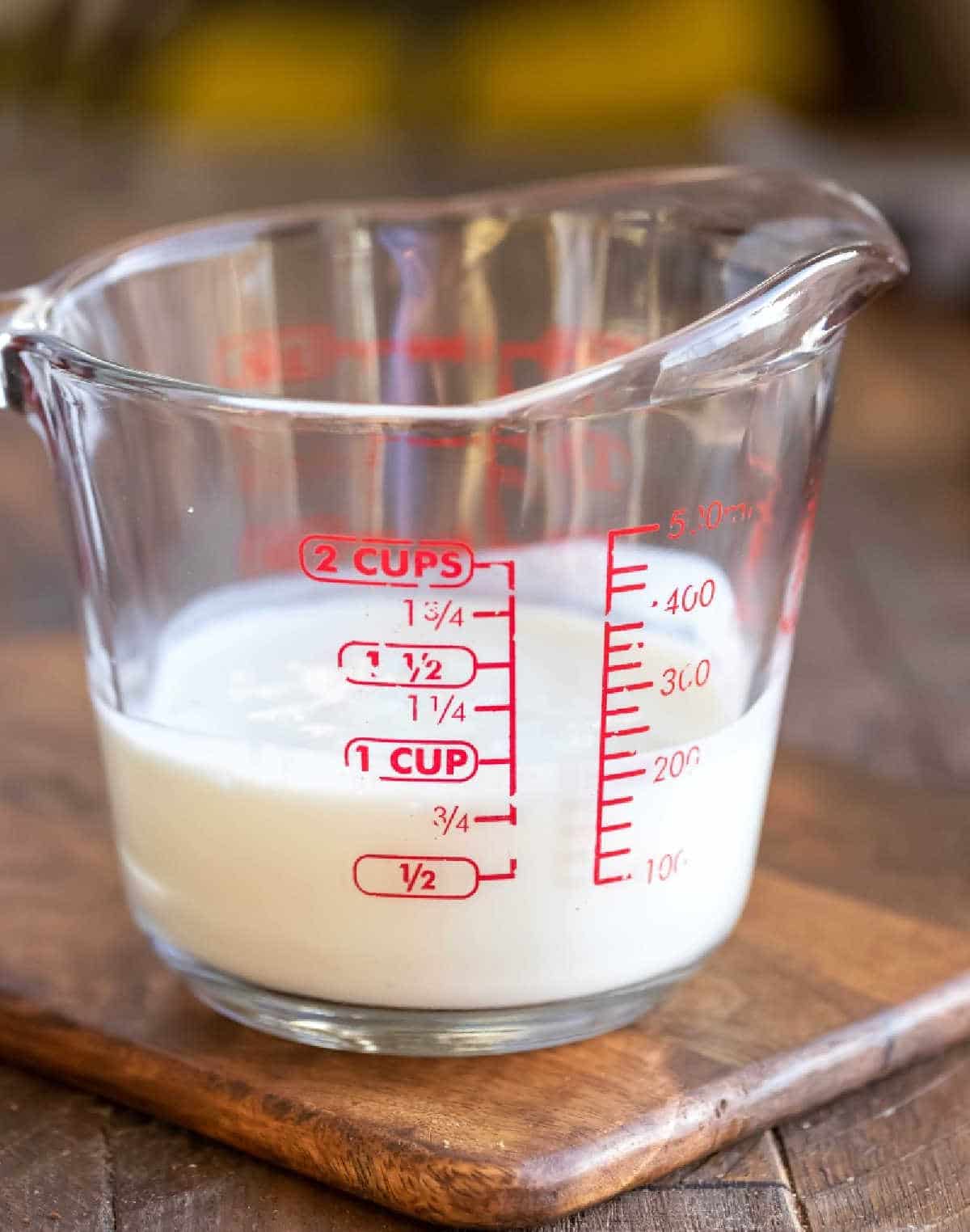 Buttermilk makes a great addition to a number of sweet and savory recipes. These quick replacements are good stand-ins for times when you've run out and need an easy homemade buttermilk substitute.
What is buttermilk used for?
Buttermilk is a common ingredient in biscuits, pancakes, waffles, muffins, quick breads, and cakes. You can even use it to make buttermilk syrup!
Buttermilk serves a few purposes in a recipes.
First, the acid in buttermilk helps to activate baking soda. This produces gas which helps baked goods to rise.
Second, buttermilk provides flavor. Buttermilk's acidity helps provide balance and flavor for baked goods.
Third, the acids helps to break down protein. Protein gives baked goods chew, and buttermilk is used in baking recipes to break down the proteins helps to give baked goods a more delicate texture.
Buttermilk is also used in a number of savory recipes. It is a common brine for fried chicken, can be used as a base for recipes like ranch dressing, and it adds a delicious tangy flavor to mashed potatoes.
Sour milk
The most common buttermilk substitute is sour milk.
Sour milk is made by adding an acid like lemon juice, white vinegar, or cream of tartar to regular milk (dairy milk) and then letting it sit for 5-10 minutes to "sour".
Sour cream + milk
To make a buttermilk substitute from sour cream and milk, mix 3/4 cup sour cream with 1/4 cup milk.
I don't recommend using fat-free sour cream, but lite or full-fat sour cream is fine.
Also, anything from skim to whole milk will work.
Yogurt + milk
Plain yogurt (not Greek yogurt) can be substituted for buttermilk at a 1:1 ratio.
So, for every cup of buttermilk needed, use 1 cup of plain yogurt.
To make a buttermilk substitute with Greek yogurt and milk, first stir the Greek yogurt to incorporate any of the liquid that may have separated. Then stir 3/4 cup Greek yogurt together with 1/4 cup milk.
I have used everything from fat-free Greek yogurt to full-fat Greek yogurt with good results.
Also, anything from skim to whole milk will work.
However, your best bet is to follow the recipe. If it calls for full-fat buttermilk, use whole milk-Greek yogurt or full-fat sour cream and a higher fat milk (i.e. 2% or whole milk) will give you a closer result.
Dairy-free buttermilk substitutes
You can make a dairy-free buttermilk substitute by following the directions for making sour milk and substituting nondairy milk for dairy milk.
I've made substitutes using non-dairy milk like almond milk, cashew milk, and coconut milk, and all have worked well.
How to store leftovers
If you have any leftover buttermilk substitute mixture, store it in an airtight container in the fridge. It will keep for about 3-4 days.
Can you freeze buttermilk?
You can! The easiest way to store extra buttermilk or buttermilk substitute is to freeze it in an ice cube tray. That way you can just pull out what you need in the future.
More kitchen how to's!
If you've found this buttermilk substitute recipe helpful, don't forget to rate the recipe and leave me a comment below. I love to hear from people who've made my recipes!
You can subscribe to receive my latest recipe newsletters or follow me on Facebook, Instagram and Pinterest for even more delicious food.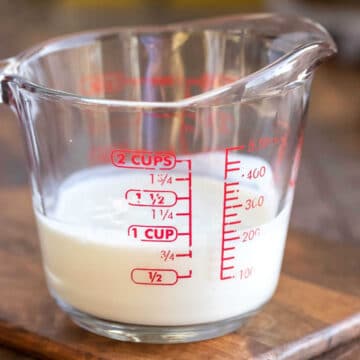 Buttermilk Substitute
Buttermilk substitute recipe that shows how to make buttermilk from dairy milk, yogurt, sour cream, and dairy-free milk.
Ingredients
One of the following
1 tablespoon fresh lemon juice
1 tablespoon vinegar
1 ¾ teaspoons cream of tartar
Instructions
Combine milk and either lemon juice, vinegar, or cream of tartar in a liquid measuring cup.

Let sit 5-10 minutes before using.
Notes
Check out the other ways to make buttermilk substitutes above the recipe.
Nutrition values are estimates. 
Nutrition
Serving: 1serving | Calories: 103kcal | Carbohydrates: 16g | Protein: 8g | Cholesterol: 4mg | Sodium: 106mg | Potassium: 1248mg | Sugar: 12g | Vitamin A: 500IU | Vitamin C: 5.8mg | Calcium: 299mg | Iron: 0.2mg
Originally published 2/27/18.
Reader Interactions
Love this recipe?
Share your thoughts below and let's chat! Make sure to connect with me on your favorite social platform below and show me what you made!