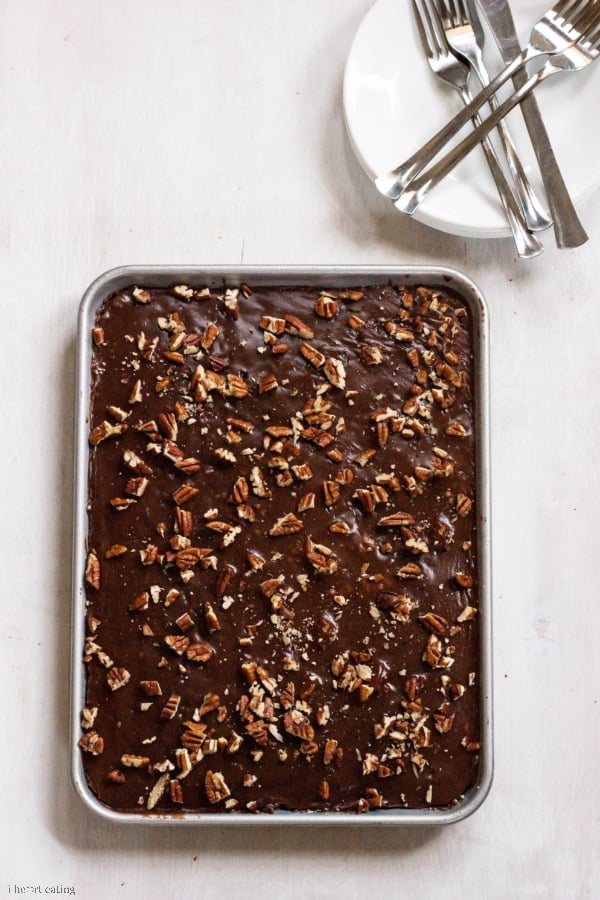 I don't know where the original recipe for this cake came from, but I always associate this sheet cake with my grandma. Every time we visited her farm, she made one of these cakes. In fact, it's the only dessert I ever remember her making. So, I love this cake – partly out of nostalgia but mostly because it's moist, chocolate-y, and delicious.
What I don't love, though, is that I always feel twinges of guilt when I eat most of this cake by myself. I'm all for butter and sugar, but the original recipe for this cake and its icing calls for three sticks of butter.
For a while now, I've been playing around with substitutions for some of the butter. I tried fruit purees, but the taste and texture were just plain off. Then, the other day, I read something about substituting Greek yogurt for part of the butter in baked goods. Since I have two giant containers of Greek yogurt in my fridge, I figured I'd give it a shot.
It was perfect. There was no noticeable difference in the taste or the texture between the cake made with the Greek yogurt and the cake made with all butter. So now I gobble up this entire cake guilt-free (kidding – well, kind of kidding). However, if you want to try the all-butter version, just swap out the Greek yogurt for another stick of butter.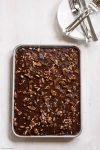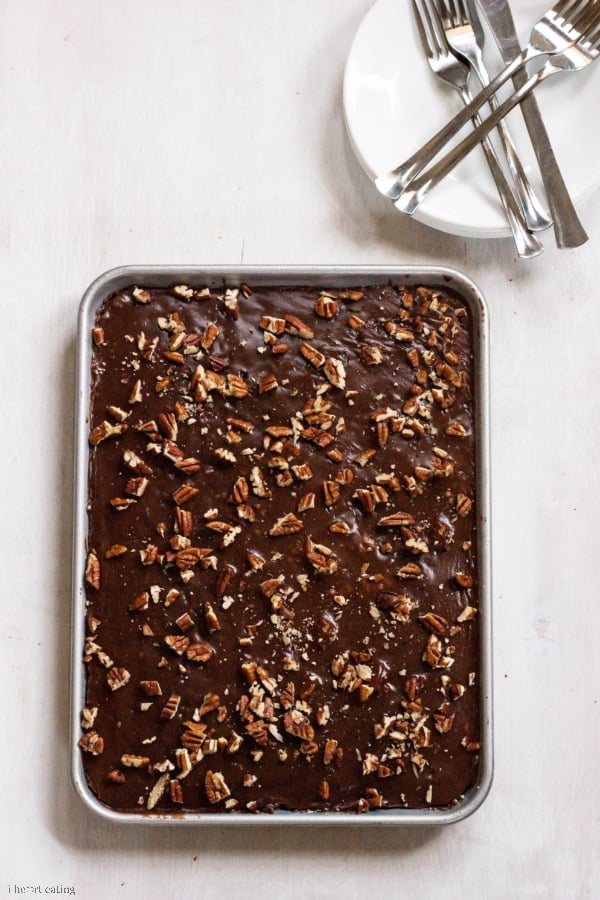 Lighter Version of Grandma's Chocolate Sheet Cake
Ingredients
Chocolate Cake
1/2

c

. butter

1/4

c

. cocoa

1

c

. water

1/2

c

. low-fat buttermilk

1/4

c

. fat-free plain Greek yogurt

2

eggs

1

tsp

. vanilla extract

2

c

. all-purpose flour

1

c

. granulated sugar

1

tsp

. baking soda

1/2

tsp

. salt
Chocolate Icing
1/2

c

. butter

1/4

c

. cocoa powder

1/3

c

. low-fat buttermilk

3

c

. powdered sugar

1

tsp

. vanilla

1

c

. chopped nuts

optional
Instructions
Preheat oven to 350 F. Grease a cookie sheet (I use a 15x11-inch rimmed cookie sheet) with edges.

Melt butter in a large saucepan.

Once butter has melted, stir in water and cocoa powder; bring to a boil.

Once at a boil, add buttermilk, and stir to combine.

Remove pan from heat.

Add the yogurt, eggs, and vanilla, and stir until well-combined.

Stir in sugar, flour, baking soda, and salt until just combined.

Bake for 15-20 minutes.

While the cake is baking prepare the icing.

For the icing, combine the butter, cocoa, and buttermilk. Bring to a boil.

Remove from heat, and add the powdered sugar, vanilla, and nuts (if using). Stir to combine. Pour icing over hot cake and spread evenly over cake.