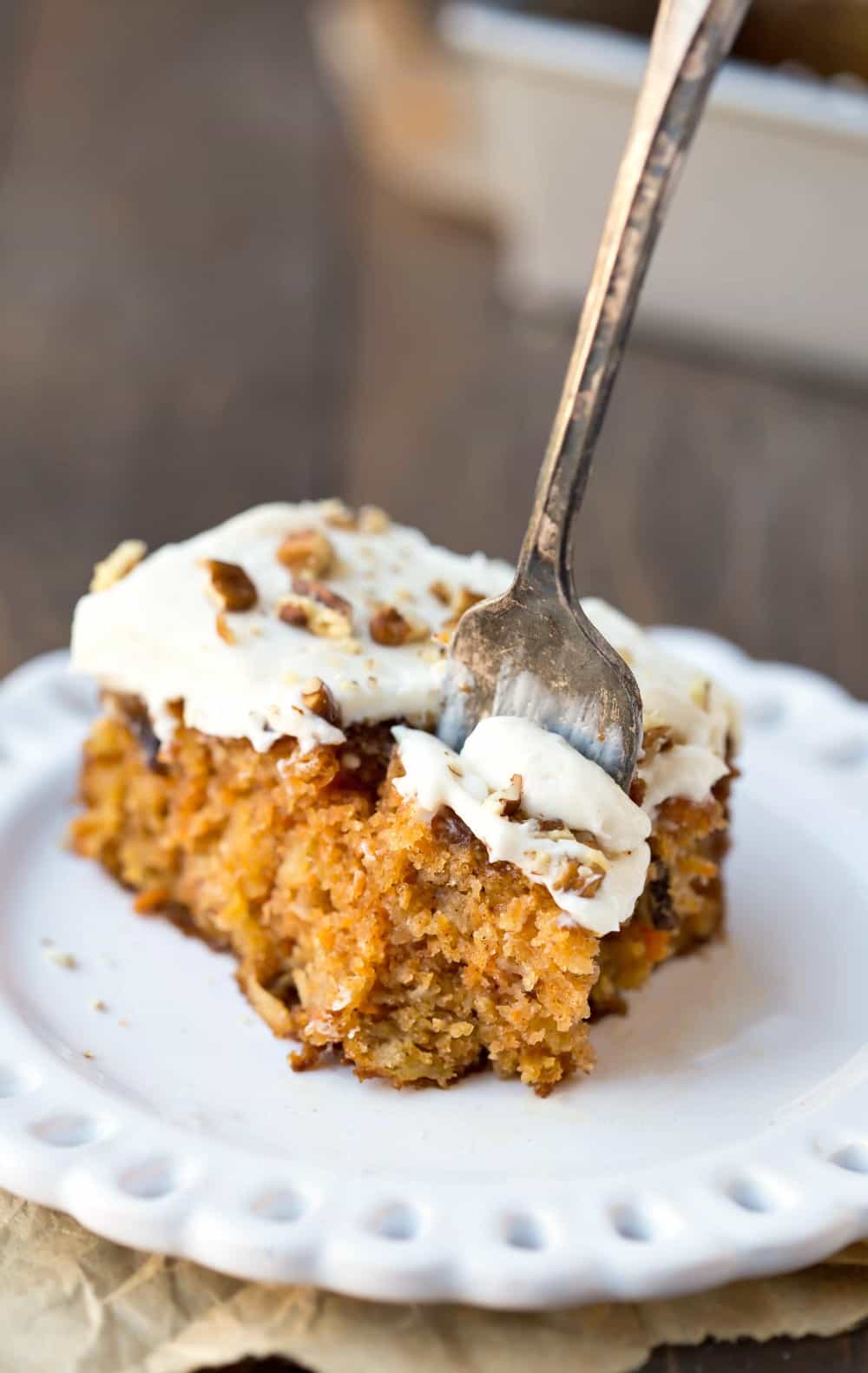 Carrot cake is one of my favorite kinds of cake.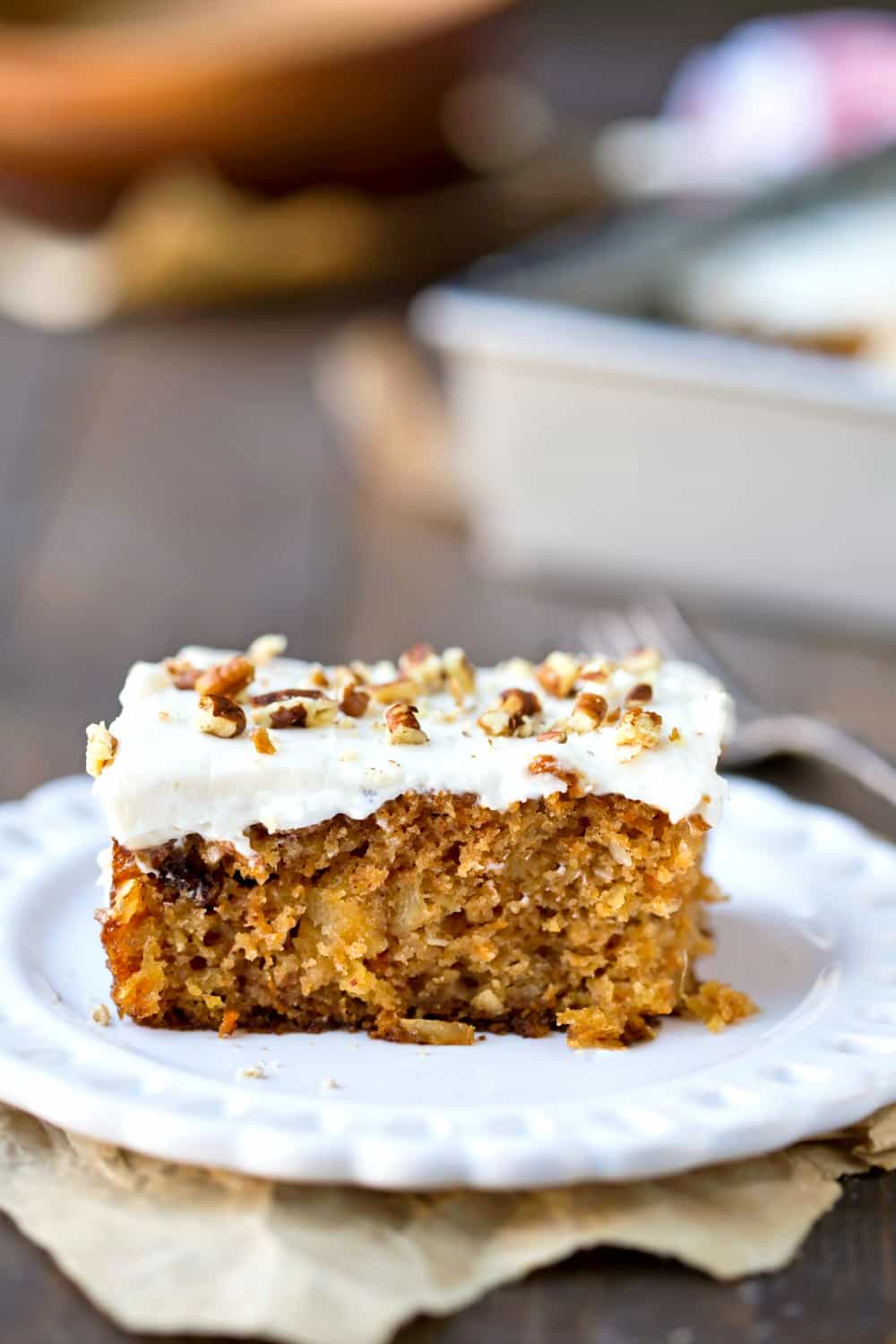 When it's done right, it has plenty of flavor and is super moist. Too often, though, it's dry or greasy and completely lacks any flavor.
I found the original recipe for this cake in an old church cookbook. I made several changes to the original recipe (cutting oil and sugar adding a little bit here, taking a little there) to make it more to our liking.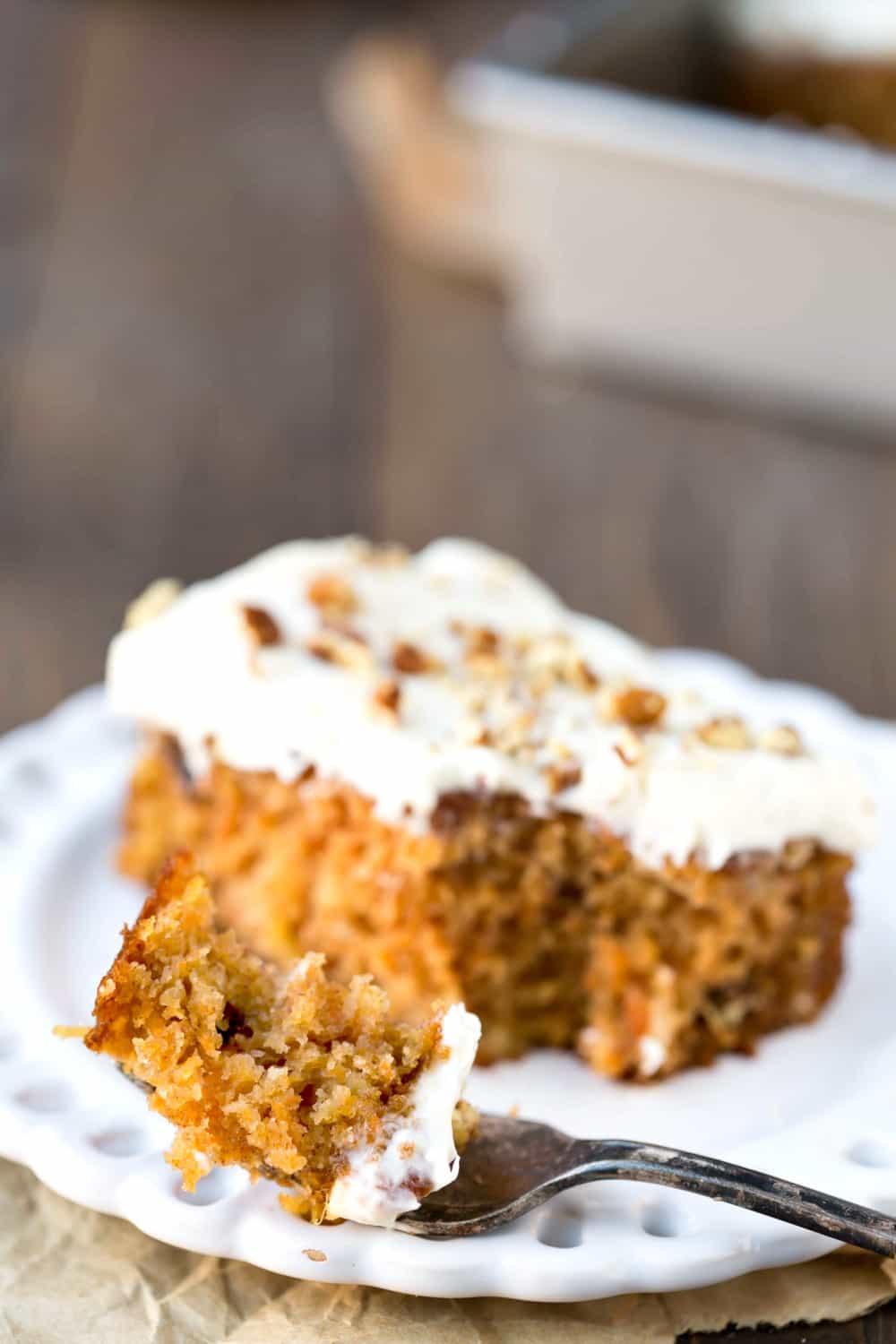 I ended up with this Blue Ribbon Sheet Cake that is moist and a little dense and full of yummy ingredients like coconut and pineapple that work together to make this cake oh so tasty.
When I told my kids that I was making a carrot cake, they thought that it sounded gross. By the time the cake was finished, I had trouble keeping them away from it long enough to take pictures. They absolutely loved it!
I didn't add a lot of additional spice to the recipe. I like my carrot cake to taste good but not to taste like a spice cake that happens to have carrot in it. If you like a more heavily spiced cake, feel free to play around with that part.
Also, there really is only 1 cup of sugar in the frosting. The cake is sweet and the glaze is sweet, so I wanted the frosting to have more of the cream cheese bite to it to keep the cake from being crazy sweet.
Oh, and please don't skip the glaze! It's a little extra work, but it really makes this carrot cake something special.
If you've tried this blue ribbon carrot cake recipe, don't forget to rate the recipe and leave me a comment below. I love to hear from people who've made my recipes! You can SUBSCRIBE to receive my latest recipe newsletters or FOLLOW ME on FACEBOOK, INSTAGRAM and PINTEREST for even more delicious food.
Blue Ribbon Carrot Sheet Cake
Blue Ribbon Carrot Sheet Cake is a moist carrot sheet cake recipe that's topped with both a buttermilk glaze and rich cream cheese frosting!
Prep Time: 25 minutes
Cook Time: 45 minutes
Total Time: 1 hour 10 minutes
Course: Dessert
Cuisine: American
Keyword: cake, carrot, Easter
Servings: 20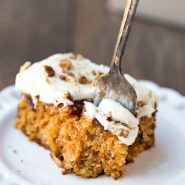 Ingredients
Carrot Sheet Cake
2 cups all-purpose flour
2 teaspoons baking soda
1/2 teaspoon salt
2 teaspoons ground cinnamon
3/4 cup low-fat buttermilk
1/2 cup vegetable oil
1 1/2 cups granulated sugar
3 large eggs
2 teaspoons vanilla extract
8 ounces crushed pineapple drained*
2 cups finely grated carrot
1 cup sweetened shredded coconut
1 cup chopped pecans or walnuts optional
Buttermilk Glaze
1/2 cup granulated sugar
1/4 cup low-fat buttermilk
1/4 cup butter
1/4 teaspoon baking soda
1 teaspoon vanilla extract
Cream Cheese Frosting
8 ounces cream cheese softened
1/4 cup butter softened
1 cup powdered sugar
1 1/2 teaspoons vanilla extract
Instructions
To make the carrot cake
Preheat oven to 350 F. Grease and flour a 9x13-inch baking pan. I use a nonstick baking spray with flour in it.

In a medium bowl, whisk together flour, cinnamon, baking soda, and salt together. Set aside.

In a large bowl, beat together buttermilk, oil, and sugar until well-combined.

Mix in eggs, one at a time, until combined.

Add pineapple and carrots; stir until just incorporated.

Stir in flour mixture until just combined.

Add coconut and nuts, if using. Stir until just combined. Batter will be wet.

Pour batter into prepared baking pan, smoothing as necessary.

Bake for 30-40 minutes, or until a wooden toothpick inserted in the center comes out clean.
To make the buttermilk glaze
While the cake is baking, prepare the buttermilk glaze.

In a saucepan, combine, sugar, buttermilk, butter, and baking soda. Use a large enough saucepan to allow mixture to bubble up as it cooks.

Bring mixture to a boil, stirring constantly.

Remove from heat, and stir in vanilla. You should have 1/2 cup of buttermilk glaze.

When the cake is finished baking, remove from oven.

Immediately brush buttermilk glaze over hot cake.

Let cake cool in the pan on a wire rack to room temperature.**
To make the cream cheese frosting
Beat cream cheese and butter together until light and fluffy.

Add powdered sugar and vanilla; beat until smooth.

Turn mixer up to high and beat for an additional 2-3 minutes.

Drop spoonfuls of frosting over the cake.

Carefully spread the spoonfuls together to cover the cake. Spreading in one direction will help to prevent the cake from coming up into the frosting.

Store any leftover cake covered in the refrigerator.
Recipe Notes
*I pour the juice off, but I don't squeeze the pineapple dry.
**There may still be a layer of glaze on the cake when you frost it. I've found that it soaks into the cake completely if I chill the cake. If you're worried about frosting the cake with that layer of glaze still there, just cover the cake, and let it chill for a bit. Then, frost as you normally would. 
***Nutrition facts are estimates.
Nutrition facts per serving (1g)
Calories: 362kcal
Fat: 20g
Saturated fat: 11g
Cholesterol: 49mg
Sodium: 301mg
Potassium: 148mg
Carbohydrates: 42g
Fiber: 1g
Sugar: 31g
Protein: 4g
Vitamin A: 49.6%
Vitamin C: 2.4%
Calcium: 4.5%
Iron: 5.8%
Wondering what to make with the extra pineapple? Try…